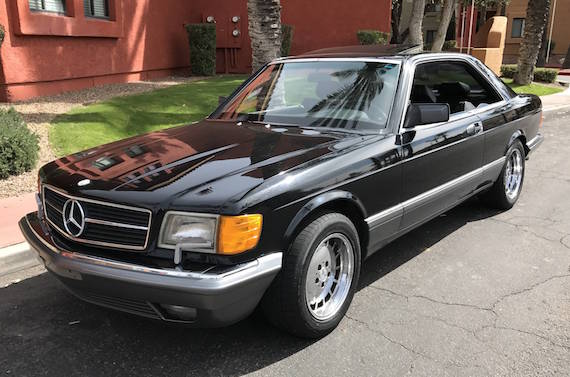 Based on a slightly shortened version of the W126 S-class sedan, the SEC coupe was introduced in 1981 and sold until the platform was retired in 1991. Retaining the elegant and stately looks of its limousine cousin, as well as its extraordinarily high levels of build quality and safety, the two-door, pillar-less body shape took all the elements that made the S-class such a great car and repackaged them into something a little more rakish and sexy. It's no accident that ads for these cars often make reference to Miami Vice: the SEC is associated for many with the cocaine fueled excesses of the 1980s. But look past the wide boy image and you'll find a grand tourer that is more about driving vast distances while riding a wave of torque than racing between stop lights. As with the sedan, values for these are a bit all over the place these days, with mint examples fetching $20k plus. But what if you're looking for a budget-friendly entry into the SEC world? This high mileage example for sale in Tuscon, AZ with a few disclosed faults may fit the bill.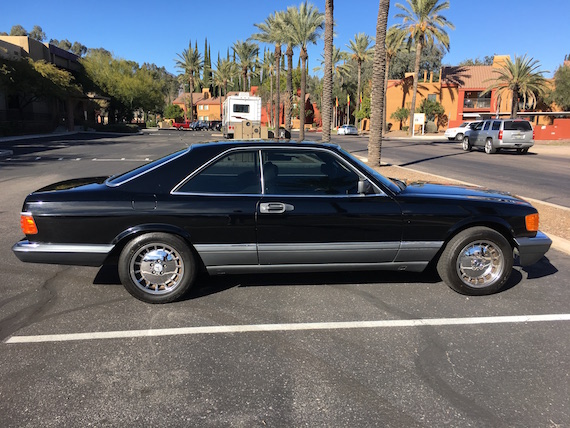 Year: 1990
Model: 560SEC
Engine: 5.5 liter V8
Transmission: 4-speed automatic
Mileage: 252,000 mi
Price: $6,500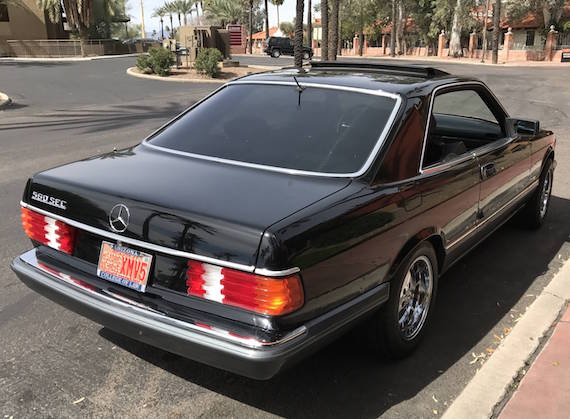 PRICE REDUCED from $8k to $6,500

A well-maintained example of a 560SEC that makes an excellent driver. Some life changes mean I do not have any time to care for the car or drive it, so this 560SEC now deserves a better home. My ownership experience has been so positive that I would undoubtedly like to own another 560SEC in a few years. This is going to be a wonderful car for the discerning buyer.
1990 model year in the most desirable color combination (black/black)
Never seen snow. The car was originally delivered in Los Angeles, California and has remained in Southern California or Arizona, free of snow. Enthusiast owned.
Rare Lorinser LO wheels with four newer Brigestone Potenza tires (tires are one year old, <5,000 miles driven). For an idea of the value of the wheels, here is a recent closed eBay listing (Lorinser LO 16″ Wheels and Tires For Mercedes W126, 107). Furthermore, I had all of the wheels professionally straightened about a year ago, although none were notably bent.
Interesting ownership history — the first owner was the daughter of the famous Steve McQueen, and some documentation will be provided to new owner
Approximately 252,000 miles
Tasteful stereo headunit upgrade to a Blaupunkt unit that blends in, and added Bluetooth audio streaming and good wireless phone call quality
Currently located in Tucson, Arizona.

A detailed gallery of photos have been uploaded to the link below and more photos (including some photos of the rear) will be added:
https://1drv.ms/f/s!AsSexELQcqFkhNB_sYdUSkI0docQlA

It is a true pleasure to drive, and receives compliments weekly. Aesthetically the car looks fantastic, with excellent paint. The 560SEC has only received genuine Mercedes-Benz parts and regular maintenance since it was purchased in July 2013. Included are service records going back many years.

A few items to note in the interest of comprehensive disclosure on this 27-year old Mercedes-Benz:
I have not kept the best records in the last year — many parts in the engine have been replaced in the last 12 months including new injectors, idle air speed control valve, and so many more. The car runs and drives fine, but the startup idle will require attention to be perfect. There is a slight vibration above 70 MPH — I have not had time to trace the issue, and would recommend covered transport of the car rather than a road trip. The odometer stopped working recently, there is a tear in the driver's seat cushion (repaired functionally with some black tape — it has been working very well), and there is some separation on the plastic on the passenger side of the center console. Small area of rust bubbling (presumably from being near the Pacific Ocean) on the left rear wheelarch (see photos in folder linked above).

Beyond those issues, the car is fantastic. The A/C, heat, and sunroof are all functional. All electric functions are operable, including both power seats and the seatbelt extending mechanisms. The dashboard does not show any cracks. The car carries a clean Arizona title. Inspections are welcomed and encouraged.

The car was recently tinted with high-quality ceramic window tint to protect the interior, and the windshield was recently replaced after a rock on the 10 freeway cracked it. The insurance company wanted to replace the windshield with an aftermarket part, but I would not accept that, and persisted. So of course the windshield was eventually replaced with a genuine OEM brand new Mercedes-Benz 560SEC windshield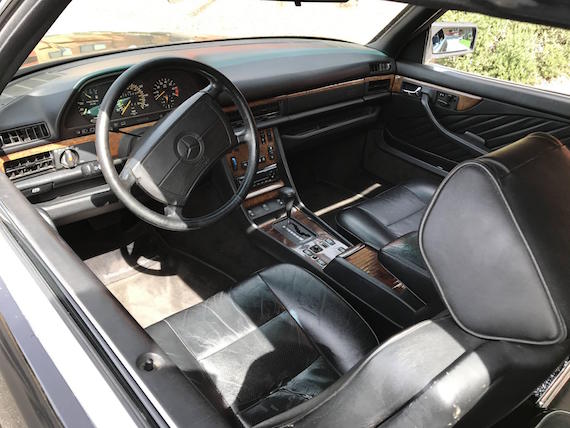 This car presently nicely overall in 040 Black paint over black leather, a very effective color combination on the SEC. The exterior looks to be in very good condition, subject to a minor bit of rust bubbling on one of the wheelarches, and is set off nicely by a set of period-correct, 16″ Lorinser wheels. These are desirable rims, although the chrome finish may not be to everyone's taste. A quick tour of the photos in the linked gallery shows that the interior is also in good shape, with the exception of a tear on the driver's seat.
Miles are high at 252k, but at this point service history is the most important factor and the car is said to come with extensive records. The odometer has stopped working and perhaps the most serious flaw is a problem with the idle on startup. This could be a relatively straightforward fix (maybe a new idle control valve is needed?) or indicative of something more serious: few details are given. I assume interested buyers can follow up with the seller, who's a forum member on Benzworld.
With a low price of $6,500, this could be a nice little minor project for someone who doesn't mind rolling their sleeves up to score a generally well preserved SEC for a bargain basement price.
– Craig