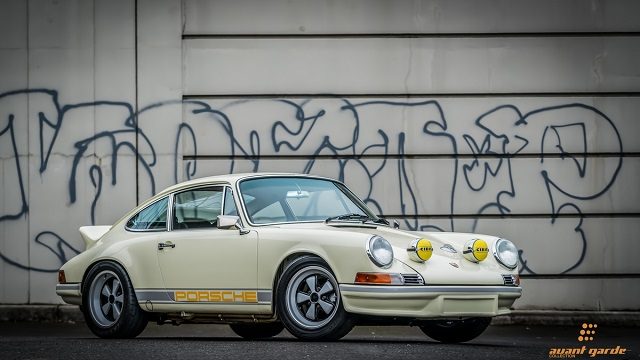 We come across a lot of backdated 911s in a wide variety of builds though nearly all based on a similar premise: the underpinnings of the 911SC or 3.2 Carrera mated to vintage long-hood 911 Carrera RS styling. A common version I've seen is kind of a Frankenstein: a 911SC chassis with a 3.2 Carrera engine and that RS styling. As with any build, quality can be almost as variegated as the color palettes. I like the idea and many of them look great and provide something that many 911 fans find quite desirable. Not for all, since purists will always cherish originality, but the variety makes the market more intriguing and might even give buyers some ideas of their own.
This one, at least on appearance, is a pretty interesting one. It is photographed well and that always helps these cars stand out because their colors tend to play up contrasts more so than a standard 911. It also comes across as a fuller package though not necessarily pushed to the limits. They've done not only exterior and interior treatments, but they've also put in some effort to bring a vintage quality to the engine by fitting Weber carburetors and generally restoring it to pristine shape. The details certainly won't excite you like something from Singer – I don't think there's anything here that we'd call bespoke – but the overall execution looks solid and the selling price should be significantly below that of a Singer. As an alternative to a standard 911SC or 3.2 Carrera this might make for an interesting option.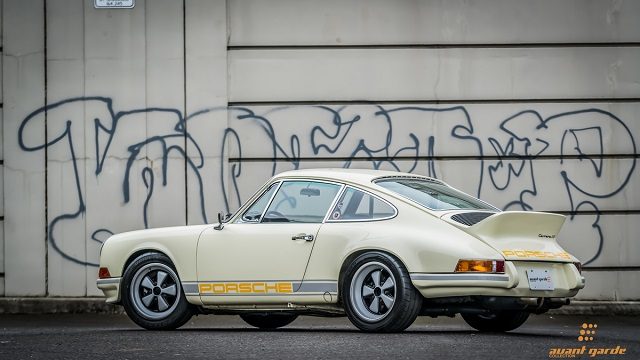 Year: 1981
Model: 911SC
Engine: 3.0 liter flat-6
Transmission: 5-speed manual
Mileage: 173,691 mi
Price: Reserve Auction
1981 Porsche 911 SC Backdate

This project started as a clean 1981 911 SC, it has been tastefully updated and modified to look like a pre-'73 car.
The car runs very strong, the transmission shifts great, and it handles very well.
These backdated cars are the best of both world, retro looking but with the wider, stiffer, rust-proofed body.
This car looks fantastic and gets a ton of attention no matter where you go.
Car has Air conditioning and retro modern stereo with auxillary capability

Fresh window out re-spray in original Chiffon (Light Ivory)

Custom finish fiberglass long hood from TRE Racing. Under the hood has been left raw as in the original ST's.

Fiberglass fenders and bumpers

Thru hood fuel filler with custom drilled chrome fuel cap.

Drilled early style square push button door handles with fresh chrome

New lenses with new rubber gaskets (front and rear)

New windshield with new rubber gaskets (front and rear)

New bright trim for windshields (front and rear)

New horn grills with fresh chrome on headlight rings

Driving lights mounted on the hood as used by the racers of the 60′ and 70's.

Strong running 911SC 3.0-litre engine with 40 IDA Webers. (3% – 5% leakdown on all cylinders)

Black ceramic coated headers and sport muffler

Engine just had new Webcam 20/21 camshafts installed, RSR rocker shaft seals, and new Viton seals thru out. (No leaks, no drips, no smoke)

Elephant Racing finned oil lines and fender mounted cooler with dual cooling fans

Distributor recurved and rebuilt to RS spec by Aaron Burnham at Burnham Performance

MSD 6AL ignition and coil

New custom engine wiring harness

Replaced clutch, throw out bearing, pressure plate, resurfaced flywheel

Rebuilt original alternator and new starter

New powder-coat and paint on all engine tin, valve covers, fan, etc.

Almost every nut, bolt and washer was yellow zinc plated

Rebuilt and repainted brake calipers

New Hawk brake pads and braided stainless brake lines, ATE "Blue" racing brake fluid

New Bilstein Sport Shocks

Camber plates with monoballs up front

Fresh corner balance and competition alignment by Mirage International

Lightweight interior, with custom upholstered dash seats and door panels, all done in matching black basket weave with brass grommets

Appbiz charcoal RS style carpet -New

Autobahn light ivory headliner -New

Early chrome SWB rear view mirror

Black Nardi steering wheel

Coco floor mats

Opening front and rear quarter windows

Freshly refinished, original Fuchs 16 x 7's & 8's, with brand new Bridgestone RE 11 205/55/16 (front) and 245/45/16 (rear)

Full folder of invoices, from 2007-2015, showing everything that went into this build.

Tools

Owners manual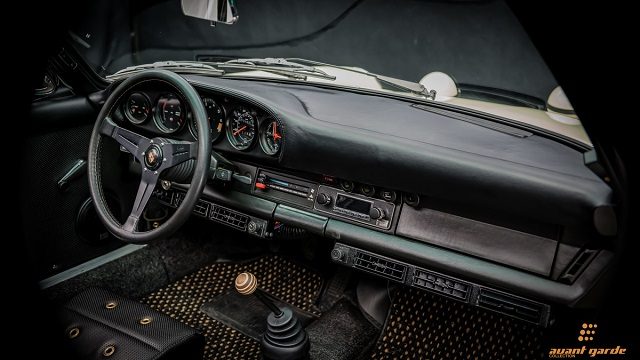 I always struggle to come to terms with pricing of these builds. In part, that's because there's so much subjectivity to the pricing. And in part, it's because I know there is typically a lot of work been put into these builds and that can be difficult to properly value. If the right buyer comes along a seller could likely extract quite a premium. But waiting for that buyer might require more patience than some sellers are willing to tolerate. Bidding here sits at $46,300 and the reserve is unmet. How high will it go? I have no idea! $60K? Perhaps higher for that perfect buyer. Given how often I've seen builds optimistically priced above $100K I never quite know what to expect. In many ways the donor car and engine will tell us a lot. The SC and 3.2 Carrera builds, when more or less maintaining their original power levels, shouldn't see too high of a price. One based on the 964, or even more rare showcasing a 993 engine, fall into an entirely different tier and with those we can really have something special with a price to match.
For a 911 like this I tend to think of it as being a really nice 911SC that's had a good bit of work to return it to spirited and pristine form. There is value to be had there, though not necessarily as much as an original SC in comparable condition. And that's where the pricing becomes difficult. I suspect many buyers will lose interest once the price drifts too far above $50K, but if the drive is as delightful as the appearance then I'm sure some can be persuaded to pay more.
-Rob