Warning!
This post is in our archives. Links in this post may have been updated to point to similar cars available to bid on eBay.
When BMW started futzing around with broadening the M-division's reach, I was ready to call blasphemy. And while the X5/6M still rub me the wrong way, things like the M550d are a positive step to the future while referencing oft-forgotten classics like the pre-M5 M535i without the outright bastardization of the aforementioned X-elephants.
Today's M535i is a rare sight on these shores with its small bumpers and tupperware valences. Adding to the rarity is a Dinan turbo with other go-fast goodies, making this one hell of an 80s sedan. The exterior and interior aren't 10s, but with a Buy-It-Now of $9,000, they don't need to be.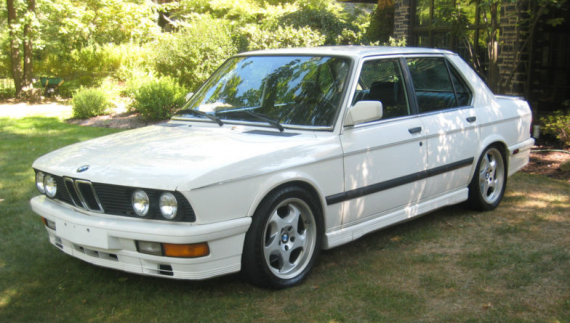 From the seller:
Purchased from workshop technician at Dinan Engineering (Mountain View, CA) in 1996 – body showed 152,000 miles at that time
The car has the full Dinan turbo/suspension/brakes performance package from the early 1990's
Car had been imported from Germany and has Federal Motor Vehicle Standards Import sticker and B.A.R. Engine Identification sticker (for emissions compliance) identifying the presence of the turbo. NOTE: the actual VIN is WBADC710XD0641184 – EBay would not let me list this in the VIN box.
Since leaving CA the car has spent most of its time in Houston or in heated indoor storage in Cleveland – I have driven the car 40,000 miles in the last 16 years and the car has had quality maintenance and parts replacement where needed.
I am an Engineer and BMW enthusiast (owned four, still own two) and I'm thinning my collection of cars and bikes – too many toys, not enough garage space! Call me on (216) 401 5071 with questions – I can recommend a car transporter and will assist with loading, but you will need to set it up.
Overall – an interesting and very rare car that you can enjoy every day – and that will likely repay restoration work if you wish!

Euro M535 features
Letter of Authenticity from BMW M GmbH in Munich (see photo)
Alpineweiss (Alpine White)
Black leather interior and upholstery on M sport seats (Recaro?)
Original Euro M body kit (see photos)
Close-ratio 5 speed transmission with dogleg first gear (Getrag 262CR? – see photo)
Three-spoke M sport steering wheel
No internal protection barriers in doors
Cruise control (I have never used it)
Headlight aiming mechanism (may be disconnected)
Central locking
Power windows on all 4 doors
Power sunroof

Dinan features
Intercooled Dinan turbo (adjustable wastegate currently set to 9psi – which is plenty!)
Dinan engine management computer
Dinan exhaust mods on stock M535i exhaust (stock BMW muffler modified and re-welded)
Dinan dual chrome exhaust tips (see photo)
850i V12 front brakes and calipers (stock brakes and calipers come with the car)
Full Dinan suspension upgrade (springs, Bilstein shocks, etc.)
Dinan camber kit (camber rings not currently installed but with the car – see photo)
Dinan trunk badge (see photo)
Dinan floor mats (see photo)

Additional info
Genuine BMW M "throwing star" forged wheels 17×8 with 20mm offset. Some very minor rash but all are straight (see photo)
Dunlop SP Sport D40 M2 tires 255/40 ZR17 (decent tread and grip, but probably now too old and hard to be ideal)
Original 1985 BMW 165TR390CH metric spare wheel with 220/55 VR390 Michelin TRX tire (neither has ever been used – will not fit over the 850i brakes – see photo)
ACT basket weave spare 16×7 ½ (25mm offset) with 205/55 R16 Dunlop D60A2 tire (this spare will fit over the 850i brakes)
Big folder of receipts for quality maintenance and parts replacement over the years:
Much overhaul and cylinder head work by the late great Mike Perkins at Bavarian Machine in Houston (over $16.8k in receipts)
Recent turbo inlet work by Brett Anderson at Koala Motor Sports in Cleveland
E28 workshop manual (Bentley)
BMWCCA Enthusiasts Companion
The good the bad and the ugly
Everything (electrics, instrumentation, mechanicals) works well
Engine, gearbox, drive train, steering, brakes all in excellent shape – no funny noises, leaks or indications that work is needed
A/C converted to R134 – works well (as well as a typical E28 system – not ice cold!)
Euro M535 did not have a cat – high flow cat was fitted for CA but I have replaced it with a straight pipe and no longer have the cat – car is exempt from OH smog (over 25 years old)
Paint appears original with minor aging, no signs of any accident repair, no rust evident except minor surface rust spot at base of rear window (see photo)
Interior is good, no damage to leather other than some aging creases – no splits or holes in the leather (see photos)
Interior door panels (black leather), carpets (dark grey), roof liner (grey) all in great shape (see photos)
Aftermarket Panasonic AM/FM/CD player with auxiliary amplifier/graphic equalizer is in car – works well but easily removed (I do not have the original stereo).
One or two power window switches need contact cleaning
Original tool tray in trunk is complete but tools need clean-up
Dash top cover is cracked but covered by removable custom-fit dash mat (see photo of cracks)
Leather cover on steering wheel has worn through in one spot
Some window trim and other interior trim items need minor attention
With a couple of promising previous owners and what appears to be a good level of all-around attention, this is a great opportunity at some seriously rare German muscle. The seller must be of the "pay it forward" mindset or just worried that 190k miles will worry some buyers. Regardless of his reasoning, if a PPI checks out, this is an awesome deal.
-NR