My last extreme Syncro Westfalia garnered many chortles as the $40k asking price overshadowed the thorough restoration. What's the best way to convert the naysayers? Find an even more insanely priced Volkswagen van.
Today's Vanagon is definitely more decked out, with solar panels, ladders, racks, rims, and the heart of a Subaru SVX. This interesting engine swap certainly accounts for a large portion of the seller's expectations. While Subaru transplants are increasingly common in Vanagons for their power and reliability, people usually stick with the 4-cylinders. Clearly this Syncro is about going 5 blades, so he opted for one of the biggest engines Subaru ever produced, the SVX's 3.3L flat six. 231hp should do just fine in place of the original 2.1L wasserboxer's 95hp. Actually, it must make this thing downright beastly. With everything working (the previously-listed Syncro got nicked for no a/c) and 1600 shakedown miles on the engine conversion, this seems to be the real Vanagon for the megolomaniac.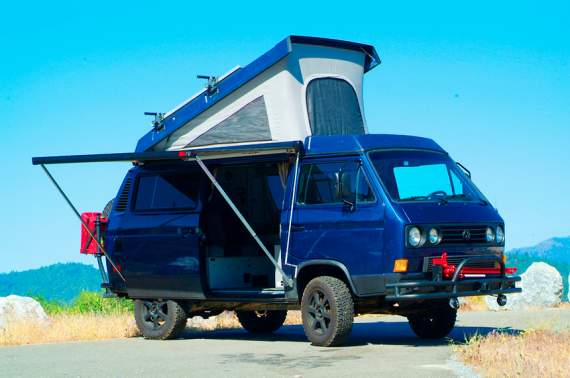 From the clearly (and awesomely) demented seller:
Behold the Holy Grail of Syncro Westfalia vans made, the 1991…This van is a great example of a clean syncro westfalia with all the amenities. The van has been road tested for about 1600 miles from conversion completion, enough to work out all the kinks. Everything works on the van, power windows, locks, front and rear window washers, diff lock, decoupler, stove, sink, propane heat…Everything!
Below is a breakdown of all the items included in this build.

Many more photos at subagon.com

(5) 215 70 16 A/T BF Goodrich tires and wheels (powder coated black)
120 watt solar panel
2 stage custom paint (orley blue)
8′ Fiamma Awning
Propex Gas
Subagon Big Brake kit front
Subagon rear Disc Brake addition
built in inverter 1500 watt
cruise control
door alarm
drive shaft decoupler kit
rear differential lock
dual isolated battery
dynamat sound deadening material
rear bumper w/ hitch receiver, swing away tire carrier, fuel can carrier
fridge delete kit
front AC – rear AC
front bumper with bull bar
large 12v fridge
new interior
rock chip guard
svx motor install – 1996 with 50k miles
rebuilt transmission with taller 4th gear
old man emu suspension
2″ lift springs
tinted windows
truck mirrors
New rear cv joints – inner and outer
New 3 window pop top canvas
New Rear Flat sub woofer
Pop top Struts- (strongest)
Hijack lift mounted on front tube bumper
PIIA fog lights
Hot water heater and shower
Permanent Ladder
TDI Starter
Custom front skid plate / water proof lock box
Plus a bonus fun note from Subagon.com:
We built this van for a customer that spared no expense. He took the van on a few road trips and now wants us to build another one, the twin to this van but with a Subaru Diesel, a build that will land in a price range north of six figures.
Yes, that's bonkers money for sure, but at least some rich dudes are spending their money in awesome and unique ways.
I know people will again question why anyone would spend this kind of money on a Vanagon. But honestly, I would much rather have this than a new Range Rover or X5 or Sprinter camper. Bespoke and thoroughly badass, the price is jaw-dropping, but so are the choices and execution. Next time you see any car on the road that costs $70k (and where I live, that's >50% of the cars on the road), ask yourself if it's cooler than this. Regardless of the car, I already know my answer.
-NR