R.B. emailed me his fantastic looking M635CSi to post on the blog. Check it out: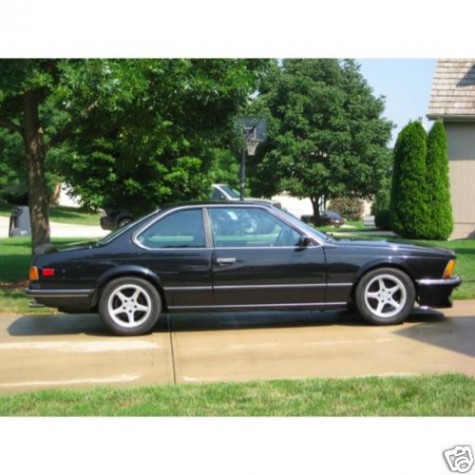 quote from the eBay listing:
1985 BMW M635csi, VIN WBAEE310201050476, 112K miles. Dinan Stage IV, Haltech, Racing Dynamics RGR's with new Falkens. Diamond Black over Schwarz. Originally Polaris Silber. Original Options…415mm cross-spoke alloy wheels, green-tinted glass, power sunroof, warning triangle, power front comfort (non-sport) seats, interior headlight adjustment, air conditioning, Becker radio with power antenna. Engine M88 Engine Replaced about 30K miles ago with a rebuilt S38 by a previous owner I was able to track down. Engine Compartment stripped and completely refinished in KBS RustSeal Gloss Black. New heater valve. All new Belts – factory BMW. New fan and new fan shroud. New Coil, Distributor, Plugs and Wires All new fluids, brakes just flushed. Haltech Platinum Sport 1000 ECU with Datalogging, custom wiring harness, 60-2 M30B35 trigger wheel and Cherry Hall Sensor, so no more Reference Sensors :). New High Impedance 440cc injectors from five-o motorsport. Innovate LC-1 Wideband O2. Engine retained SS bundle of snakes headers from M88 and M88 throttles. Cone filter attached to professionally refinished plenum, refinished valve cover. Dinan air sock. Interior Nice interior, I installed a dash cap due to cracked dash, looks great. New M6 floormats. Carpet in good shape, Custom package shelf in black vinyl. Repaired sunroof header with epoxy and new clips. SI Lights fully functional, all gauges and lights working properly. Installed Nakamichi CD-400 with Bostons all the way around including perfect late model pods in the rear. Brand new Bosch wipers. Drivers seat missing some piping, passenger seat excellent. Comforts were RARE on the M635csi. AC Just finished conversion to R134A, new receiver dryer, all fan speeds and settings work, (replaced transistors), new heater valve. Suspension Has the E24 shimmy I have not addresed yet. Sits on a verified Dinan Stage IV suspension (Front Camber, Rear Camber, Sway Bars and Bilsteins). Needs the usual bushings replaced. Body Repainted Diamond Schwarz by a PO (originally a desireable Polaris car). Some chipping on the repaint, but very nice considering the age. Car looks great. Absolutely no rust anywhere. Solid, clean underbody. Car is a SOLID TEXAS car has been in MO since 2001. Always garaged at my house while the E46 M3 convertible sits outside crying. Rear bumper, slight bend due to a mailbox, looks fine, no structural damage. Rear rubber spoiler in good shape. FRONT – SLIGHT damage to kidney metal. WILL NOT require anything other than minor bodywork. New factory roundels, new factory kidney grills. New OEM Euro turnsignals converted back from DOT. No ugly front side reflectors, somehow this one escaped. Tires and Wheels New 16″ Falken Ziex, Italian made Racing Dynamics RGRs in fantastic shape. Exhaust Excellent condition, no CAT, Innovate Wideband 02 installed.
Clearly this car has had loving owners and the $12k asking sounds very reasonable! Good luck with the sale R.B.!
dc