Randy emailed me recently with details of his low mileage E55 AMG that he's listing for sale. What a great looking car! While we usually go with more classic and rare listings to feature on the site, I was compelled by the honesty of his email and history of ownership.
On to the pictures and details!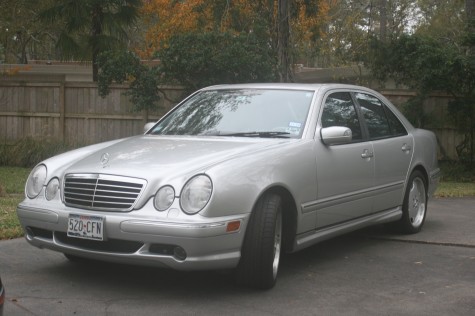 quote from Randy's email to me:
I have my father's 2001 e55 for sale. He bought the car new and drove it sparingly until he died in 2004. (His other cars were a 1995 993 – which we still have with 32,000 miles on it – and a Subaru Turbo Wagon!) I got it after he died and drove it until late 2007. At that point, I got a new 2006 e55 and my Dad's car was put in the garage. It has been driven occasionally since then.

It has approximately 49,900 miles on it. I have all service records; mine and my Dad's.

There have been no modifications to the car. No air dams, spoilers, extra AMG badges, blue lights or huge wheels with ridiculously low profile tires, etc. It's just as Mercedes intended it to be: subtle, yet extremely powerful.

The car runs strong; it accelerates powerfully, it stops straight. The air blows cold. The radio & trunk-mounted CD work as they are supposed to. In fact, everything (to the best of my knowledge) works, with the exception of the air bladders in the front passenger seat.

It is classic silver with two tone silver.

Defects:

1) There is a tiny scratch (not through the paint) on the right rear bumper skin.
2) Very slight "curb rash" on the right front wheel.
3) Two years ago, my wife was involved in a minor accident with the car. She pulled into an intersection and hit another car. The bumper skin was replaced and the right front fender was repainted. There was, to my knowledge, no mechanical or suspension involvement. In fact, the accident did not even break the headlights. The car was repaired and there have been no subsequent issues.

The interior is an attractive (but not pimpy) two tone black & light gray. It looks and smells new. The seats show no wear, the carpets are in great shape, the headliner is clean, the sunshades work well, etc. Neither my Dad nor I smoked in the car.

Asking $19000
Please contact Randy at this email address for further inquiry: randy@wileinterests.com
I hope this car finds a home that will care for it as well as Randy's family has. Good luck with the sale!
dc