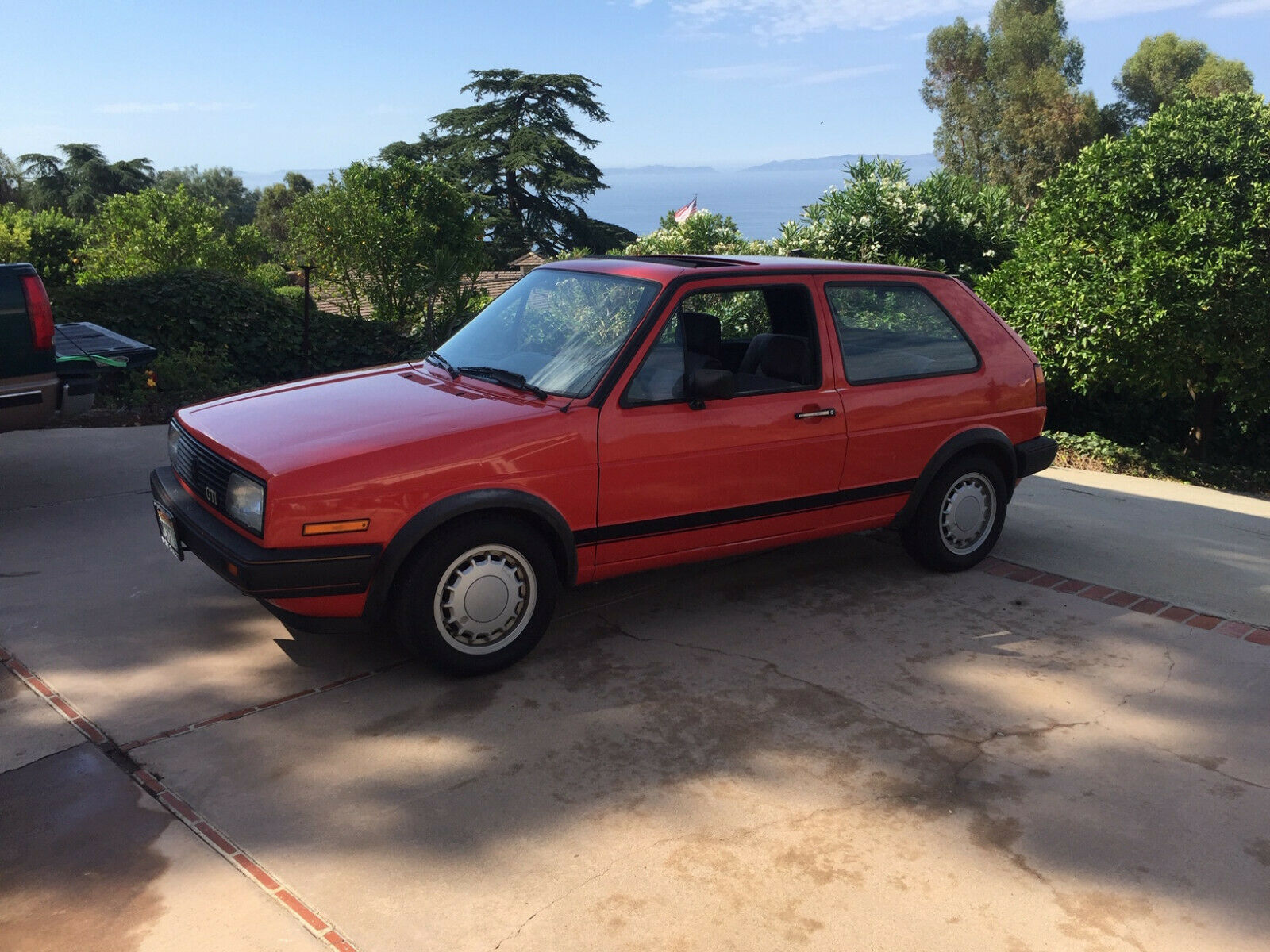 Update 9/21/19: This GTI sold for $5,555.
If 1984 GTI was the all-star high school athlete that just couldn't lose, the 1985 GTI was the freshman college student he became. Sure, the DNA was the same but he seemed somehow softer, wiser and…well, there was that 'Freshman 15' that he put on with the all-you-can-eat meal plan for athletes. He was also a lot more fun to spend longer times with than the high schooler had been. That didn't mean he still couldn't stretch his legs when he wanted, and indeed the '85 GTI had a few tricks up its sleeve to make up for its additional mass. Mostly that came down to the motor; the high-compression 'HT' 1.8 inline-4 with KE-Jetronic injection now made 100 horsepower and 105 lb.ft of torque thanks to a bit of tweaking. It still wore the red-striped exterior trim and signature 'GTI' badging, and the rear hatch was still blacked-out around the window. But now there was a slight spoiler included at the top as well. 14″ alloy wheels still ruled the day, but a new 'bottlecap' design was introduced and they wore 185-60-14 Goodyear Eagle GT+4 tires. That first year of the A2 GTI, you could only get three colors – Black, Diamond Silver Metallic or Mars Red as we see here: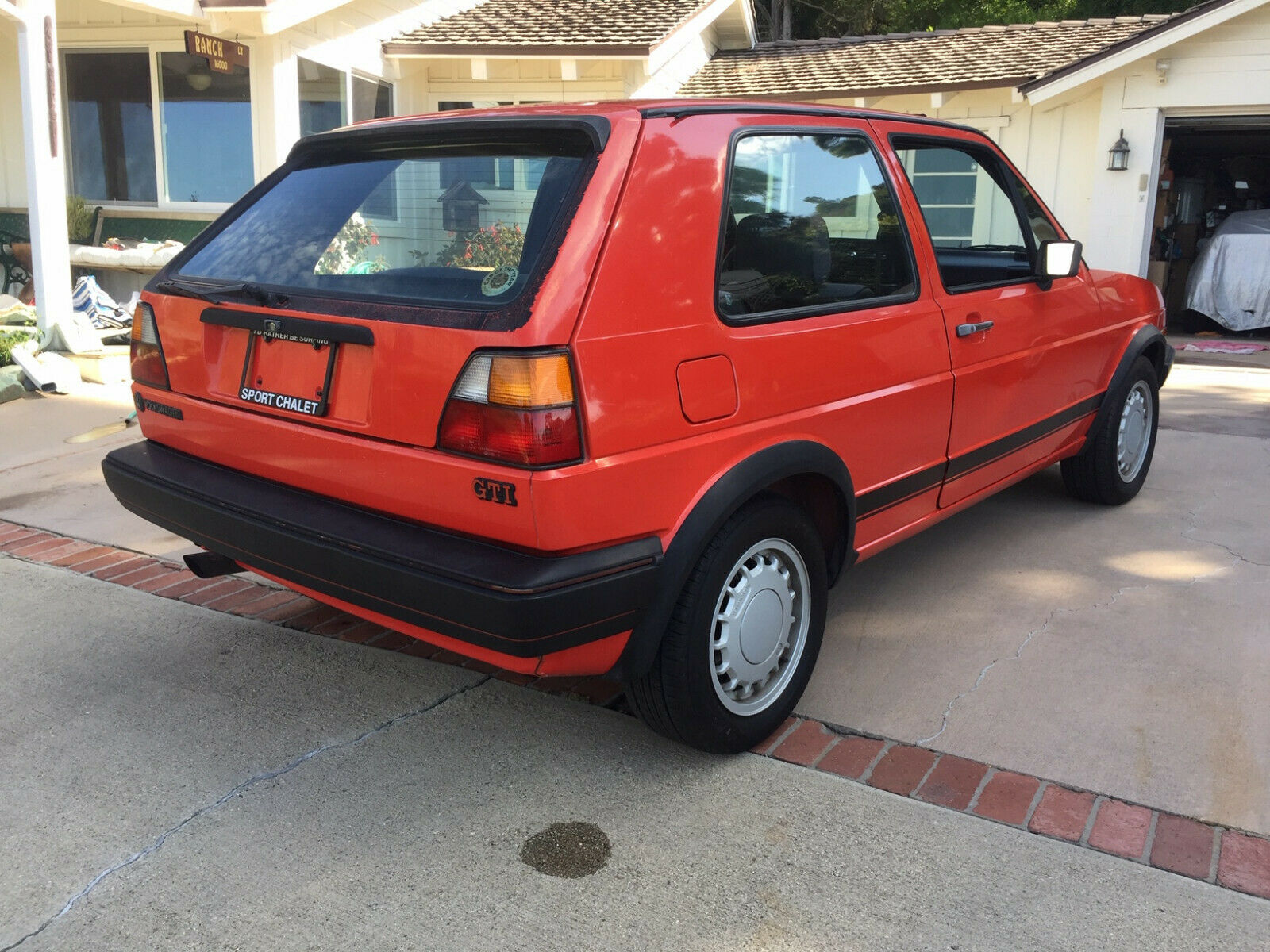 Year: 1985
Model: GTI
VIN: 1VWDB0177FV074757
Engine: 1.8 liter inline-4
Transmission: 5-speed manual
Mileage: 118,099 mi (TMU)
Location: Palos Verdes Peninsula, California
Price: No Reserve Auction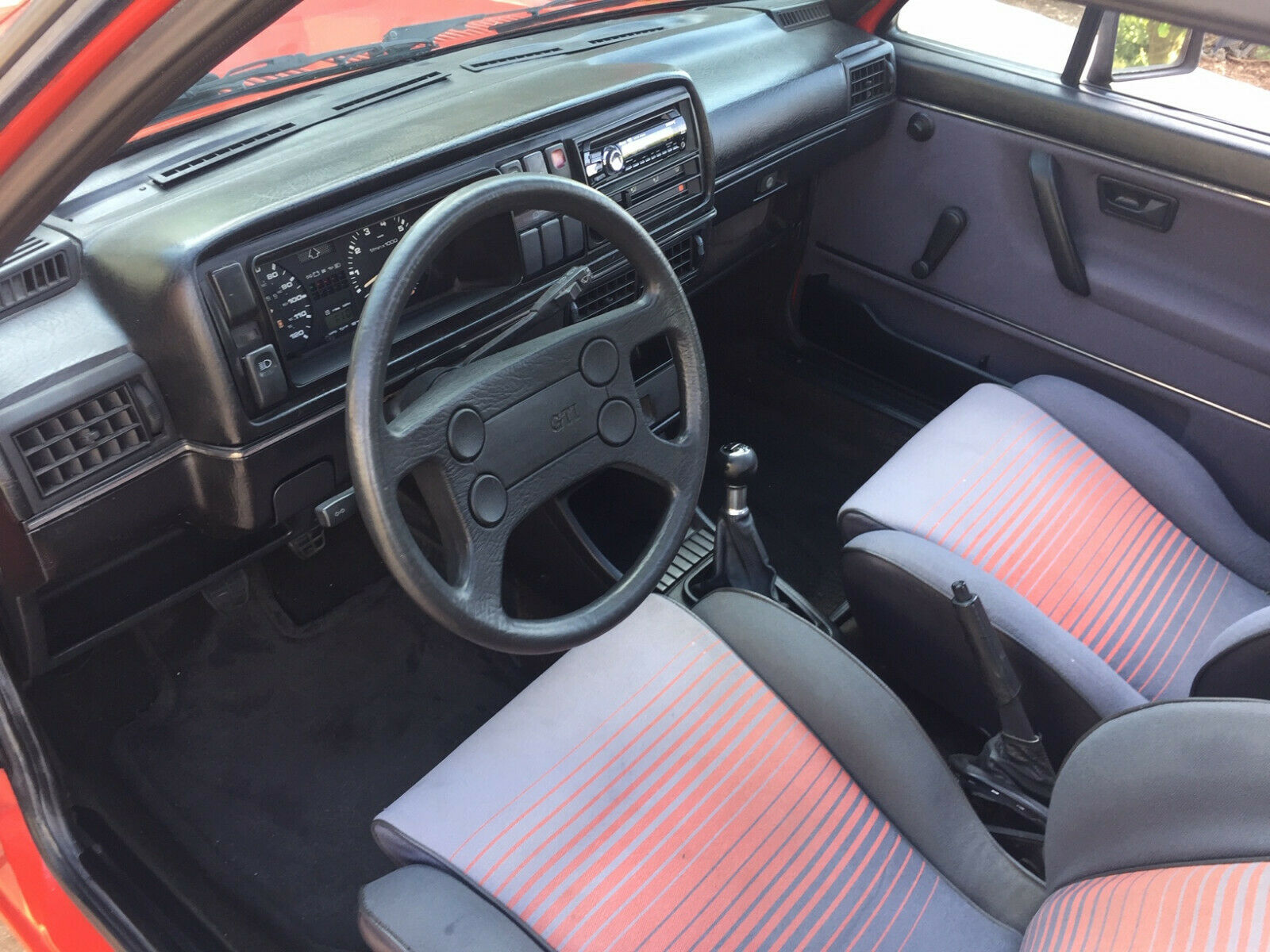 Original 1985 VW GTI In Great Shape, Clean California survivor with original paint and a VERY STRONG MOTOR!

Original GTI 1985 interior in great shape
Original Paint looks really nice
Original California car 99% rust free (sold in 1985 at TIMMON's of LONG BEACH)
Original MotorTrend 1985 car of the year sticker still in place
Original Key, owners manual, sales brochure and more from 1985
Original GTI 85 Bottle Cap wheels w/new tires
Lots of recent work to make this car run strong! (Timing belt,New Battery, Brakes, tires, Fluids, tuneup, radiator, axles and more)
Very solid car, Clean underside and well kept all around.

Very hard to find original Red/Black VW GTI w/sunset interior, Original paint has a nice shine, the motor pulls VERY STRONG with the engine recently getting gone through including TIMING BELT, radiator, plugs/wires,Brakes, Tires, New axle fluids and quite a bit more to make this car very road worthy. Odometer shows 120k but I have no way to verify other than the condition of the car, which is as nice as your going to see and shows little wear for being 35 years old .Car has new tires, brakes, belts and more…EVERYTHING WAS DONE LESS THAN 500 miles AGO.

If you would like to see a video of the car being driven today please take look on youtube and type : "1985 Volkswagen GTI mk2 on sunny day drive"

Paint:

Orig paint looks nice and holds a very nice shine, car looks very tidy going down the road. (see condition description above for more details)

Engine/DriveTrain:

Car runs and drives very nice with new tires and brakes,steers well and pulls strong in all gears and uphill, stops well and handles great, the clutch is very solid and the car shifts great with new shift bushings. I had a well know southern califonria VW ONLY mechanic go through this car to make it a great driver, All and all I really believe the next owner it going to like the power this little car makes with the all the recent work done.(see condition description above for more details)

Interior: VERY NICE!!!!

The interior in my opinion is really nice for an 85 GTI, the Original 1985 seats are in great shape (see pics), The matching door panels are also in great shape, the head liner has been replaced at some point but looks good, the dash is crack free, it come with a nice CD player that blends into the dash well and also has a remote and IPOD connect/charger hidden in the glove box, original VW carpet is in nice shape. the steering wheel still retains some original grain and has the GTI center plastic intact, like most 80 VWs the ODO has a mind of its own, but the major stuff work on the interior LIKE THE SUNROOF…yes the sunroof opens and closes. The interior might need a couple things to be perfect but all and all I think its as nice as I have seen in the last 20 years.

See pics for condition and Im sure you will be impressed. Im happy to answer any questions on the car so feel free to email me via Ebay. I believe I covered most of it above but Im sure there are a few little thing here and there I may have forgot SO PLEASE ASK ANY QUESTIONS YOU MIGHT HAVE! CA buyer responsible for any DMV costs while out of state buyers will have their own state to deal with so please check your local laws prior to bidding and ask all questions. all older cars need a little work from time to time and Im sure this one is no different, that being said I really think the next owner is going to enjoy this old VW. Cars like this are getting near impossible to find in nice shape.

Selling this one out of my personal collection. I love this car because it drives so strong and handle so well for an original 85. Hard to let this one go but we are building a guest house so I will no longer have a garage spot for it. Someone is going to get a VERY NICE ORIGINAL GTI…good luck

(keep an eye out as I may be selling a few more original 80's VW /AUDI cars in the near future).

I took this out for a drive today on 9/5/19 and had a great time:

If you would like to see a video of the car being driven today please take look on youtube and type : "1985 Volkswagen GTI mk2 on sunny day drive" you will be able to see the car in action pulling very strong uphill.

Car is located in Rolling Hills California and is available for pickup once deposit is sent.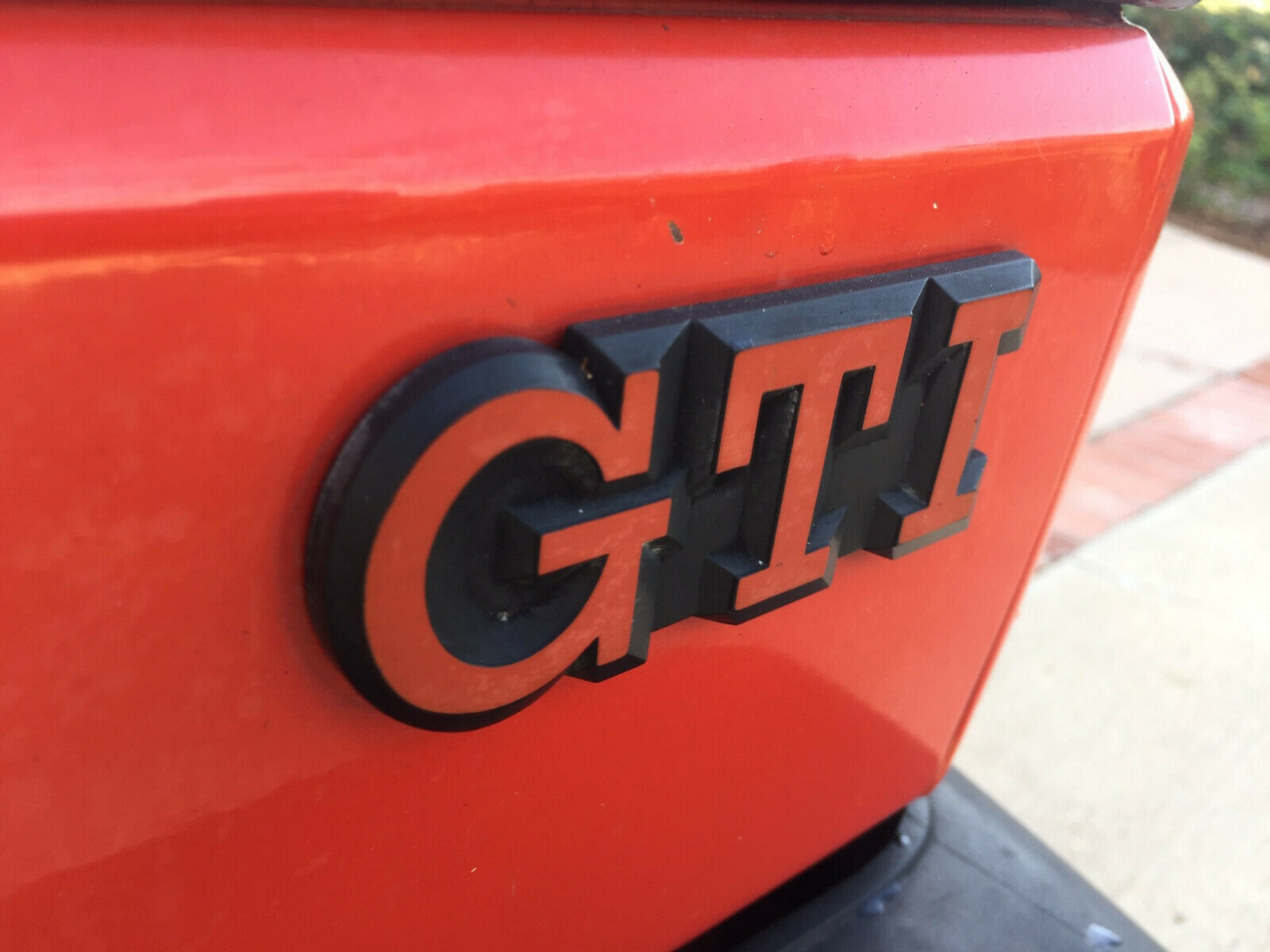 Options on the GTI were pretty limited; air conditioning, sunroof, cruise control, power steering (can you believe that!), better stereo, floormats. You had to pay a bit extra for the Diamond Silver Metallic paint, too – which would push your hot hatch over $10,000 in 1985. Still, at the same time a Quattro was $40,000 and not much quicker than this car in the dry; probably part of the reason that this car won 1985 Motor Trend Car of the Year.
If this car looks a bit familiar, it's because I looked at it back in June – but with 'soft touch photos'. The seller has relisted the car with a much better presentation this time around, and it really does look like a great survivor. Mars Red is a great color that's neat to see because Tornado Red was so ubiquitous on period Volkswagens, and this car has a lot of work performed in recent history. Downsides? Sure. The Fuzion tires are budget brand and horrible. It's got a small dent by the headlight. The driver's seat has some tears on the fabric showing and the CD player is a typically ill-fitting match for the dash. But perhaps most significant, the "118099" odometer with the trip set for all zeros is usually a strong indication in period VAG products that it no longer works. The rear wiper is also broken and the matte black appears to be pretty well cooked. But as a package, this is a pretty hard-to-reproduce example and the no reserve auction is appealing. Currently bids sit at just over $4,000 so it will be interesting to see where this ends.
-Carter