Designed as a replacement for the Karmann Ghia, the Scirocco was a sharp edged, sport compact styled by Giorgetto Giugiaro and built at Karmann's Osnabrück assembly plant. Based on Golf mechanicals, the Scirocco was actually introduced a few months before the Golf debuted to help iron out potential teething issues. While they never sold as many as their performance counterpart, the GTI, it didn't stop Volkswagen from marketing their new sport coupe, the Corrado, on these shores. A high price and badge snobbery stood in the way of the Corrado making a splash and it eventually disappeared from the US lineup after 1994. Apparently taking heed from prior attempts, Volkswagen has stated they have no desire to sell the current, third generation Scirocco here in the US, much to the dismay of the Volkswagen faithful. Good Sciroccos are hard to come by, but this 1985 model for sale in Tennessee is a tempting piece.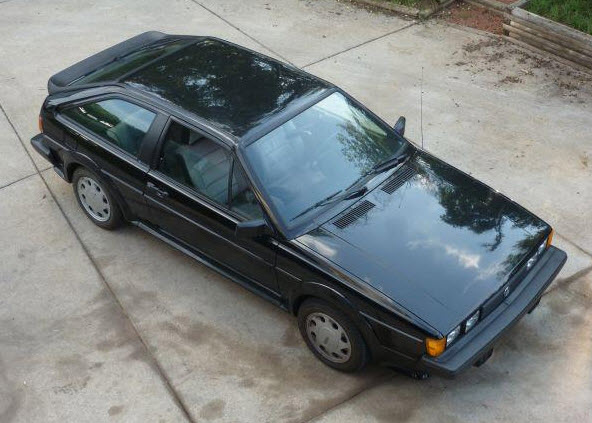 1985 VW Scirocco, 5-speed trans, 4 cylinder 8 valve engine. Very good on fuel and looks, amazing you don't see many of these cars any more and especially in this condition. This car runs and drives great always stored in doors same owner since 1988. Engine runs strong A/C works but needs to be recharged. Clutch is solid transmission shifts through all gears smooth. New fuel pressure regulator. New fuel accumulator. Recent tune up and oil just changed. The tires and battery are fairly new. $6,500 or best offer. Title in hand, oot me an offer some ones going to get a real nice car.
The seller's asking price isn't way too out of line, given the condition, however, factoring in an A/C recharge and what that will cost, $5,500 to $6,000 may be a more realistic offer. But, there's certainly a limited number of unmolested Sciroccos like this out there, so the seller may get his asking price. It's a shame this isn't a later 16 valve model, but either way, this should appeal to a lot of Volkswagen enthusiasts out there.
-Paul