Following on to the base model theme set by the BMW 518i featured on Monday, here is a W123 Mercedes-Benz not often seen on these shores. In fact, this car doesn't even reside on these shores, but comes to us from Hungary. This 230E has the M102 inline four cylinder engine with 134 horsepower and 148 lb. ft. of torque. While not a rocket ship, these petrol engined W123s certainly are more sprightly than their non-turbo diesel counterpart, the 240D. With the manual gearbox, it will help make the most of the power on tap.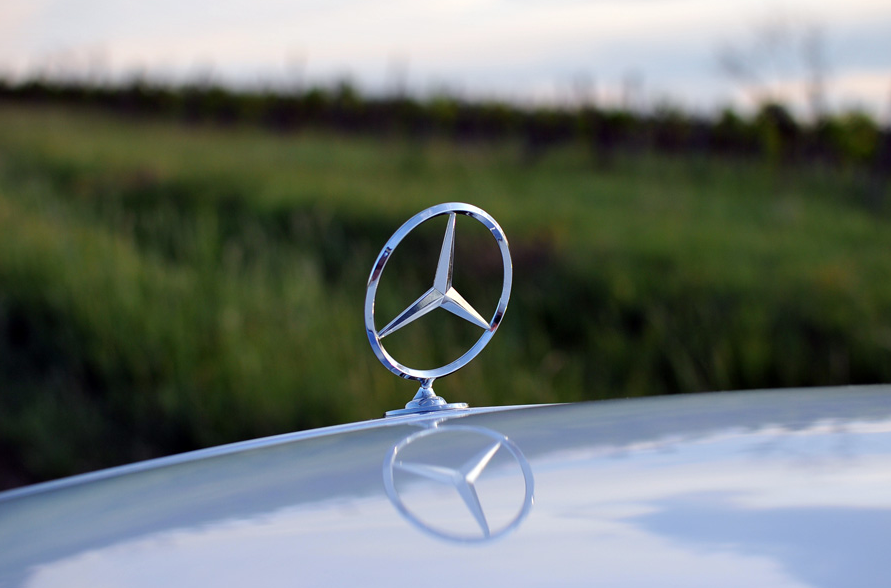 Likely the most durable car ever built by Mercedes, the W123 was officially introduced to the American market with three engine choices: 2.4L/3.0L diesels and a 2.8L gasoline engine. Only the 240D was available with a manual 4-speed transmission. U.S. safety regulations forced Mercedes to fit all models with beefy crash bumpers, giving the W123 a somewhat clumsy appearance.

Not so in Europe: Sleek bumpers and adjustale aerodynamic H3 headlights were allowed. All models were available with a manual 4-speed transmission. The cream of the crop was the 230E. Marketed as being as quick as a six cylinder vehicle and having the fuel efficiency of the 3.0L diesel, the 230E quickly became the favorite autobahn stormer for European business execs. This lightweight 2.3L Bosch Motronic fuel-injected engine fires out 136 horsepower while weighing considerably lighter than the 3.0L turbodiesel and the U.S. 2.8L gasoline.

Lacking weighty creature comforts like A/C and power windows this 230E feels actually fast…something I never experienced in any W123 sedan.

Having dealt with classic Mercedes cars for 15 years in America I naturally had the opportunity to acquire many pristine examples of American market W123 sedans, coupes and wagons. While the 280CE coupe can feel quick if you really step on the gas it always felt inhibited by the quirky automatic transmission – the only transmission available for to Americans at the time. It wasn't until I drove my first 230E 4-speed when I really fell in love. The power and agility is in truly a different class all by itself. Coupled with a lighter curb weight and sleeker bumpers the 230E changed my view of the W123 forever from being a Sunday cruiser to an autobahn left-laner.

While I've come across my fair share of pristine W123 Mercedes in America, it's pretty unusual to find one of this caliber in Europe where they tend to be more roughed up. This car is simply in amazing condition. The paint is factory stunning. The interior shows hardly any wear. Carpets, dashboard, Zebrano wood trim are all in impeccable shape. Bumpers, chrome trim and all glass are unscathed, shiny and beautiful. Of course with very low KMs showing on the odometer and a very caring owner this is what you should expect from such an over-engineered and super-durable car. Anything less means the car either has extraordinary high KMs (or miles) or it was passed down to teenagers (should be a crime).

As this beautiful W123 is now over 25 years old it is finally available to U.S. buyers without the hassle of U.S. importation red tape associated with most vehicles newer than 25 years old.

Besides the factory euro-style bumpers and Euro H3 adjustable headlamps the 230E has complete parts interchangeability with U.S. spec W123 sedans. The motor is identical to the very common U.S. spec Mercedes 190E 2.3 of which it has 100% parts interchangeability – an important factor for those who wish to properly maintain this car within the U.S..

This is a car you should not pass up!

I specialize in exporting "Cool Euro Cars" to American and Western European enthusiasts. I helpfully assist with shipping, exportation and all the details associated with the process. I have exported many cars to America. The real trick with this is making sure the car is 25 years or older: no red tape, low fees and streamlined U.S. port entry. The U.S. dollar is currently strong against all Euro currencies, so it's a good time to think about importing your favorite European classic.

Stunning, outstanding condition inside, outside and mechanically. Original mechanicals uncluding the superior fuel injected 2.3L 126HP motor. Professionally maintained by veteran Mercedes mechanic in Hungary – who are known to be some of the best in Europe. Super-glossy and smooth paint, extraordinary rust-free body and undercarriage, shiny chrome trim and an interior that looks nearly new. Driven sparingly by a very caring, meticulous owner.

Equipped with two forms of professionally installed anti-theft devices: transmission deadbolt lock and ignition disabler. The previous owner DID NOT want this car to get stolen!
Depending on the body style, W123 values can vary greatly. As we have seen, estates tend to bring the most money, which is curious, given that coupes and convertibles are usually valued the highest amongst Mercedes-Benz models. If this 230E was already in the US, $5,700 would be a pretty decent value for what is one of the most durable and reliable cars ever built. But, one must factor in customs and shipping fees into the equation, which can easily run another $1,000 to $2,000.
I like this W123 a lot better than the 518i featured earlier in the week. When we think of BMWs, we typically think of them as high performance vehicles in this market, so it's understandable that car left some of our readers wanting for more. But there's something endearing about these simple Benzes. They aren't the fastest or most luxurious pieces of German iron, but with attentive maintenance, you could run one of these cars easily for half a million miles. I doubt I'll ever see another new car so revered for its durability in my lifetime.
-Paul