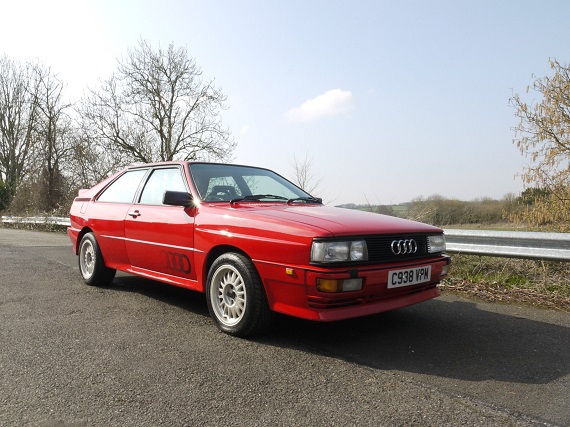 One of our readers not so subtly pointed out to me that I mention a certain box-flared car from a certain manufacturer perhaps a bit too often when reviewing Audis, and perhaps he's right. Isn't the Quattro enough of a legend to stand on it's own? The answer is that until quite recently, no – it wasn't. In part that's due to the experience of the diluted American market version and Audi's near denial that it built any cars before the A4. 160 horsepower with the best part of 3,000 pounds to haul around isn't even enough for most Subarus these days, so it should be no surprise that the Quattro's performance suffered in U.S. spec. What also suffered was buyer's pockets; at $40,000 in the early 1980s, this car was the equivalent of nearly $100,000 today. Though the driving dynamics were more than the sum of their parts, ultimately Quattro was dropped after a short run in the U.S. market with 664 sold. Despite the relative sales flop in the U.S., the Quattro had a greater impact in Europe, where its fresher and lighter face was paired with 40 more horsepower and steadily improving performance and technology coupled with its major rally successes. Indeed, the last of the RR Quattros continued on alongside the replacement S2 until the end of 1991. It was so stellar, there was a whole segment of forced induction, flared WRC candidates that copied its blueprint. Remember the Celica All-Trac Turbo? Sierra Cosworth? How about the 323GTX? Golf Rallye? Lancia Delta Integrale? Subaru Impreza 22B? All of them are legendary cars born from the Quattro. As there is more appreciation for Audi's 80s halo car in Europe, we've seen a steady stream of nice examples head back to the homeland from U.S. shores. Perhaps it's time to turn the tide?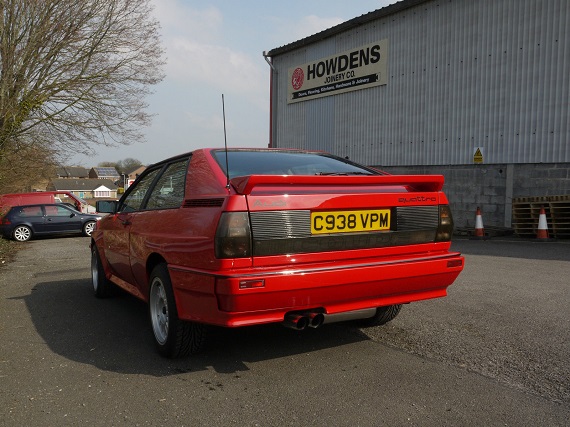 Year: 1986
Model: Quattro
Engine: 2.2 liter turbocharged inline-5
Transmission: 5-speed manual
Mileage: 153,000 mi
Price: GBP 22,000 Buy It Now ($32,731 today)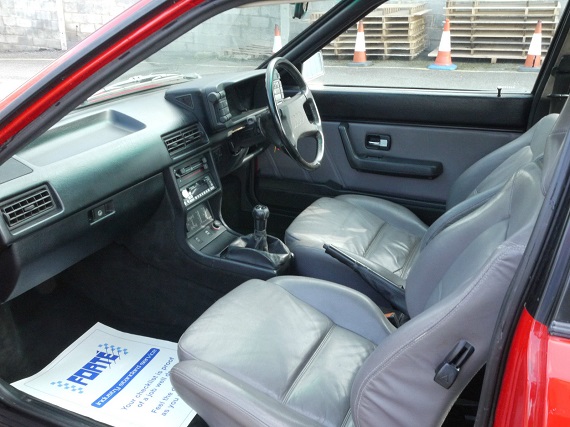 Classic Audi Quattro Turbo 10 Valve

This is Noel Edmonds old car which his wife use to drive on registration number 436 LAE!

A lovely example with recent bills for paintwork restoration totalling £6000 and a mechanical overhaul and restoration completed by AM Cars last year.

The paintwork included a full respray, new bonnet, new headlights, new badges, front windscreen and tray scuttle and all four wheels refurbished. This work was carried out by T and T coachworks in Honiton in 2014, a full itemised invoice is present with full cost of £6609.76

In the later half of 2014 the car had a complete mechanical overhaul by AM Cars, this included a full service, cambelt and water pump, suspension strip down subframes and uprights shot blasted and powder coated, full suspension re-bush and ball joints, brake overhaul, reconditioned propshaft, new Milltek stainless steel exhaust, new power steering rack and replacement steering pump with a total cost amounting to £11,000!!

As you can imagine this Quattro is fine example, it has a period stereo, full grey leather interior, electric mirrors and windows, ABS, power steering and it will come with 12 months MOT when sold.
Though lesser known to U.S. fans, the updated Quattros from the mid-80s featured the revised Type 85/B2 interiors that were seen in the later 4000/Coupe GTs. New seats, dash, and controls matched the revised headlights matched the updated 8″ Ronals. there were other minor changes, such as the fiberglass trunklid and very slightly revised spoiler that is usually identifiable because it is painted unlike the earlier matte black finish. This car also features a host of upgrades and updates from notable English Quattro specialists AM Cars and Milltek. Between the repaint and the mechanical work, nearly 3/4s of the asking price is accounted for. What you're left with is an outstanding condition original Quattro, a legendary car with the performance it should have had originally. And, being a 1986, you could actually double the number of 1986 Quattros in the U.S. by bringing it over here – Audi only sold one here originally. And let's not forget that this particular example IS Noel Edmond's old car that his wife used to use. And, the green dashboard cars will talk to you in German – literally – if you touch them in just the right spot.
See Dan, a whole post without saying it!
-Carter