With E24 M6 prices on the rise, where is the Bimmer enthusiast to look if they want big fun on a limited classic car budget? The regular flavor 635CSi is a good place to start, as prices for clean examples are still reasonable in comparison. The one problem with the 635CSi is that many were automatic, which doesn't suit everyone's taste. So a 5-speed manual version of the garden variety "shark" such as this example for sale in Connecticut is a good way for collectors of more modest means to move into one of BMW's best.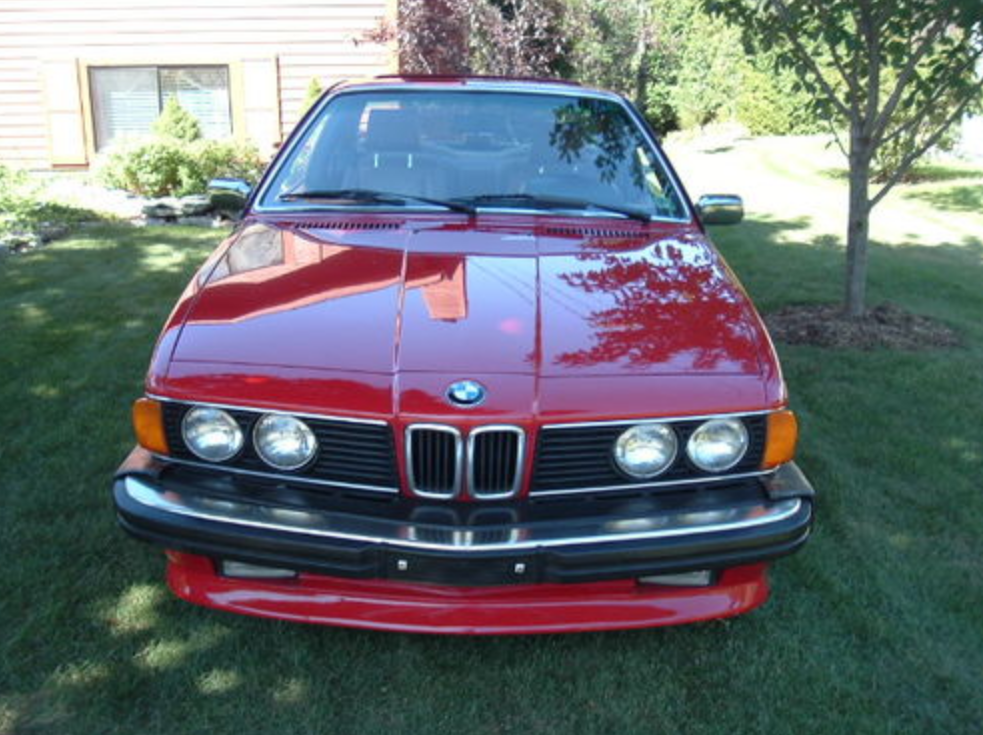 986 635csi 5-speed manual, always garaged, original, rust free, runs excellent. "Big Coupe" or also known as "Shark." This coupe is a blast to drive, really gets the driver out of the everyday "cookie cutter" car and into a great looking classic that brings back the fun to drive feeling, ya only go around once in this life, enjoy the drive and performance of this rare BMW, she is one of the better units for sale and I am sure the best 635 for the money, cheap price considering the return.

Only 1008 left hand drive 5-speed manual shift 635csi's made it to the USA. The 635 was only manufactured for 13 years, 1976 to 1989. 6 series were built on a lengthened 5 series chassis using the M30 3.4L in line 6 cylinder engine. Look at pictures to see if you think this was cared for. Sale includes some extra parts, repair manual. Fully documented for all repair work with receipts and list of what was done. OEM wheels with metric tires in picture 1 are gone, see picture 3,4,5 for present wheel tire set up. Tires have 90% tread life left.

Most recent was a new Interstate "85" battery, air filter, oil & filter, tires rotated. Dash cluster gauges work, clear plastic cover to dash cluster missing, got her that way. I have an extra cluster included in sale. Very nice, clean, original, none beaten, none customized or altered car. I have owned and enjoyed her company for the past 3 years. Not too excited to sell her but money talks. I have a clear CT title in hand and 2 keys. Any and all extra parts & manuals included along with 3 extra 15″ wheels off a 5 series. Trickle charger is included from long term garage sitting.

Keep in mind that this is a classic BMW "big coupe" or "shark" 27 years young, you must expect a few aged items, she is a real classic head turner and a very comfortable, dependable ride, will hold her value, nice lines and good feel, handles excellent. She likes high test as recommended and gets better than one would think for gas mileage. 16-18 around town and up to 24-26 at hwy cruise speed. Worth the fee for a Auto Check, I am sure you will be satisfied with the score, I was when I bought her from the last owner in PA 3 years ago. Buyer will be very happy with purchase, hope she gets a new owner to will keep her nice for years to come.
This 635CSi is priced very attractively considering the mileage and condition. It's also an added bonus that the seller has full documentation and modified very little to this car. I love the E24 and at a price like this, its hard not to sit up and take notice. I would find it hard to believe a time when a car like this might be cheaper in this condition, as the E24's predecessor, the E9, has been commanding strong money as of late. We've seen the M6 take off in popularity and value, so it's a matter of time before we see the needle move on values for the 635CSi. Especially one like this that, so equipped, lets you row your own gears.
-Paul