Sometimes an otherwise run of the mill car can be exceptional, just by the way it looks. Take for instance this 2008 Porsche Carrera S for sale in Falmouth, Maine.
While the Carrera S itself is no slouch when it comes to performance. The naturally aspirated boxer-6 engine in the S gets a bump in displacement from 3.6L to 3.8L over the regular Carrera increase in power from 325 to 355 hp, while torque goes from 273 to 295 lb-ft. Sure the numbers re impressive, but what makes this car great is the color combination.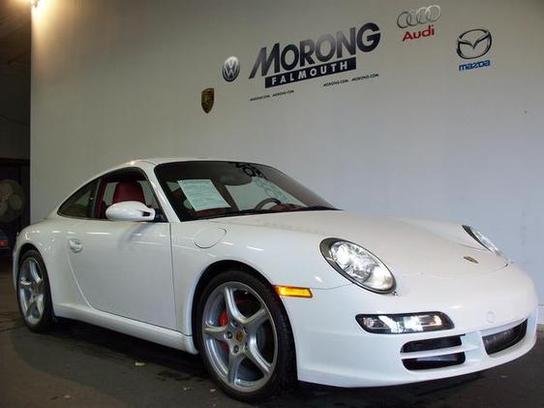 Truly exceptional. White over red natural leather. X51 Carrera Power Kit. Bought here new and just traded. Really one of a kind. Clean car fax, no accidents. Front and rear supple leather seats, new car trade, one owner, self dimming mirrors and service records available. We encourage you to experience this for yourself when you come to look at this fantastic looking and fun 2008 Porsche 911, that is simply in wonderful condition. The freshness of this great, low mileage 911 will make you fall in love with driving all over again. J.D. Power has named the 2008 911 as the highest ranked in Overall Performance and Design in its class.
As a child of the '80s, one thing I miss with cars these days is the complete and utter lack of color. I remember the days when you could almost any color of the rainbow, in everything from VWs to Pontiacs. Now you get your choice of black, tan or even grey. As the years have passed, the colors on cars are getting as boring as the cars themselves.
In some marques color has always been a staple, and Porsche is one that has kept their color palettes as interesting as their cars. As far as I'm concerned, it doesn't get much better than this, there's just something about a red interior that says "this car is fast" (whether it is or not). Priced just under retail, this Porsche it definitely worth it, for the cool factor alone.
-Brian.