My descent into E28 ownership has come with ups and downs, but a central theme has been learning new and obscure things about the car that normal people, and even car enthusiasts, would never have imagined. Did you know that the foam sunroof surround is simply for air buffeting, not keeping out water? There are internal gutters from the sunroof down the pillars, which, when clogged, can cause pools of water in your footwells. Not a fun result, but a better answer than thinking you have a hole in your floor.
It's also caused me to be more appreciative of rarities, such as today's Alpina B9. I posted an E24 B9 Coupe in my early days at GCFSB, and today's is essentially the same car in the E28 body. Alpina massaged the 3.5L M30 to nearly M5-levels of power and torque, just 15 shy at 241hp. Identical to the M5's 6.7s 0-60 time demonstrates the Alpina's serious performance, especially considering the M5 didn't come out until 2 years after the B9. To get that sweet bodykit and stripes, however, you're going to have to shell out $26k, nearly twice as much as a similar M5. With prices reaching upward more quickly than the M5, this is the perfect E28 for the serious collector.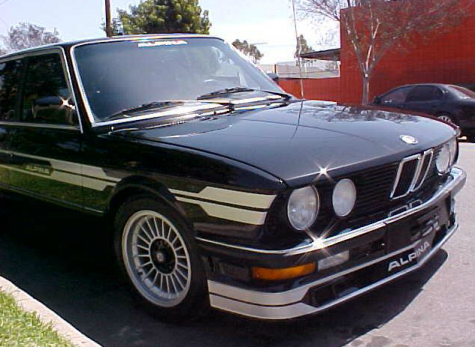 Barebones description for a car that is anything but:
1986 BMW Alpina B9 European Sports Car, 3.5 engine with a manual 5 speed transmission. Features an Alpina front and rear spoiler, Alpina tuned exhaust headers, Recaro sport shell seats, leather covered steering wheel, Alpina gear shift knob, Alpina instruments, Logo fabric throughout, Alpina tuned springs and struts, 205/55 R-16 tires, rear deck spoiler, body decal kit, racing brakes, A/C, power windows, locks and mirrors.
Just 75k miles and bigtime German car-nerd cache mean the seller can probably wait to get his price. If you just wanted a fast E28, you'd buy an M5, so at some point an Alpina-loving collector will come along. It must be nice to be able to drop that kind of coin for those awesome stripes and wheels!
-NR