Karossiere Baur has a long history of partnering with BMW. Most noted for their open roofed conversions, they had a hand in crafting some unique cars, ranging from performance icons such as the BMW M1 and Porsche 959 to oddball machines such as the BMW E36 3 series sedan with a folding canvas roof. One of their most sleek designs was based on the Neue Klasse, or New Class series in the late 1960s and early 1970s. This four seat, open top 1600 is one of but a few hundred that still survive worldwide and strikes a clean, elegant pose in comparison to the somewhat cumbersome profile of the Baur cabriolet with an integrated roll hoop.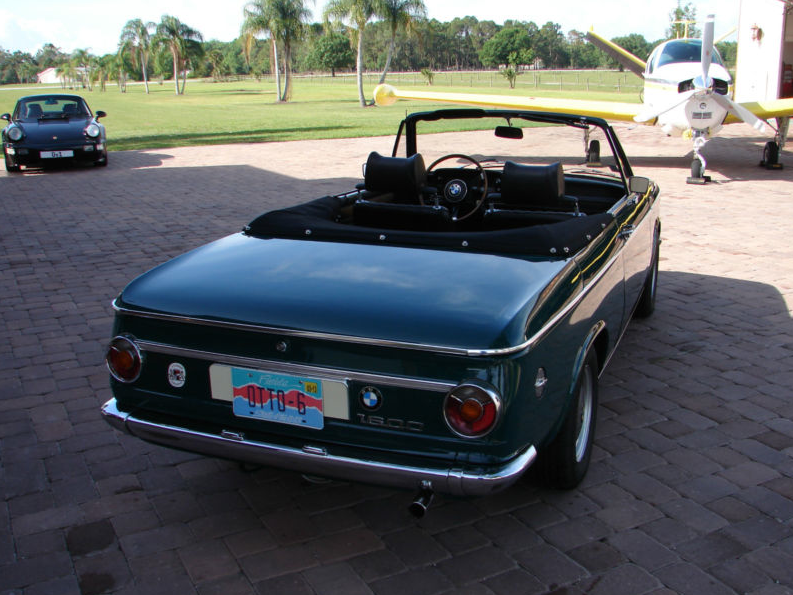 Original 1970 BMW 1600-2 Cabriolet AKA Vollcabriolet/Baur Cabrio with Certificate from BMW. 1 of only 1692 ever built from 1968-1971 (only about 250 left Worldwide). 1.6 Liter/1573 cc Engine, (4 Cylinder, 63KW/85HP SOHC)

This car is part of a Private BMW Collection. Fresh Service and New Tires. The Convertible was restored in Germany many years ago and is still in excellent condition. The Restauration is documented and all documents and paperwork come with the car. Clear Florida Title in hand. I have included over 120 pictures in the following link. All pictures where taken on April 5th, 2012.
The librarian in me loves the fact that this 1600-2 comes with a certificate from the BMW Archives. It is nice to see a rare beast such as this Baur convertible treated to such a nice presentation. The asking price of $45,000 is strong money for most 2002 models, let alone a 1600, but like a well kept 2002 Touring tii or a Turbo, this 1600-2 Baur is no ordinary BMW. This car's Agave green paintwork is an almost spot on reminder of the hue on my father's 1967 Volkswagen Beetle he owned when I was growing up. This isn't the fastest or flashiest BMW out there for sale, but it sure represents a time when engineering and good design ruled the day.
-Paul