My first introduction to the Mk1 Jetta came from a Canadian Olympian I rowed with in college. His 1984 Jetta was clean and white (save for large red Maple leafs on the sides and later "84"s) and reminded me of my Rabbit Pickup. It was so little he could squeeze it between the bollards on campus and gain access to areas usually restricted to golf carts and bikes. Mayhem ensued. If I'd been in the market, I would have snatched it from him when he sold it at the end of college.
From the looks of it, today's Jetta has seen no such mayhem, as it has covered just 100k miles in almost 30 years. Thanks to the love and care of the seller and original owner, we get a glimpse at what the 1983 Volkswagen Dealership floor looked like. Line up a GTI, Scirocco, Vanagon, and this, and I'd say you're kicking 2012 Volkswagen's ass. There aren't many more details than the mileage, but if you're into Mk1 Jettas or Jetta Coupes (shamefully only available in Mk1 and 2 models), it doesn't get any better than this.
1983 Volkswagen Jetta Wolfsburg for sale on eBay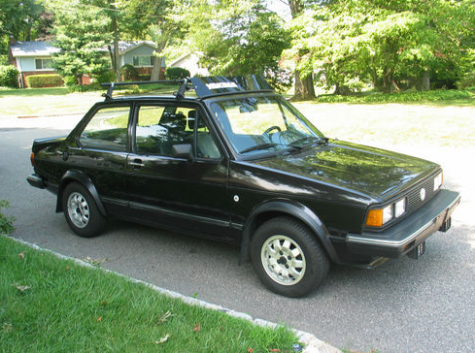 Brevity is the soul of wit, supposedly:
I am the original owner of this car. Jetta has 100K miles and all original equipment. Never been in an accident. Paint is in excellent shape (garaged); metallic black. Would love to see this car go to a Jetta collector. From most accounts, this is a very rare car; 2 door, stick shift, with Wolfsberg interior, gauges on floor, etc.
I love it. It's weird, it's rare, it's exceptionally clean but completely unmolested. And I can't lie, I'm a sucker for vinyl spoilers. 11 bids have it at $2k, and in sympathy for the seller's extreme care and probable distress at selling a deceptively rare car he's loved for 30 years, I hope it can fetch at least twice that. Let's hope a good VW enthusiast gets ahold of it.
-NR