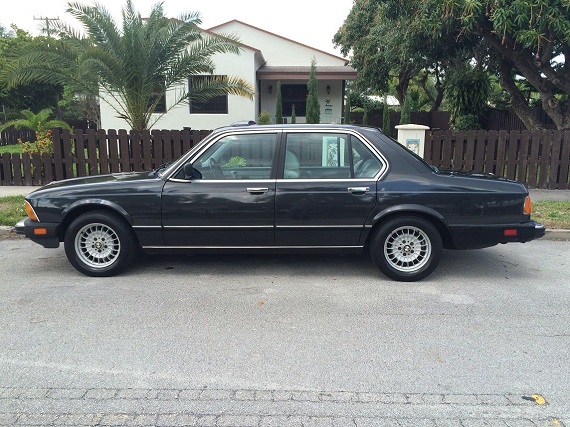 With two exceptions, to me the 7-series has always been a bit of an awkward sell. The E32 and E38 being the outsiders, for the most part the translation of BMW's sporting tradition to a large sedan format hasn't always been a beautiful marriage. Newer models seem large and ungainly, ponderous rolling technological showrooms. I'm sure they're impressive in their own ways, but since the introduction of the S8, Audi has always done the large sports sedan better and the AMG models have been nuttier than anything BMW offered. But back in the 1980s, the E23 was the large sedan out of place. Looking like a stretched E12 after one too many trips to the buffet, the E23 competed against the technologically advanced Audi 5000 Turbo quattro and the more luxury oriented standby W126 Mercedes-Benz lineup. And while it wasn't about to get all nerdy to compete with the C3 Audis, BMW did attempt to sway the Mercedes-Benz faithful with upscale versions of the E23 and E24 – the L7 and L6 – to compete against the SEL and SEC. They sported mostly cosmetic upgrades and one heck of a leather-wrap job inside: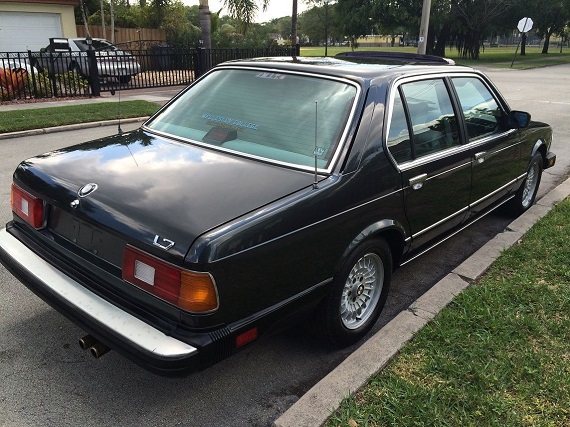 Year: 1986
Model: L7
Engine: 3.4 inline-6
Transmission: 3-speed automatic
Mileage: 133,000 mi
Price: $14,000 Buy It Now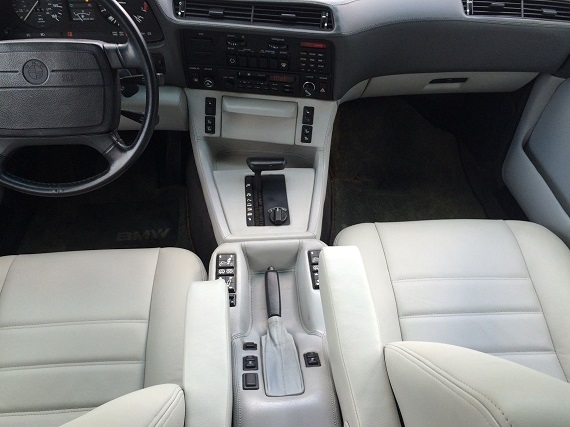 THE ULTIMATE DRIVING MACHINE

The L7 continued to be offered in the United States for another year even though the last E23 built in Germany was produced in August 1986, eventually getting fully replaced by the long wheelbase versions of the E32.
The L7 was a more luxurious version of the 735i for the American market only. It featured special leather upholstery with leatherdashboard and door padding (rather than wood trim), a power glass Moonroof. and a variety of optional features as standard. All L7 models were built with automatic transmissions and a standard driver's air bag.
ONE OWNER !!!!
COLOR DIAMOND BLACK
INTERIOR SILVER GRAY ( WHITE / GRAY LEATHER )
NEW : 45.675,00 $ IN 1986
4 SPEED OVERDRIVE / AUTOMATIC TRANSMISSION
LIMITED SLIP DIFFERENTIAL
ENGINEERING FEATURES :
3.5 LITER SOHC SIX CYLINDER ENGINE WITH BOSCH L-JETRONIC FUEL INJECTION
TREE WAY CATALYST WITH LAMBDA SENSORS
DIGITAL ELECTRONIC INGNITION
DIGITAL MOTOR ELECTRONICS ( MOTRONIC )
INDEPENDENT FRONT SUSPENSION WITH DOUBLE PIVOT STRUT
INDEPENDENT SEMI-TRAILING ARM REAR SUSPENSION WITH 13% REAR AXLE
FRONT AND REAR TORSION BAR STABILIZERS
POWER ASSISTED FOUR WHELL DISC BRAKES , VENTILATED FRONT
ANTI-LOOK BRAKING SYSTEM
HYDRAULIC SPEED RELATED POWER ASSISTED STEERING SYSTEM
BMW STYLE LIGHT ALLOY WHEELS WITH 205 / 70 x 14 RADIAL TIRES
FUNCTION ACTIVE CHECK CONTROL
SERVICE INTERVAL INDICATOR
ELECTRONIC TACHOMETER / SPEEDOMETER
ON BORD COMPUTER WITH LCD DIGITAL QUARTZ CLOCK
HALOGEN HEADLIGHT
ANALOG FUEL ECONOMY INDICATOR ( ENERGY CONTROL )
HYDRAULIC 5 MPH IMPACT SAFETY BUMPERS
COMFORT / SAFETY FEATURES :
CLIMATE CONTROL
SPECIAL SILVER GRAY LEATHER INTERIOR
ANTI-THEFT ELECTRONIC AM/FM STEREO CASSETTE RADIO
BMW SOUND SYSTEM
ELECTRIC DUAL POSITION SUNROOF
CRUISE CONTROL
ELECTRIC CENTRAL LOCKING SYSTEM WITH FRICTION DEADBOLT
ELECTRIC WINDOWS
DUAL ELECTRICALLY HEATED AND ADJUSTABLE OUTSIDE REARVIEW MIRRORS
ELECTRICALLY ADJUSTABLE FRONT SEATS WITH MEMORY
SUPPLEMENTAL RESTRAINT SYSTEM
ILLUMINATING MAKE UP MIRROR
HEATED DRIVER S DOOR LOCK
FLOW THROUGH VENTILATION SYSTEM
TINTED GLASS ALL AROUND
ELECTRIC REAR WINDOW DEFROSTER
FRONT SEAT CENTER ARM RESTS
TIME DELAY COURTESY LIGHT
THREE POINT SEAT BELTS , FRONT AND REAR
LOCKING GLOVE BOX
CLOTH HEADLINER
DELUXE TOOL KIT
TRUNK LIGHT
ILLUMINATING MASTER KEY
INTERIOR READING LIGHTS ( C PILLAR )
METALLIC PAINT
LEATHER GEARSHIFT KNOB
LEATHER STEERING-WHEEL
REAR WINDOW SUNSHADE
ELECTRIC ANTENNA
REAR CENTER ARMREST
REAR SEAT HEADREST
ELECTRICALLY HEATED FRONT SEATS
……AND…AND…AND….

IN THOUS DAYS ….LIKE BMW SAID : THE ULTIMATE DRIVING MACHINE !!!!!!!!!!!!!!!!!!

THIS CAR CAN BE USED LIKE A DAILY DRIVER OR FOR THE COLLECTORS…..
TO THIS CAR EXIST ALL THE PAPER WORK FROM 1986 TILL NOW 2015
FOR EVERY QUESTION…PICTURES …FELL FREE AND CONTACT ME
I CAN SHIP IT WORD WIDE
PLEASE DON T BID IF YOU DON T REALLY WANT !!!!!!!!!!!!!!!!!!!!!!!!!!!!
VEHICLE IS SOLD AS IS ALL SALES ARE FINAL SO ASK ALL THAT YOU NEED TO KNOW BEFORE YOU BID !!!!!!!!!!!

THANKS !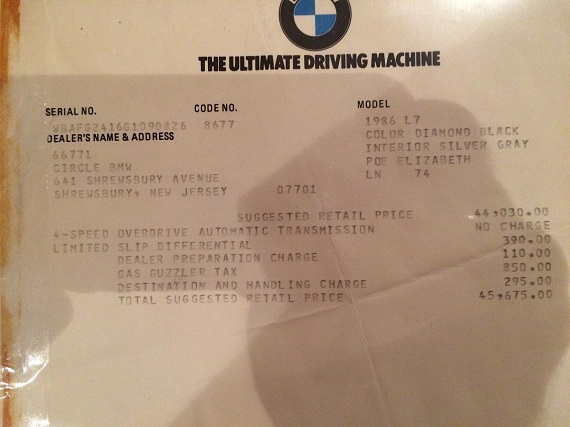 This L7 is not only a rare example but in rare shape for an E23, the mostly forgotten model in BMW's 1980s lineup. That means it's a potentially good deal for someone who is less interested in the driving dynamics and more interested in having a sharp looking model with some cool options; the airbag wheel, for example, but mostly that incredible leather-wrapped dashboard. Additionally this L7 has the limited-slip differential, meaning that it should be a touch more fun in the twisties despite the automatic. The $46,000 asking price in 1986 is about the equivalent of $99,000 today, an amount that would put you into nicely equipped 750Li today. But that's not the dollar figure that matters here; the $14,000 ask of this car is the question. Unfortunately, just like when new, that $14,000 would put you into many other newer, quicker and more luxurious automobiles (such as aforementioned S8 and AMG models). But more crucially, if you want a classic BMW that amount gets you into several different more desirable chassis, too. This L7 is lovely and neat to see, but I'd wager it'll be quite a hard sell at that amount.
-Carter