And now for a 7 series that is a bit more serious. Not an "M7" but the uncommon L7, which was an official, one-year only, North American model offered at the end of the E23 production run. Having arrived on the scene in 1977, the E23 7 series was a success for BMW. In nine years, a little over 285,000 of these cars were produced. The L7 was essentially a 735i, with the 3.5 liter, 182 horsepower inline six. But where the L7 differed was inside. Much like the L6 coupe that came a year later, this 7 series was swathed in leather throughout the interior. Almost everything you could touch, from seats to dashboard to door panels was covered in hides. Available only with a 4-speed automatic, this was one of the first BMWs to come with a driver's side airbag as standard and had a slew of other options included in the package.
This L7 for sale in Massachusetts is a really mint example of model fast becoming extinct. I wonder how much saddle soap the respective owners have gone through in keeping this white leather interior in good shape?
Year: 1986
Model: L7
Engine: 3.5 liter inline six
Transmission: 4-speed automatic
Mileage: 103,894
Price: No reserve auction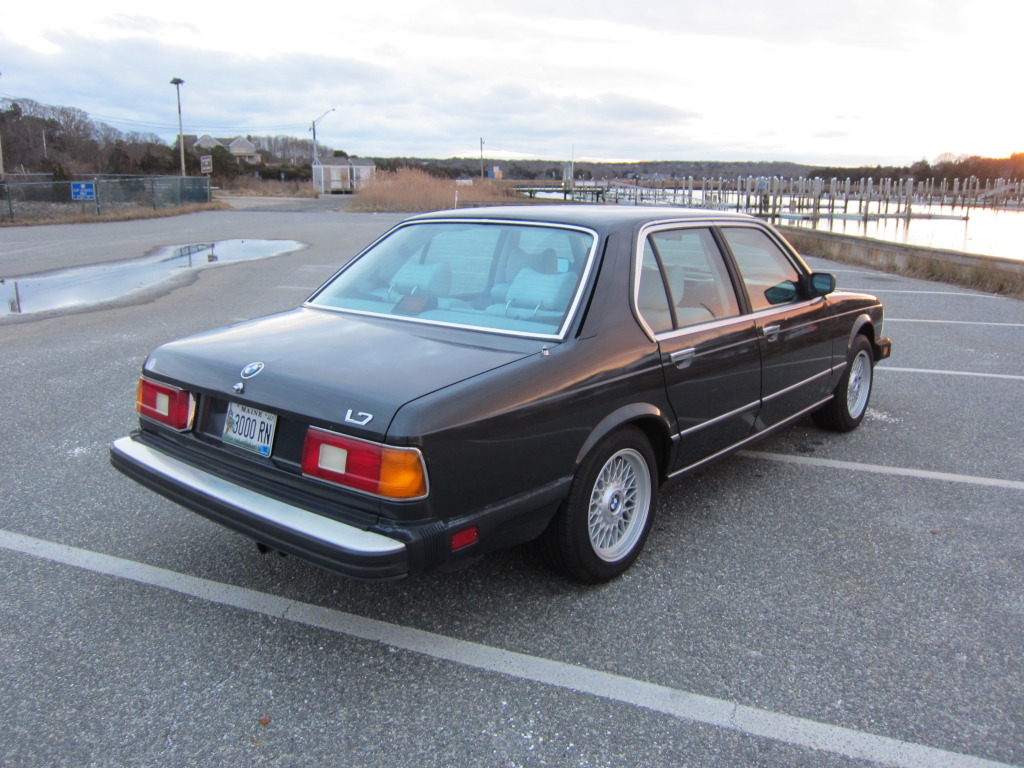 1986 BMW L7. This is an extremely well-kept low mileage (103,894) original example of BMW's top of the line offering for 86. I have put thousands into this car while I have owned it (I have receipts) to bring it up to excellent driving condition. It runs and drives beautifully. All HVAC works, A/C blows cold, Heat works beautifully. The L7s featured a full leather interior including door panels, dash board, seats and trim which is all in immaculate excellent original condition on this car.

I believe the car still has the original Black Diamond Metallic paint it left the factory with and there are no signs of clear coat failure. From what I can tell car is rust and rot free except for one area of bubbling approximately 1 square inch at the bottom of the front passenger side fender. Engine runs excellently and transmission shifts smoothly with all modes working. Every electrical feature I've used works the way it should which is amazing for any 27 year old car, especially a BMW. Since I've owned the car I have not seen a comparable L7 come up for sale.

The following work has been done while I have had it (since 7/2011):

-New Fuel Lines/Fuel Tank/Fuel Pump
-New Tires/Refinished Style 5 wheels (Less than 2000 miles on both)
-Completely rebuilt cylinder head/new valves (Less than 1000 miles ago)
-Complete Tune-up
-New Battery
-New Alternator
-New Water Pump

Although the car needs nothing to be driven and enjoyed as is it will need an exhaust section in the near future. I had a shop check it out, the issue is not in the catalytic convertor and the part is still available (I was planning on replacing it first thing in the spring). Otherwise I've spent a ton of money and invested a lot of my own time/effort to get this car right and everything is as it should be. As I mentioned I have receipts for almost all of the work completed.

I encourage all potential buyers to inspect the car themselves in person or get a PPI done. I have loved and enjoyed this car while I have owned it and want to make sure the next buyer is happy with the car so they can do the same. Having said that this is a 27 year old car. Accordingly, it is your responsibility to know what you are buying! Please ask any and all questions before you bid/buy the car and I will do my best to answer them. Car is sold AS-IS with no warranties expressed or implied.

120+ high quality photos can be found below or at the following link:

http://s158.photobucket.com/albums/t119/mrpinkeyes34/L7/
The E23 7 series is one of those BMWs that is thankfully affordable since they are relatively obscure to most collectors. We've featured a few earlier E23s here at GCFSB, and typically a 733i or 735i will range somewhere between $4,000 and $7,500, with the most exception cars maybe reaching a bit beyond that. I'd guess that somewhere around $6,000 is probably a good guess as to where the auction will end, as there's been a good bit of bidding interest. Also, I tend to doubt the L7 package will bring that much of a premium over the 735i upon which it is based.
-Paul