The 1972 BMW 2002 Touring we featured earlier this month has been relisted at no reserve. This is a good car to keep an eye on, as they don't appear for sale too often stateside.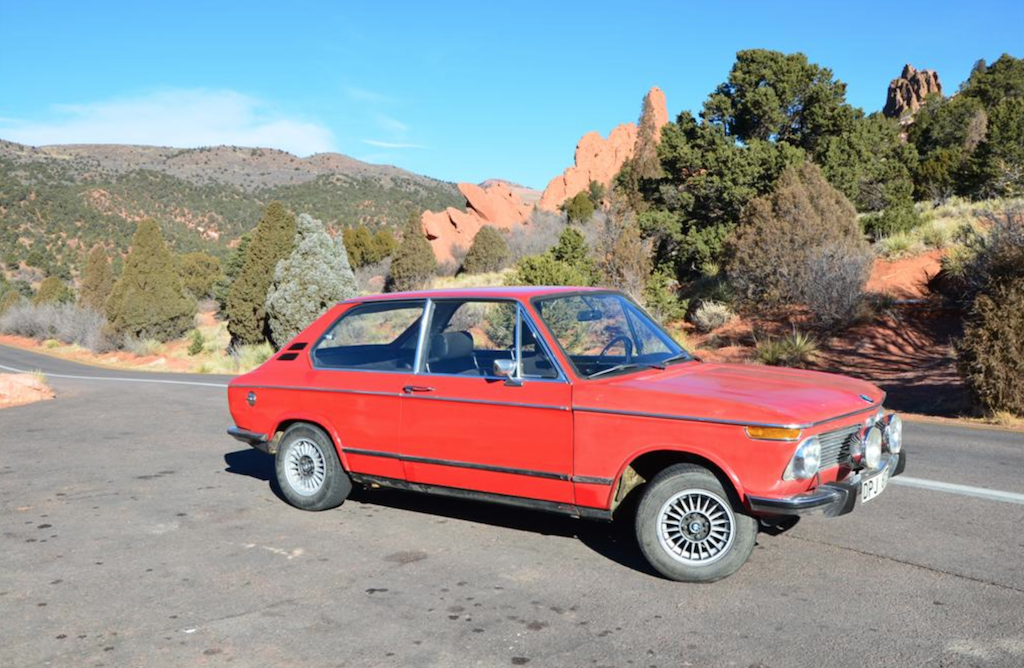 The below post originally appeared on our site February 12, 2013:
The 2002 is no stranger to German car enthusiasts. This was the car that popularized the BMW brand in the US and was one of the first compact sport coupes of its kind. They are a great choice for those seeking a classic car that is reliable, fuel efficient and fun to drive. These are three characteristics that rarely go hand in hand when discussing classic cars at any price point.
A lesser known 2002 was the Touring. Not officially offered for sale in the US, a little over 25,000 of these 3-door hatchbacks were built from 1971 to 1974. Styled by Giovanni Michelotti, this car would be a precursor of the hatchback craze of the next decade. This Touring for sale in Colorado is an import via Sweden and has held up rather well, considering the harsh climate of that country.
Year: 1973
Model: 2002 Touring
Engine: 2.0 liter four cylinder
Transmission: 4-speed manual
Mileage: N/A (odometer states 14,606 miles – probably 114,606 miles)
Price: Reserve auction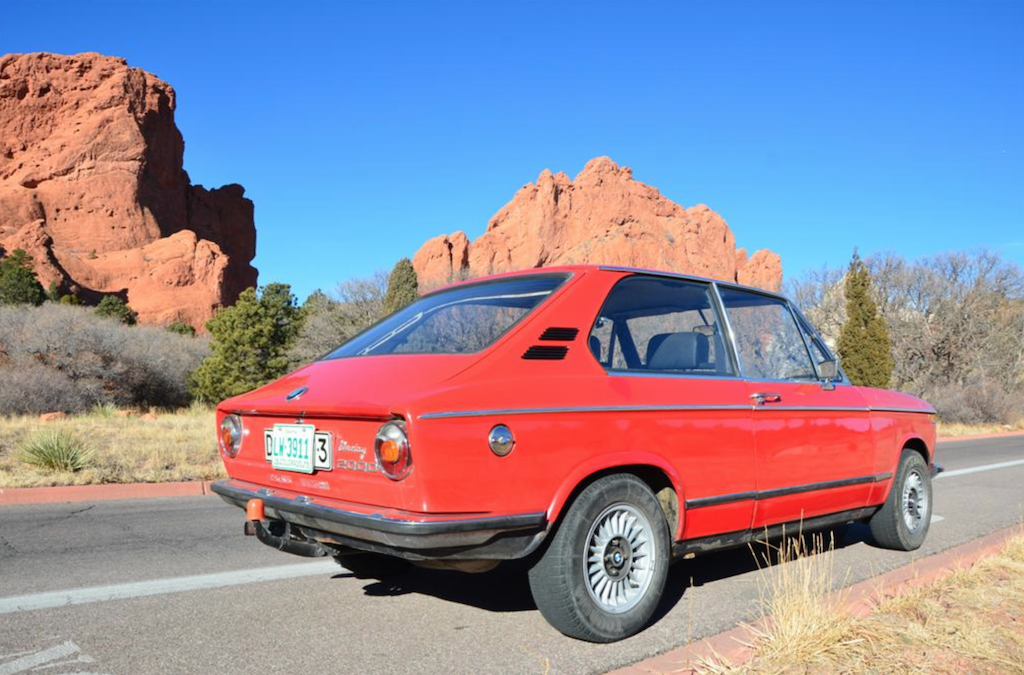 Unfortunately my time has been cut short with my Touring and I must sell. (very sadly!) As you may know, Tourings were never officially imported into the US and are thus inherently rare. There are only a handful of these over here (in my guestimates no more than 20 or 30). They also had a short production run from 1971 to early 1974. These cars are becoming increasingly harder to find, especially a Touring! This one has been super fun to drive around and drives like a champ!

VIN 3359814 – Manufactured on June, 20th, 1973
Delivered on June 27th, 1973 to the BMW importer Förenade Bil Import in Malmö, Sweden
Original colour: Verona, paint code 024

Located in Colorado Springs, CO. You can contact me with any questions. Serious inquiries only please. Thanks for looking and happy driving! I've posted as much info I can think of about the Touring along with pictures here:

http://classicbimmers.futska.com/2013/02/06/for-sale-1973-bmw-2000-touring-verona-red

A SUMMARY:
I will try to present this car as honestly as I can. Please keep in mind though; it is a 40 year old car. I've owned this car since October 2011. I brought this over from Sweden for myself and went through the whole export process through Sweden, fees, importing into the US, fees, transport, titling and registration in the US, more fees, and risk! Needless to say it was quite a deal of work, time, and expense involved. I currently hold a valid CO state Title and Registration. VIN on motor, body, VIN plate, rear hatch plate all match.

BODY:
From what I can tell, the car is dry. I have not sanded, grinded, or removed any paint so my description is what I can see. There are a few rust bubbles showing through the rear wheel arches. The front and rear shock tower mounts are solid and rust free (driver rear shock mount is starting to see a very small sliver of rust). Spare tire well is very clean. Frame rails look clean. Rockers appear to be good. Floor pans appear good. Overall, its in really good shape. Great to just enjoy and drive, or a great candidate to restore because of the lack of too much rust.

Whats been done on it:

COOLING:
Original Radiator – Cleaned out
ALL New cooling hoses and clamps
New T-stat and Water pump
New BMW coolant

FUEL & IGNITION SYSTEM:
Weber 36 DCD 2bbl made in Italy
New rubber fuel lines from tank to the carburetor
Tune up – replaced all plugs, wires, cap, rotor, air filter, fuel filter, etc.

TRANNY & DRIVELINE:
Transmission fluid replaced w/Redline MTL
Shifter is tight and does not grind into any gears
Various new seals in the tranny – there is some leakage still
New Flex disk (guibo)
New Center support bearing
New Rear diff Input shaft seal, both output shaft seals, and cover gasket
Rear Differential Fluid replaced w/Redline
Both Rear Halfshafts redone w/new boots and grease

BRAKES:
New Rear drums and shoes
New Rear rubber brake lines
New rear brake cylinders
4 front rubber lines are included but not installed
front rotors and pads are in good shape
New brake fluid

ENGINE:
New Alternator belt
Oil changed
Some leaking, not exactly sure where from. Not too bad though in my opinion.

INTERIOR:
Interior is in really good original shape. Headliner has no tears. Original corduroy seats are good but may need a restuff at some point, there is some frying is some locations. Euro Dash is in nice shape, a few cracks but not terrible in my opinion.

MISC:
New Touring trunk tool box!!!
VERY Rare factory option towhook w/BMW logo orange cover
320i Alloy Wheels
2 NEW trap mirrors (worth $150+ each)
New speedo cable
All lights, gauges, heater motor, wipers work!
gauge cluster restored – km and mph speedos are included
1 Front fog light is broken – but a new light will be included! It was hard to find!
All glass is in good condition. The Front windscreen
New fuses
New classic wiper blades
A pile of paperwork for work I've done
And probably a bunch of little stuff I'm forgetting

A few random extras might be included depending on what I have left. This is a great car that is a blast to drive!!! ONLY reason for selling – I am moving out of the country! I never intended to sell this! If you have questions please ask and we can talk over the phone. Serious inquiries only please.
While it isn't a showcar, those in the market for a 2002 Touring in the US can't be picky. Few of these cars made it to these shores. While some rust can be found around the car, it is surprisingly rot free for a car hailing from Sweden. This car represents a good opportunity for an intrepid collector looking for solid restoration candidate.
The seller provided a good bit of information, but I wish more about the mileage was discussed, especially if the gauge cluster was swapped. I'm assuming it was, since this car has a speedometer reading in MPH and Sweden is, of course, on the metric system. A 2002 in good condition of similar vintage can bring between $15,000 and $25,000. A faster, fuel-injected 2002tii in good shape can usually be had in the low $20,000 range to the mid $30,000 range on average.
The Touring is a bit harder to price, as they weren't sold stateside, but when they come up for sale, demand is strong. A 1973 Touring came up for sale a few months ago and the auction ended at $21,350 with the reserve not being met. This, however, was a near show quality, Fjord Blue example. A Touring in show condition would most likely reach 2002tii price levels here in the US, but this example is a little rough around the edges. That being said, I'd probably peg this car somewhere around $13,000 to $17,000. I'll be watching this one closely to see if the reserve is met and if it is, where the final bid settles.
-Paul