As the seller of this Cosworth powered Benz state, if you didn't get what you wanted for Christmas why not spend some of those checks from grandma on this low mileage car.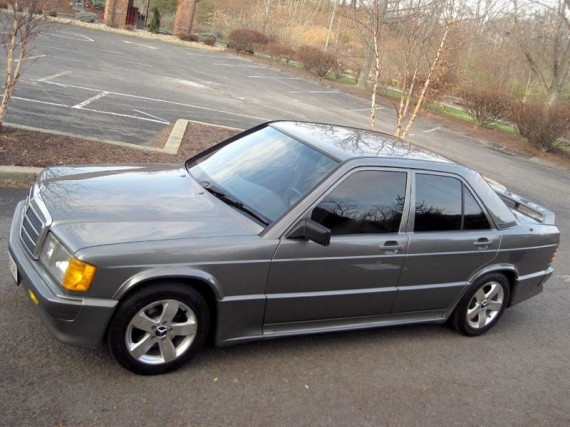 This very clean 190E has low mileage having covered less than 58,000 miles since 1986. We post a fair number of these great pocket sport sedans. They appear on the market fairly regularly despite relatively low production numbers.
There aren't that many out there with this kind of mileage and this good looking shape. This one isn't a collector car, but a driver as it has been gone over with some new parts and paint. The car hasn't been customized into boy racer status though so while the originality police will stay away the average person with a hankering for 190E 16V will find this one attractive.
The seller, in his much hated around here all CAPS description, states the car has a recent service of brakes, A/C, tires, suspension(?), starter, motor mounts, alternator, starter, battery and a few others. A potential new owner should look for receipts on these items to see what exactly was done and how recent. When we see cars that have had the battery, alternator, and starter replaced all at the same time it raises alarm bells of possible parisitic battery drain from an electrical problem and/or a car that has been sitting for awhile not being driven. Not saying that is what is going on here, but it is worth looking into.
A potential owner will want to run through that dog leg 5 speed a few times to see how it shifts, the seller says things are nice and tight.
The ask price is $12,900. That is the high end of most eBay 190Es that aren't particularly special, but most eBay 190Es look a lot worse for wear and appear to be driven a lot harder and put away wetter. The nice flat face headlights, chrome exhaust tips and uncracked body kit are also a selling point of this one that help it present well.
~Evan