We've featured a couple W126 AMG cars from this seller. We can't agree more that the seller is right that these original big bodied eighties AMG cars are going up and value and be even more sought after in the not too distant future.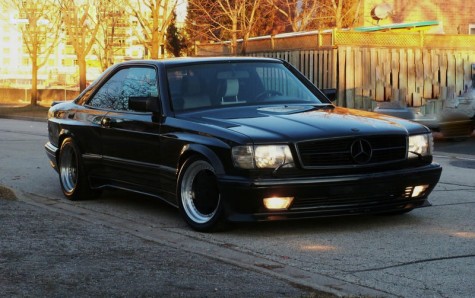 This seller has a knack for finding nice examples of these, cleaning them up and presenting them well for sale. This example has covered only 20,000 mile son its potent 6.0 liter power plant. The exterior has some of the typical upgrades we see on these, smoked front corners,, modified taillights, color matched AMG rims, blacked out treatment (chrome, emblems, grille). The interior has the correct AMG steering wheel and 300 KM/H speedometer. What makes this one stand out is the two tone interior. This interior is reminiscent on what was seen on some of the C43 AMG cars a decade later.
The engine bay looks like it has just been cleaned. The seller has added some red accents, which seem a touch out of place on a Benz of this era, but don't look bad. I think we mostly should leave red engine accents on a Merc for Renntech.
The bidding on this is at $25,000 with the reserve not met.
~Evan