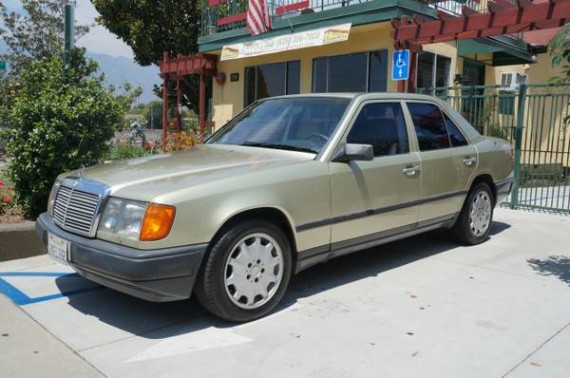 It seems like just yesterday I was handing over the keys to my Audi S4 Avant to a happy buyer, thus setting me off on my journey to find my next vehicle. In reality, yesterday was actually late April. Here we are in the dog days of summer and I've yet to pull the trigger on a new ride, but not for lack of trying. I've driven a number of cars over the past couple of months, some new, some used, and I still have yet to feel that magic connection that I'm looking for. I've crossed cars off my list that I've long lusted after, E46 BMW M3/E36 M3, and some that I wasn't a fan of until recently, 540i/6, E30 325i. Though I was rather dead set on getting my first BMW, I've been seriously considering a Mercedes lately. On the upside they're more affordable in this current market, on the downside it's really hard to find a desirable model with a manual transmission. So, when I came across this 1986 300E with a 5 speed manual the other day, I was immediately intrigued. When I saw that it was just 45 minutes away from me, I picked up the phone and got in touch with the seller. He told me that he had a buyer coming to check it out but if the sale fell through he would let me know. It was a long shot, but wouldn't you know it, the car remained available and I went to check it out yesterday.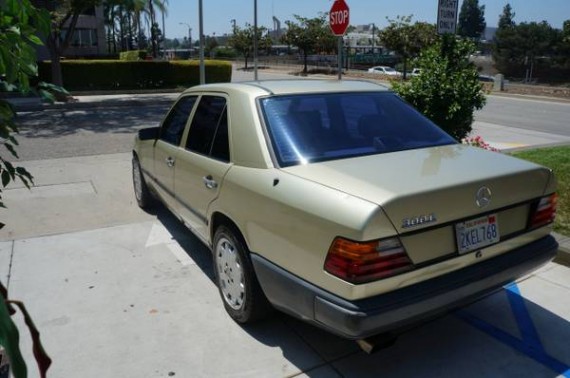 Year: 1986
Model: 300E
Engine: 3.0 liter inline-6
Transmission: 5-speed manual
Mileage: Approx. 250,000 mi
Price:Â $5,800 OBO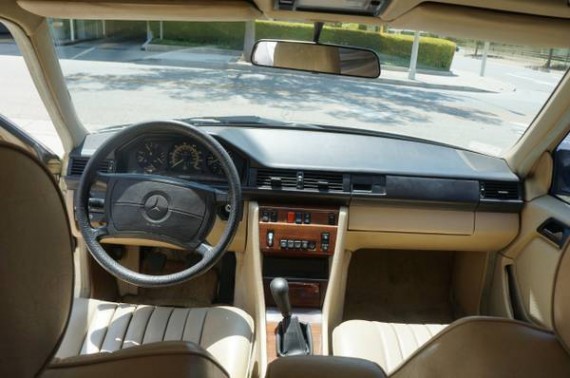 Reduced: $5500 Negotiable. 1986 Mercedes Benz 300e 5-Speed Manual – This car is 1 of less than 400 produced. Bought in Europe. Note: This car is NOT a grey market car. It's a USA market car with Full Options, but was bought, picked-up, and driven in Europe before being shipped to USA. Extremely rare 5-Spd Manual Transmission Stick Shift Model. All Original. Odometer stopped at 195k 5 yrs ago, must have approx 250k well maintained miles. Mileage irrelevant since car is in excellent condition and shape. Only gets better as it ages gracefully. Will easily run another 250k as is. Immaculate. Books & Records from day it left factory. Meticulously maintained. Just smogged. Always passes smog. Very rare orig color – Thistle Green Metallic. Light mushroom cream inside. Very clean in & out. No major issues. Minor wear & tear. Mercedes enthusiast's dream car. Everything works. Daily driver or collectible. Best example. Garaged. Selling because one too many cars, need space. Car needs nothing – only new owner who will love and appreciate it. Negotiable. Cheap & Reasonable considering it's Rare, Beautiful & Excellent. You will not find a better car. Must know car model to appreciate. Serious offers only.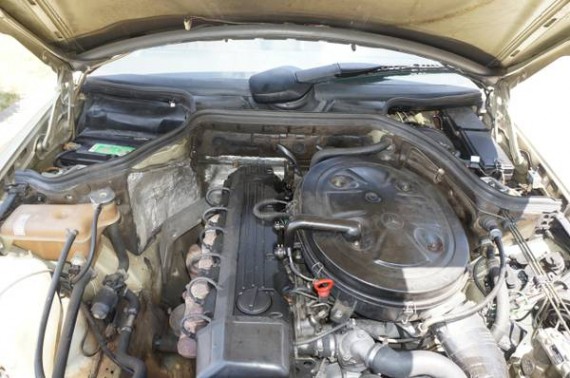 I'll get right to it, the car is priced high, I knew that heading out to go look at it and you know that just looking at it here. That shouldn't be held against the seller though. That's how private car sales work: post at the price you would love to get, accept reasonable offers. I had a number in mind when I went out to look at the car and I believe the seller would have made a deal with me, but after spending a brief amount of time with the car, I knew it was not for me.
The 3.0L inline 6 is just as stout as ever, pulls really strong in 3rd gear, I got on the freeway to put that to the test, and there are no bad smells, alarming noises or rough idle issues to be found. The clutch feels good, the seller said there was a decent amount of life left in it as of this past April when he had it checked. For me the gearbox felt sloppy as could be, I did drive my buddy's 2014 WRX up there, so maybe it wasn't as bad as I'm making it out to be. Still, that's something that would drive me crazy on a day to day basis and could be indicative of a much bigger problem. I'm not sure if I can daily drive anything that old. Hard for me to say that given how much I appreciate the designs, the engineering, and the history of "young timers" from Germany, but I think it's the truth. As a second vehicle, yes, absolutely I would snatch this thing up in a heartbeat. All it really needs is some cosmetic love shown to the interior. There are ripped pieces of fabric on the A and B pillars, cracked pieces of plastic, missing buttons, and one window regulator is non-op. Those are all pretty easy, in-expensive fixes, I just don't have the time or desire to deal with them. Like I told the seller, I'm looking to pay a little more for a properly sorted car rather than get a deal on something that I have to drop money into, even a relatively small amount.
Going to check out this 300E taught me more about German classics in 45 minutes, than I have learned in all my years of reading and writing about them. It is the kind of car that you know has massive potential and keeps you thinking that perhaps you could make it work. Presently its just not the right car for me, but I have a feeling that it will find a home with a GCFSB reader or acquaintance of theirs. The seller has a folder of all his service records since he bought the car in 2001 and the original service booklet, complete with the European delivery stamp and stamp for the first service, in Venice…Italy. That alone makes for a pretty cool story and I'm sure there is a whole lot more to this car than I was able to glean in my little bit of time with it. The seller is also a bonafide Mercedes aficionado. He was kind enough to show me his '94 E220 Estate that was federalized years back by a diplomat from Denmark. Yes, that car has a manual transmission as well and no, it is not for sale.
-Andrew