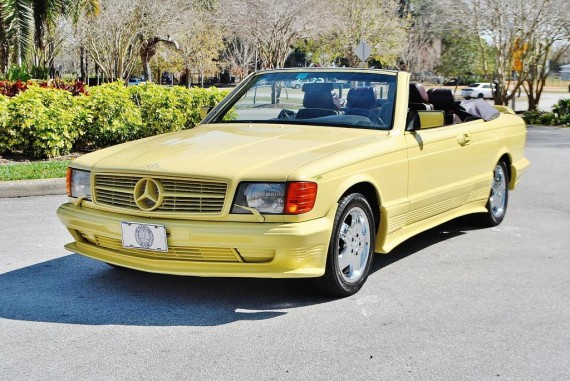 One of the reasons I enjoy writing about cars, especially used ones, is that they remind me of a certain era. They often take me to a place in my head where I can imagine that vehicle in a particular setting and what kind of world surrounded it. A 1996 Audi A6 Avant makes me think of a Bavarian family on their way to a mountain getaway, an E30 M3 of a group of young Brits headed to the track for the weekend, an E39 M5 of a well heeled man racing across town to an important meeting. My love of cars has always been tied to the stories they have to tell or ones that they make me imagine when I come across them. I think that's probably why I was drawn to the batshit crazy vehicle you see before you. This Mercedes is completely ridiculous on first glance, a rolling testament as to why money can't buy you class.
But then a funny thing happens after you stare at it for awhile. You stop laughing and start wondering why the hell anyone would drop over a $100k building such a garish ride. Suddenly it's not so funny anymore and you want to get to the bottom of this mystery. Was the person who paid for this mentally fit when they signed the papers to have Marque Motor Coach Builders cut the top off a W126 500 SEC? Did they loose a bet with a friend who had them paint it canary yellow? Did they grow up in culture where brown and yellow are the colors that represent the height of luxury? So many questions we'll sadly never know the answer to but alas, such is the nature of many used vehicles. What I think we can assume happened here is someone had some extra money burning a hole in their pocket around the end of the year and in an altered state of consciousness decided to blow said money on a custom convertible I'm going to henceforth refer to as "Big Bird".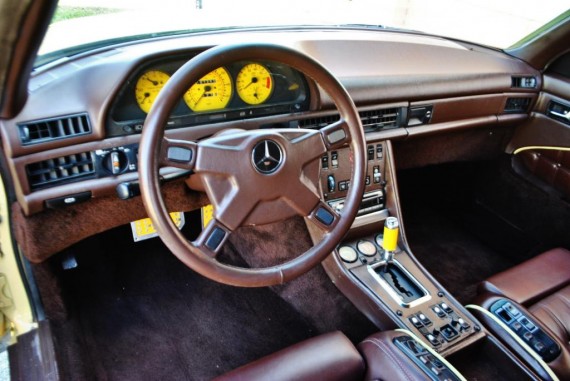 Year: 1986
Model: 500 SEC Convertible
Engine: 5.0 liter V8
Transmission: 4-speed automatic
Mileage: 101,369 mi
Price: No Reserve Auction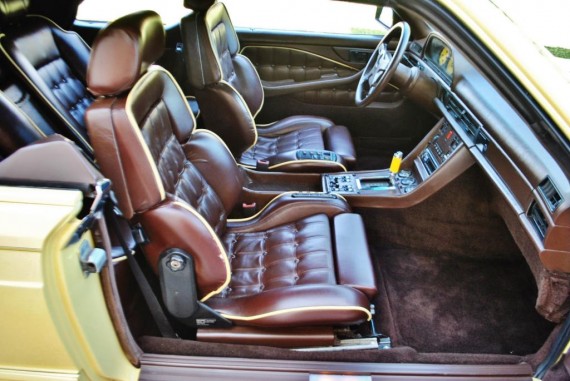 Mercedes with power convertible Roof that is in 100% mint original condition in everyway with just 101,949 miles. She has been garage kept and elderly owned it's whole life. we have been told this was and proto type but I can't be sure of that I will say fit finish is amazing it has and big block sound and even though pick show photo's to be ok this car in outstanding paint body are show perfect paint slick id call it mint in everyway. This slk retains it's original owners manual. Powered with the 8 cly and Automatic Transmission. Fully loaded with; Air Conditioning, AM/FM radio, Cruise Control, Intermittent Wipers, Power Door locks, Power Mirrors, Power Seat, Power Steering, Tilt Wheel, Power Windows. Just look at pictures below, they tell the whole story. Truly a must see and drive treasure.. In all the years dealing in benz converttiles this classic beautiful is the best ive ever seen or driven.

All original spectacular paint finsh, With and pristine leather, newer tires chrome wheels . 

The photo gallery below for this classic contains over 30 pictures.

Enjoy!

Should you like to negotiate a fair and reasonable offer please call

DAN At (863) 370-6712  Or Derek At(727) 361-8026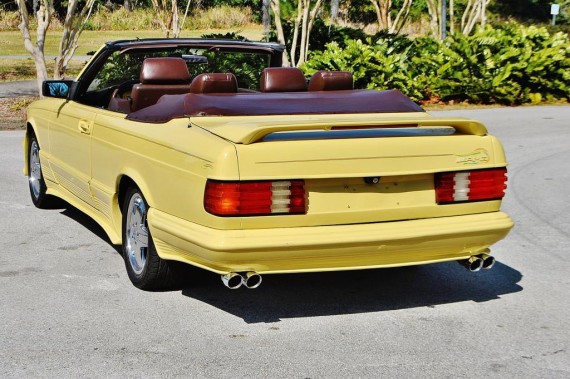 Big Bird resides in where else, Florida and appears to be in pristine condition having covered only a scant 1,500 since the last time we saw it for sale, when Evan wrote it up in 2012. The seller says its always been garaged and elderly owned. I like to imagine that some badass old lady drives this thing around South Beach bumping WHAM! from the "upgraded stereo" with the top down. Speaking of that top, I have to point out how amazingly tacky the combination of brown with the yellow paint is. With the top up the thing really looks like it should be able to drive right into the ocean and all the way to Havana.
Polarizing doesn't even begin to describe the look of this car but I have believe there are people out there who would actually drive this on a regular basis. I'm probably going send this post to the Neon Icon himself, Jody Highroller aka. Riff Raff because this is kind of car that seems right up his alley. It's so bad that it's actually kind of good, the kind of car that'd be fun to own and have to take out on special occasions, just for the hell of it. I can picture myself at the wheel, few friends along for the ride, glasses of champagne, cigars, wind blowing through our Whitesnake wigs. The best part about Big Bird is that underneath all that plumage lies a beastly beating heart attached to Flowmaster pipes, so even the blind will know when you're coming down the block.
Cheers,
-Andrew