This is absolutely not my cup of tea, but it seemed interesting enough for a post.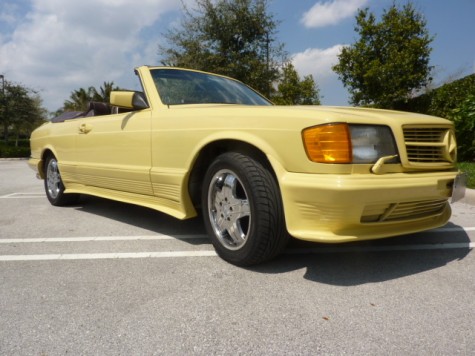 Cutting the roof off a W126 coupe is not unique. Several companies offered the conversion in the 80s. This one was completed by Marque Motors Coach Builders and features parts from the D&W company in Germany. D&W was fairly well known German car customization firm offering a catalog of parts and accessories for enthusiasts.
The D&W bodykit on this car makes it unique. It is unclear why the car has an AMG badge when the parts are not from AMG.
The interior is impressive with over the top brown leather with yellow accents. The Recaro models chosen for this install are still highly sought after heated powered models. They probably weigh 300 pounds a piece, but sure look good and comfy.
Everything chrome other than the wheels has been painted yellow. Though there is no picture under the hood, the seller states the valve covers and air cleaner have also been powder coated. No mention of any engine modifications, but a Flowmaster dual exhaust with quad tips has been installed.
Again, not my kind of car, but the fit and finish in the photos looks surprisingly well done and not half-assed. The soft top looks hardly used. Not that there is no side profile photograph of this car. Make sure you see one of these from the side with the top up before buying it, they don't look all that bad, but I'm just not fond of that convertible look.  The car resides suitably in Florida where it probably looks right at home. A car like this up north would just not work.
With 100,400 miles the bidding is at $3,500 with the reserve not met.
~Evan