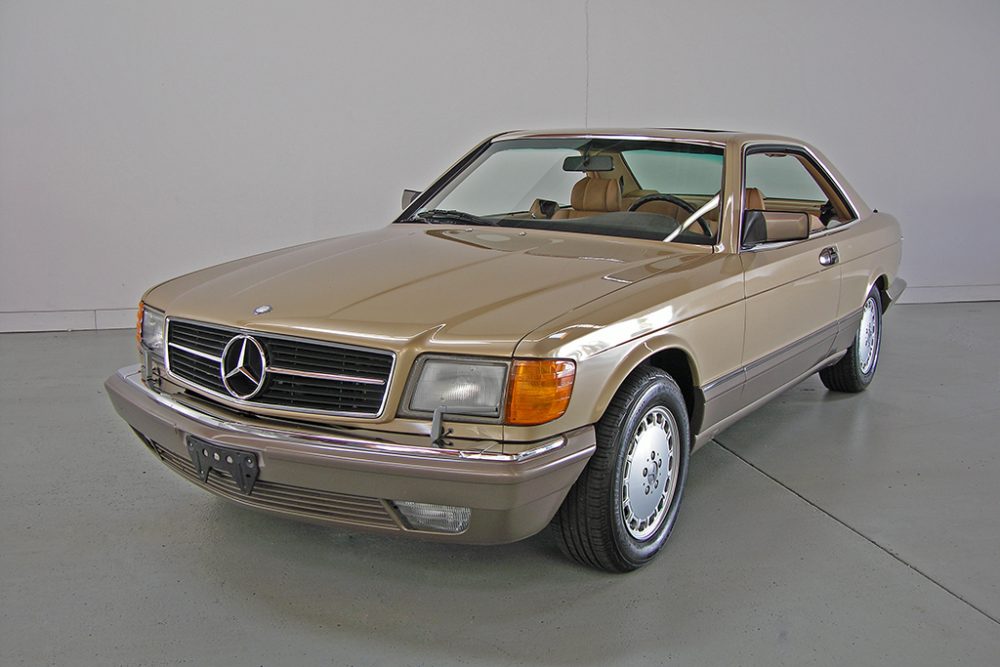 I've lost track at how many Mercedes-Benz W126 Coupes I've looked at because frankly, there are a lot of really nice ones out still there. I think maybe that has to do with it somewhat being see as the pinnacle of Mercedes-Benz large coupes as it didn't get much better when you factor everything in. A lot of people don't really like the next generation W140 Coupe and the prior generation, the R107 SLC, isn't the prettiest car ever made. If you go even further back with the W111, you start talking about them becoming pretty pricey and they aren't exactly setup to use on a regular basis because of how old they are. Today's car, a 1986 560SEC, is probably the nicest W126 Coupe I've run across. In case you haven't noticed, it has just a little over 10,000 miles on it and looks every bit the part. As for the price? Well, what are you expecting for a 560SEC with these circumstances?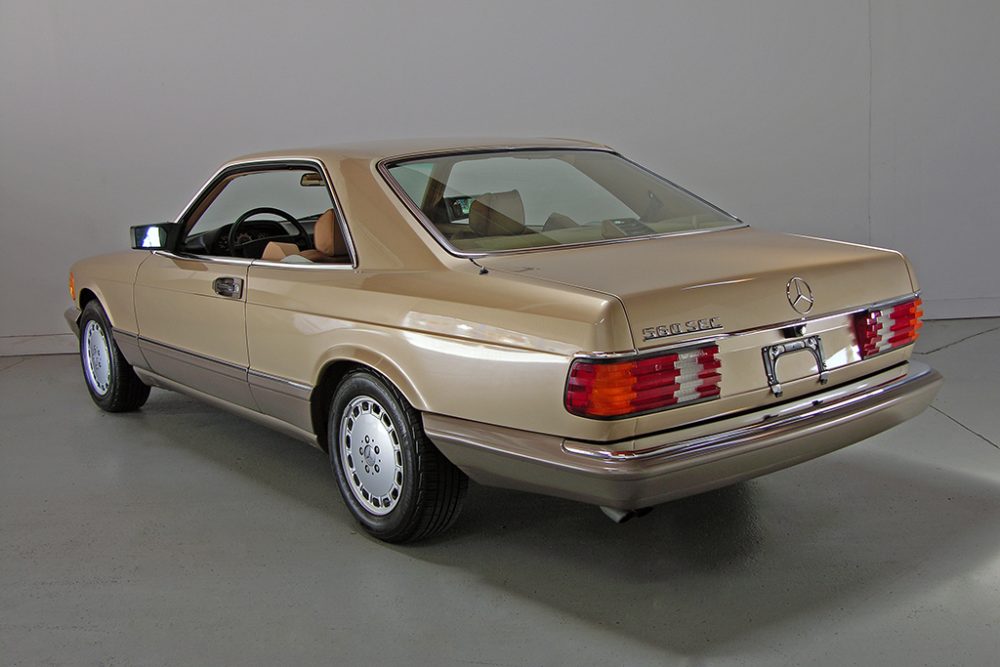 Year: 1986
Model: 560SEC
VIN: WDBCA45D5GA229368
Engine: 5.5 liter V8
Transmission: 4-speed automatic
Mileage: 10,369 mi
Price: $65,000 Buy It Now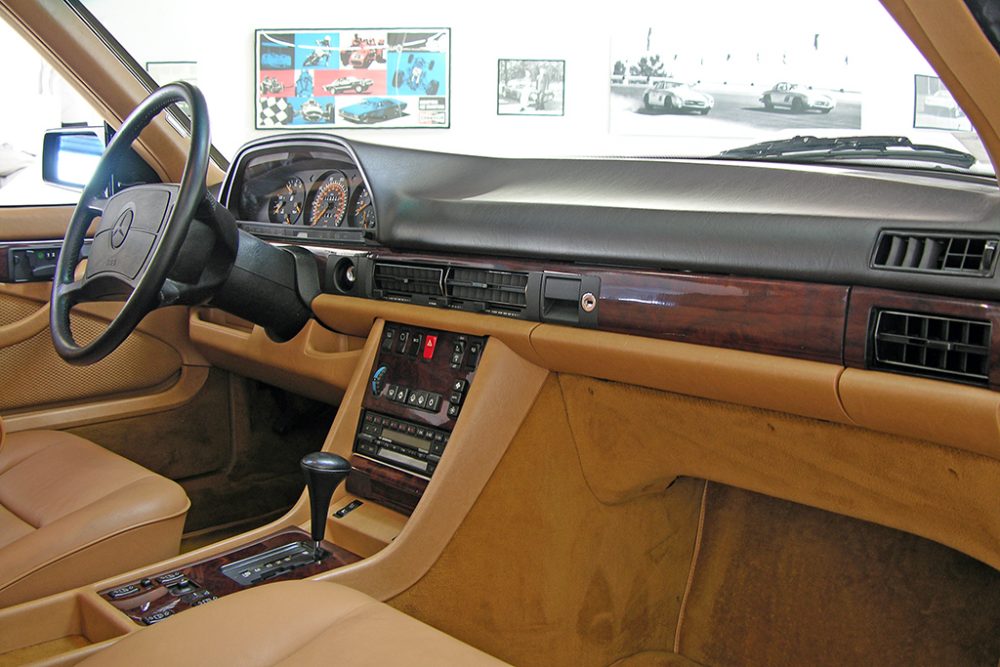 1986 560SEC – ID#WDBCA45D5GA229368 – Champagne/Palomino – 10,300 original miles.

MFG date: 2/86 – Single owner through 8/18 – Full documentation from original sales invoice forward.

Full flawless handbooks – Original unused spare wheel/tire with the placard – Original tool roll in unopened plastic bag.

Original windshield – Original safety kit – Unused cigarette lighter – Clean Carfax.

Miscellaneous service repair orders – Full original set of keys – Original sales invoice – Copies of final payment checks.

This first year of production 560SEC was special ordered on 12-3-85 from Toyota East Mercedes-Benz in Greenville, NC.

The buyer was allowed $50,240 for his 7,200 mile 1985 500SEC as a trade-in against the new 560SEC.

After a three month wait the buyer received his Champagne 560SEC on March 17, 1986.

It joined a 1977 450SEL with less than 10k miles in the garage and became the family's pride and joy.

Only used for special occasions and the occasional 5 minute drive to the owner's dental practice.

The car has accumulated just over 10k miles.

It remains an exceptionally well preserved example of the stylish 560SEC series.

Cosmetics appear virtually new – Paint depth and gloss is superb.

Unblemished bumper covers and lower side cladding – Exterior brightwork appears virtually as new.

Front and rear polished aluminum bumper finishers are in exceptional condition.

The interior appears uniformly as new with negligible evidence of use – Headliner is flawless.

All leather surfaces remain supple and unblemished – All burlwood surfaces are superb.

Seat back netting is perfect – Steering wheel appears unused.

All switchgear labels and instrument faces/marking remain brilliant and bold.

Door panels show essentially no wear – Door hinge areas are spotless clean.

Carefully inspected and fully recommissioned locally.

Every item functions correctly.

Work included: 'C' Service – Air filters – Coolant service – Transmission service – Differential service.

Brake flush – New rear suspension accumulators/struts/bushings.

AC service and new AC compressor – Retrofitted to R134 refrigerant.

New brake booster and master cylinder and more…

A fully prepared investment grade 560SEC. Certainly one of the lowest mile 560SECs extant.

While it's fairly easy to source extreme low mileage 560SLs, finding a 10k mile 560SEC is virtually impossible.

We've been trying for decades to find an SEC of this caliber.

Typically, many 560SLs were a second or third car and received limited use.

SECs tended to be used daily hence the rarity of extreme low mileage examples.

Roy Spencer 650-343-7980 – Global shipping gladly arranged.

Global references available – Pre-purchase inspections available locally.

Providing exceptional cars to the global Mercedes-Benz community for 26 years.

This SEC can be inspected at my facility in Burlingame, CA – 5 minutes south of SFO.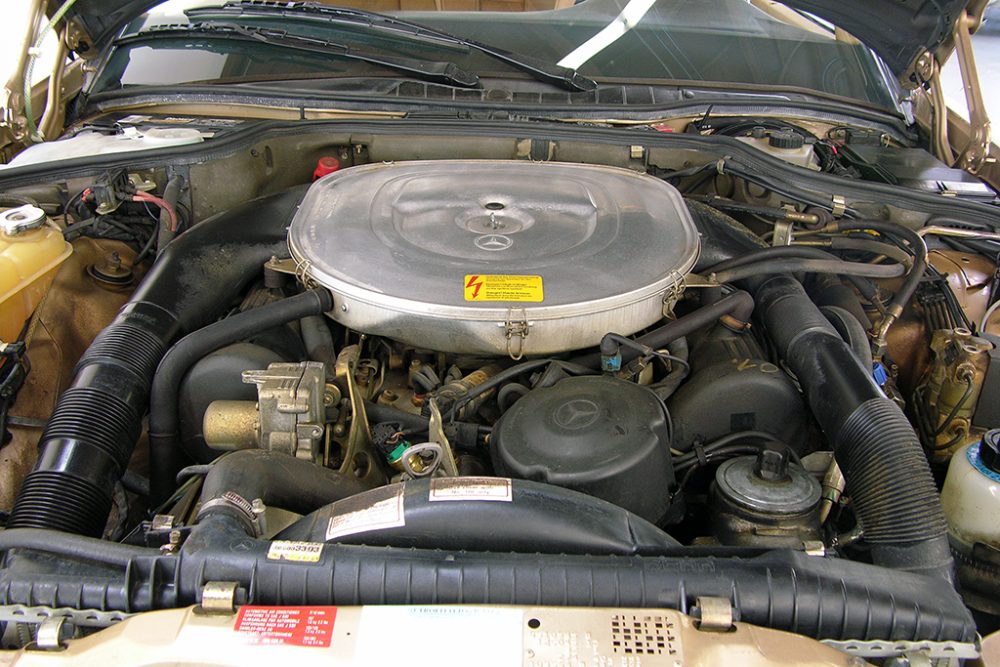 As you might have expected from a 10,000 mile car, it is nearly perfect. Champagne is probably the last color I'd ever pick if I had the choice, but you take what you can get when talking about a car with this kind of mileage. Despite the color, the condition is up there with the best I've ever seen with the chrome trim being the real gem of this car. The majority of the time this trim get scratched up from use and people washing it over the years and it's impossible to replace because of how the fitment is set up and the fact that a lot of it is no longer available from Mercedes. The interior is more of the same with perfect wood, leather and plastics. However, under the hood is leaving me scratching my head. For whatever reason, there is an inordinate amount of dirt and grime present. You can see here and here what I am talking about. I guess the seller wants to keep this car as original as possible and not clean the dirt, but they clearly polished everything else, why not do a little detailing under the hood? In the grand scheme of this car it isn't a huge deal, but it is just a little odd to me.
The price of $65,000 is what it is. I am not here to tell you if it is worth it or not because this is what you should expect to pay if you want a nearly perfect car with 10,000 miles on it. Are there better deals out there? Of course. That isn't the point with this car. The point of this car is for the buyer who idealized the 560SEC, but couldn't afford it when it was new. Now that they have the money, they want it and will spend to get it. I'm sure there is some wiggle room if you are truly a serious buyer for this car so I expect it to seller for a big number and it probably deserves it. I'm sure it will go to a great home, but it surely won't be mine.
– Andrew