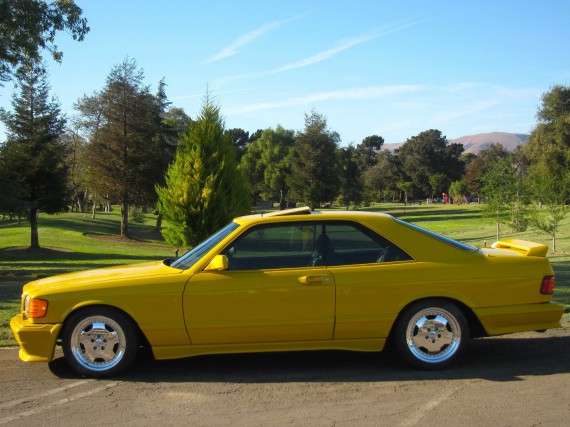 In 1986 the big two door coupe from Mercedes, though flashier than its four door brethren, rarely would be seen in bright colors. Unlike some of the unique shades coming on the Benz cars today from the factory, particularly some of the special order Designo branded cars, the W126 cars rarely saw ultra bright eye catching colors. It is because most SECs you see are black, grey, dark blue, white and rarer red, that this canary yellow SEC really stands out. Obviously this isn't a factory paint job, photos suggest this car was white, but that doesn't diminish what a coat of bright paint does to the normally iconic, but subdued lines of the great SEC.
The color on this car was part of a makeover that also includes an extensive audio system. The system features Eclipse and Soundstream parts. It always amazes me at how, like cars themselves electronic equipment can provide a look that evokes a time period and the equipment in this car is no exception. The seller states the system was installed in the early 1990s, I would've pegged it at right about 1995. Flipping through some of my car audio magazines from that time and pricing some of the equipment there is no question the creator took the best that Eclipse and to offer and through it at the car. There is easily multiple thousands of dollars of parts alone from when they were new. It is too bad that the seller doesn't show a build sheet with all the model numbers of the included parts, because certainly the speakers, which are hidden, are also upgraded. The seller says that all the equipment works as it should. The seller alludes to this being a display car, but doesn't state whether it was for a manufacturer, car audio shop or what. If it was a display/demo car one would hope the install quality was high.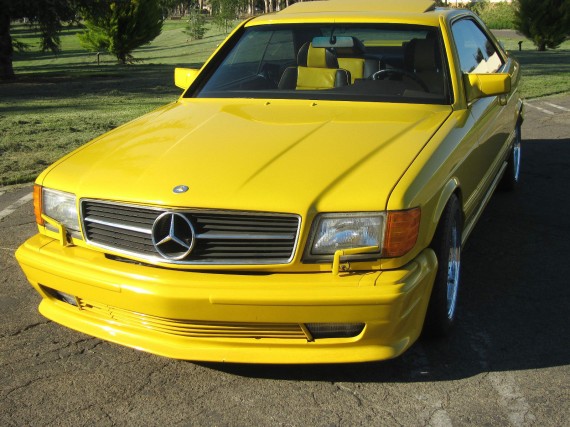 Year: 1986
Model: 560SEC
Engine: 5.6 liter V8
Transmission: 4-speed automatic
Mileage: 105,473 mi
Price: Reserve auction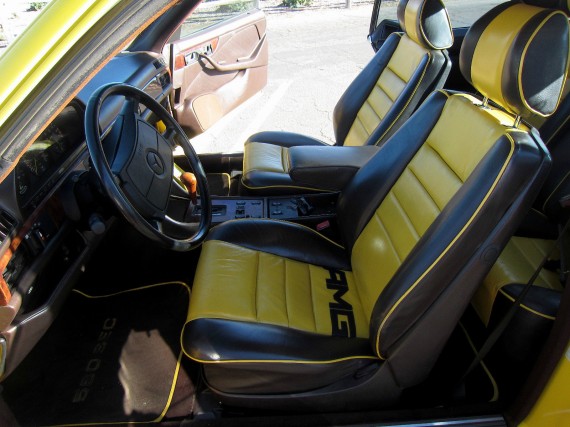 Truly one of a kind, this SEC was transformed into an Eclipse/Sound Stream Audio custom display car sometime in the early 90's. Custom sound system installation operates flawlessly, sounds incredible and would rival many of today's systems.

The incredible sound system was installed in a block sanded custom painted body. Custom interior is finished with hand upholstered matching yellow on black AMG logo seats with yellow piping. Custom 560 SEC floor mats with matching yellow piping extend the overall theme of the car to the floors and the matching old school NEC phone completes the picture.

Mechanically the SEC is in very good condition, runs strong and shifts smooth and has no known mechanical issues

If you are looking for something unique in a luxury coupe this is your vehicle!

Please ask any questions you may have prior to placing bids and then bid  only with the intention of owning the vehicle.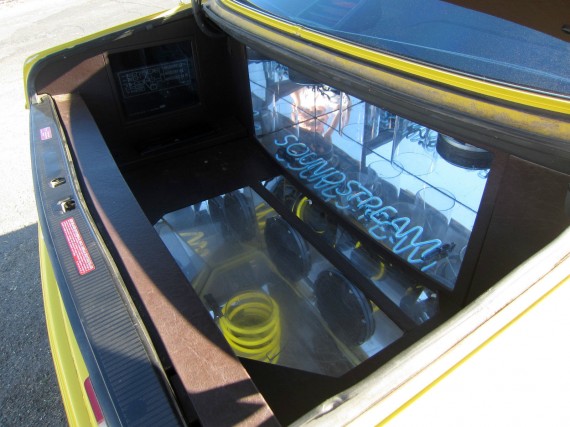 It will be interesting to see how much of a premium the audio system and paint job bring to an otherwise sound looking, but early 560SEC. The mileage puts it right in the area of a large number of SECs that are for sale. The thing with electronics equipment is that half the folks that like this sort of thing often want what is newest and most state of the art and the other half want something that is truly vintage. A high dollar, though not super audiophile grade, system from the mid-1990s doesn't really fit either niche.  I'd bet the seller reserve is somewhere north of $10,000, but doubt the car will bring that.
It does look to be in nice shape and quite clean.
Evan