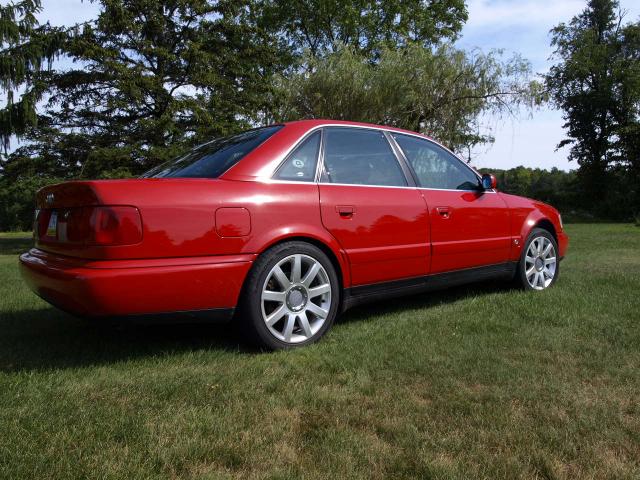 Most of my 10K posts have been a balance between finding examples of cars that just squeak under the 10K limit (sometimes, a little liberally) but aren't complete wrecks. Typically, they're examples of cars that you just don't often think of as being cheap or don't typically see fitting into a budget. But, it's always a bit of a compromise – seldom are they exactly the cars that I'd buy. More often than not, when it comes to these comparisons I'd spend a little bit extra to get a better example of the car I wrote up than the budget one. Any number of enthusiasts will tell you why; a higher priced but better maintained car is almost always a more sound investment than a lower priced, questionable history example. There are, however, some cars that fall in general well below our self-imposed 10K cap. Most notably, when comparing packages and what one gets for a moderate investment, it's hard to argue with the early 1990s Audis. Though Audis reputation was, in many ways, in the toilet at this point of history, arguably this is when they reached their zenith of design, performance and build quality. Certainly, newer Audis are more quiet, faster and have gorgeous interiors – however, they also have a reputation for being overly complicated, expensive to fix and often on the IR list with dashboards lit up as if we were a few months closer to Christmas.
But in the mid to late 1980s, Audi spent millions of dollars developing their turbo technology and the inline-5 motor into a world-beating engine. They raced several different race series with this flexible platform, dominating with their quattro technology. Simultaneously, Audi developed two new chassis to hold the 20V power plant – the B3/4 90 chassis and the C4 100 both would receive versions of the 20V Turbo, along with the last run of Quattros in the form of the RR. Both of these chassis were painstakingly designed to not only take on the competition from Munich and Stuttgart, but indeed to best them. This was a time when Audi was alone at offering all-wheel drive turbocharged performance sedans, coupes and wagons in the luxury market – something we've since come to associate with most major manufacturers. Despite the innovation, good looks, notorious long-lived reliability and performance potential of these cars, though, most of them remain the most affordable of their contemporaries. I've lined up a group of most of the 20V applications here – which would be your choice? Let's start with the S6: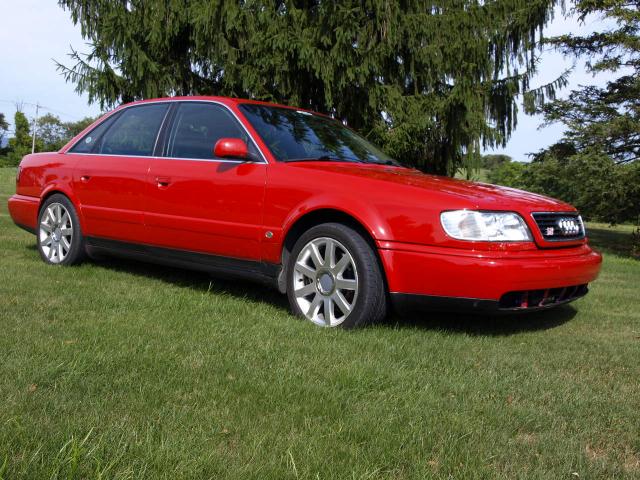 Year: 1995
Model: S6
Engine: 2.2 liter turbocharged inline-5
Transmission: 5-speed manual
Mileage: 250,000 mi
Price: $6,000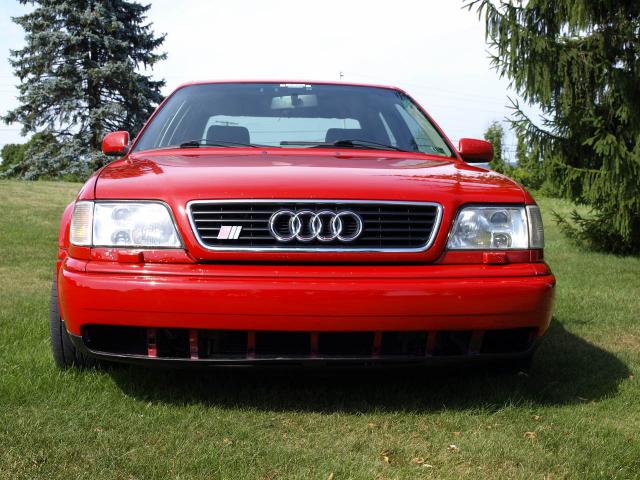 Exterior: Tornado Red exterior. Front bumper freshly repainted and has ZERO cracks. Paint is easily a 9 out of 10. There are some stone chips on the leading edge of the hood, but otherwise paint is in great shape.

Small issues: slight rust spot on the pass side front fender and on trunk lid around rear license plate lights. Rust on fender is purely surface rust and is not through the panel, and same with trunk lid.

Lighting: European headlights with Hella clear corners.

Interior: Overall this is in great shape for the age. Driver's seat has a small hole in bolster, but otherwise the rest of the seats are in great shape. I can help source a new driver's front seat if interested.

Small issues: Sunroof does not open. Motor functions, but roof does not move. However, a known good/fully functioning assembly (from a parts car) is included in the sale. Headliner has a small sag in the back, but otherwise is in great shape.

Engine: Motor was replaced at 248k miles due to a blown HG with another lower mileage motor. Current motor has approximately 182,xxx miles on it (had 180,xxx when installed in car). Turbo has no play, motor does not burn oil, and compression is in spec. When motor was replaced, all oil seals were replaced as were all coolant hoses and coolant reservoir. Also, new timing belt/idler pulley/water pump/tensioner/aux belt were installed as well. Fuel rail hoses were rebuilt and injectors were serviced. New motor mounts were also installed along w/ an upgraded poly snub mount.

Car also has the UrS4 metal cross over pipe and all metal intercooler, in addition to a SAMCO lower boost hose. Also, N75 and BPV were recently replaced as well with OEM.

Tuning/Ignition: Car has a TAP1 chip installed in the ECU and has a 1.8BAR WG Spring installed as well. OEM coils have been converted to 1.8T coil on plug. We have had zero issues with this setup, and car will hit 18-20psi without breaking a sweat. It is definitely fast!

Trans/Rear diff: New OEM clutch was installed when motor was replaced along w/ a resurfaced flywheel and new hardware. Rear diff was replaced with a Torsen rear diff from an Audi V8 as well, and new center carrier bearing was installed on driveshaft. All rear diff mounts/trans mounts were replaced within 7k miles with OEM components

Brakes: BOMB has been deleted from car and VAC Assist brakes were installed. This substantially improved the brake feel and function relative to the BOMB setup. G60 Front brakes were upgraded to B5 A4 calipers w/ TT carriers and euro A6 rotors (312mm). This is a vast improvement over the original 276mm rotors.

Steering: P/S rack has been replaced w/ a Jorgen rebuilt unit w/in 2k miles, including all new tie rod assemblies, all new hoses (high pressure and low pressure), and a new P/S pump from a 1996 A6 within the last 500 miles. An aftermarket cooler was also installed to replace the OEM trombone cooler.

Suspension: Car is riding on Bilstein Sport shocks and Eibach springs. All bushings/control arms front and rear were replaced within the past 7k miles. Car handles amazingly, and needs nothing.

Wheels: Car is currently sitting on RS4 rep wheels and has another RS4 rep as a spare. It can also come with a set of 5 UrS FUCHs. If full asking price is received, both sets of wheels will be included in sale.

Overall this is an absolutely fantastic car for the money. It has been a great car to own, and is an amazing highway cruiser – yet nimble enough to cause a few evil grins to form when carving the twisty back roads. It has been a great experience owning it, but it's time to say farewell as it's not getting enough use to warrant keeping it around anymore. Please feel free to contact me with any additional questions or to arrange a test drive. Please no tire kickers.

If you have any questions, please feel free to contact me via email (jretal at gmail dot com) or post here.

If you would like to arrange a time to look the car over and test drive it, please contact my brother, Aaron via email (retal78 at gmail dot com)

Car is located in Stroudsburg, PA
Mileage: 250,xxx
PRICE: $6,000 obo

And pictures. Note, all 3 front grills will be included/installed on front bumper at time of sale. We just got it back from the having the bumper repainted, and my dad didn't have a chance to put the grills back.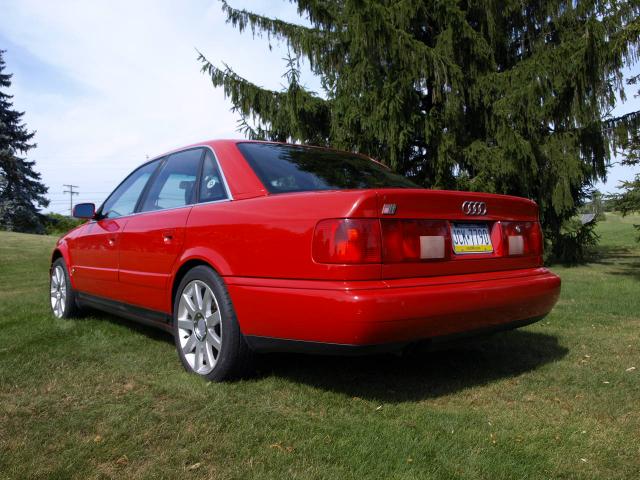 The mileage on this particular S6 may be high, but there's a lot to like here – shining paint in a great color, European headlights, refreshed suspension and mechanicals and a V8 Torsen differential are the highlights for me. Having spent a decent amount of time behind the wheels of both S4/S6s and V8s, the V8s just drive differently down the road and adopt a more rear-biased attitude when cornering – at least part of that due to the rear differential, so that's a nice change for me from the standard open/EDL unit. Asking price may seem a tad bit high for the miles but the full asking price comes with a lot of work completed and two sets of wheels. I'd personally opt for the Fuchs even though they're not the correct wheels for the car, and the RS4-look wheels could recoup some of your money with an easy sale as they're popular.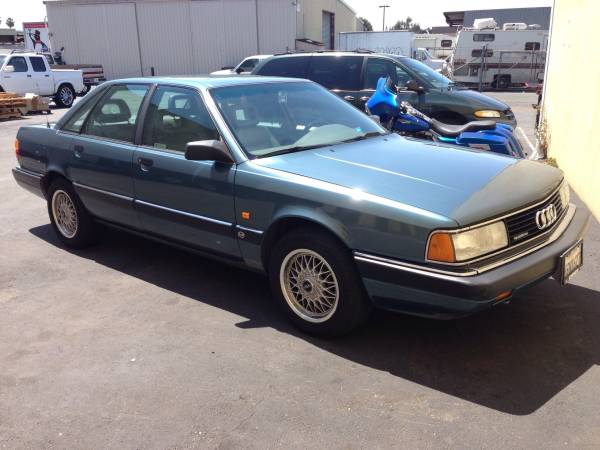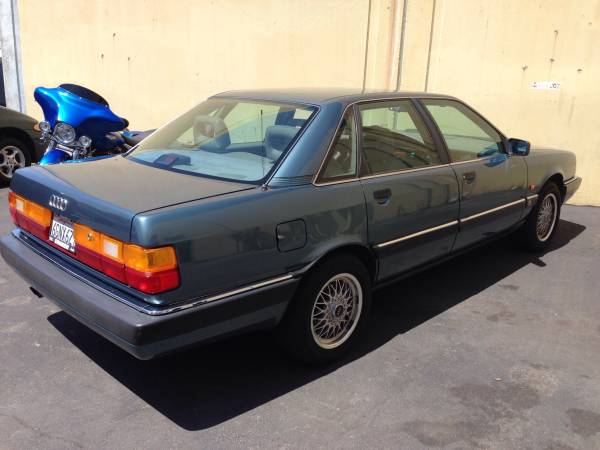 Year: 1991
Model: 200 20V quattro
Engine: 2.2 liter turbocharged inline-5
Transmission: 5-speed manual
Mileage: 168,000 mi
Price: $4,999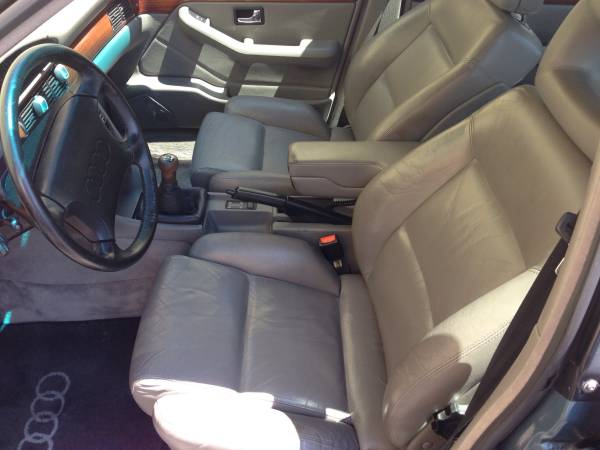 Rare 200 Quattro in very good condition.
Low miles 168k
All service history at Sonnen in Marin since day one.
Reputed to be the one of the best engines ever built 5 cylinder turbo.
Runs excellent looks great.
Exterior has some scratches
Interior is excellent no racks or rips
Good tires.
This car is a time capsule, ready to go to someone that can appreciate what it is.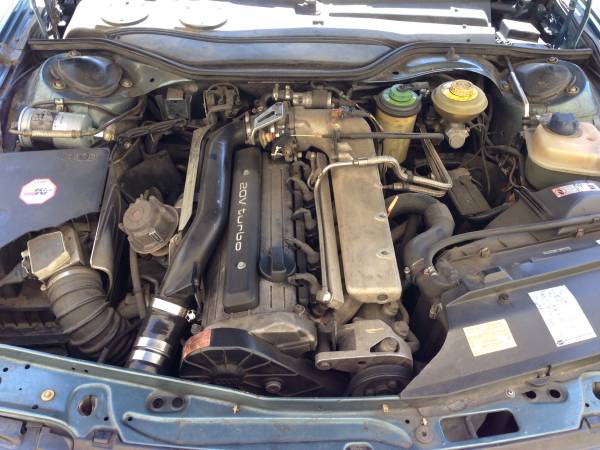 For U.S. fans, their first introduction to the 20V motor was the 200 20V quattro. Available in sedan or wagon form, this one-year only car saw specific wheels, brakes, fenders and de-badging that made it stand apart from the rest of the 200 lineup. Interestingly, it was offered alongside the very similar performing (in standard form) V8 quattro, also available with a manual. More people chose the 200 20V, which was slightly less expensive and had a different character due to the turbocharged nature of the motor. This example looks nice overall in period Lago Blue Metallic, a color noted for fading clearcoat. Miles are low and condition appears original and good overall – if it's as nice as claimed in person and there's some indication of past maintenance up to date, then it's worth the sub-5K asking price.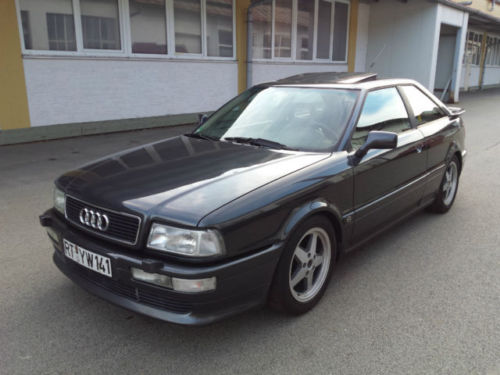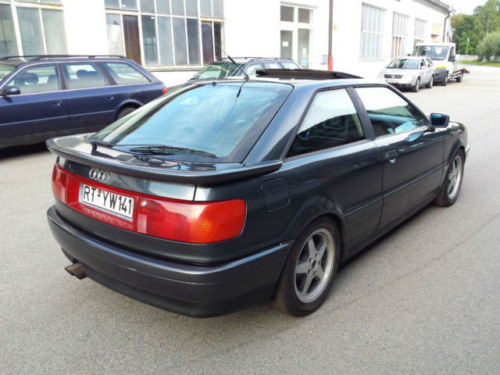 Year: 1991
Model: S2
Engine: 2.2 liter turbocharged inline-5
Transmission: 5-speed manual
Mileage: 199,000 km (123,653 mi)
Price: E. 7,500 ($9,887.10 Buy It Now)
Vehicle description :
– > DESCRIPTION : Beautiful and rare Audi S2 Coupe . Car is ready to drive and looks neat . MOT is ​​new
– > FEATURES : Sport black leather, permanent quattro all-wheel drive with optional lock , central locking , power steering , sports seats , trip computer , electric mirrors , 2x electric windows , heated seats , electric sunroof , etc. . . .
– > STATE : Due to his age and good maintained condition , both visually and technically , engine and transmission run well , too, suspension and brakes everything is fine, traces are of course present, but not too much , very nice interior , nothing torn , etc.
– > NEW PARTS : new camber plates front, for the TÜV all necessary repairs are carried out , etc.
– > HISTORY : run near Reutlingen with a enthusiast, he had the car for almost 10 years
– > MISCELLANEOUS: MOT isnew! More Audi quattro and parts . Possible changes to the vehicle.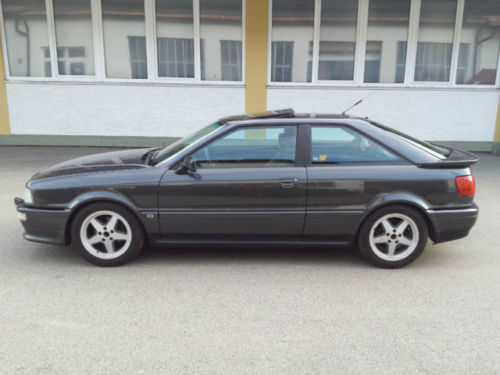 Of course, if you were in Europe you had your choice of what chassis you wanted your 20V in. There was the last of the Quattros, or its replacement – the new S2. Heavier, more round and softer than the car that it replaced, the S2 was also more refined as a highway cruiser – showing the development of a decade newer chassis. Though visually it looks very similar to the U.S. spec Coupe Quattro, subtle differences in the bumper covers, lights, and of course 5-bolt wheels hinted at the added performance. S2s became a popular choice to emulate for U.S. fans, who spent countless thousands of dollars swapping engines and importing bumpers and lights. Now we're only a few years from these cars being able to be legally imported, and most are available in good original shape for less than the cost of the conversion. Save your dollars and bide your time; for under $10,000 you can have quite a nice example indeed.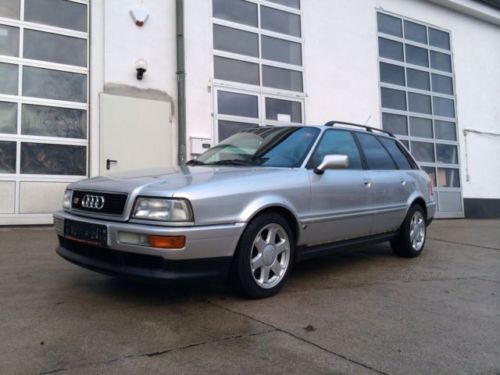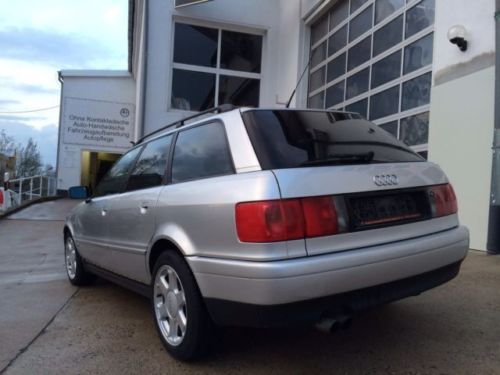 Year: 1994
Model: S2 Avant
Engine: 2.2 liter turbocharged inline-5
Transmission: 6-speed manual
Mileage: 210,000 km (130,488 mi)
Price: E.8,555 ($11,280.55 Buy It Now)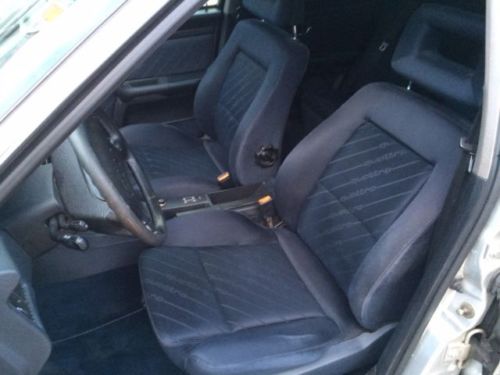 Vehicle description :
Maintenance Maintained Audi S2 Avant ABY engine 230hp 5 cylinder turbo rare today already, exterior color : silver , interior fabric with Quattro lettering , climate control, heated seats, on-board computer , Carbon , four wheel drive , Original Audi S2 rims with almost new tires , car runs good, motor , io gear , all 4 lower door panels are original Audi , TÜV / AU New
More details on the car can be found here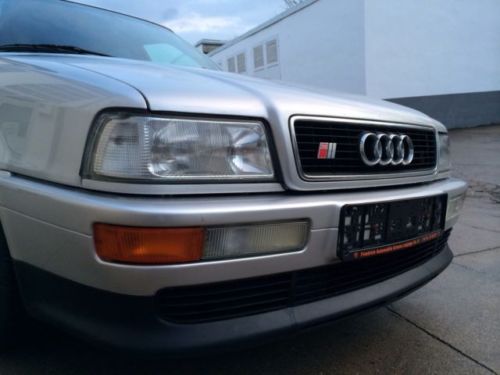 Of course, along with the S2 coupe there were also sedan and popular Avant versions. While the sedan 90 did come to U.S. shores, like the E30 and E36 touring the B4 Avant never came to the U.S.. There are a few floating around, and even some enterprising individuals have cut and made the swap here to create their own. Again, though, we're only a few short years from these cars being legally imported. While most want the RS2 variant, I actually prefer the more sedate, understated looks of the S2 Avant. When I was in school in England, there was a beautiful Cyclamen Pearl example that parked just down the road from my apartment. I used to schedule my running route to coincide with seeing it parked there. This example looks even more understated in silver with Avus wheels, though I really like the Ragussa Green examples I've seen, personally. What a cool car and a perfect alternative to the somewhat nutty E30 Touring market.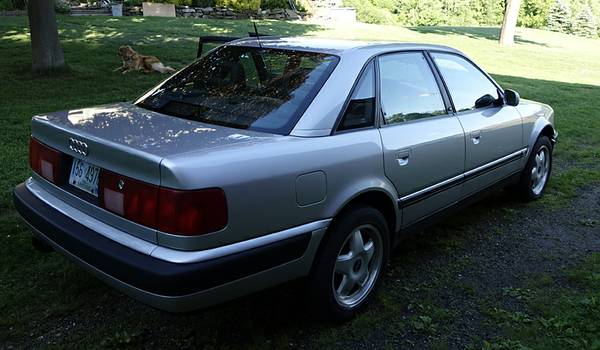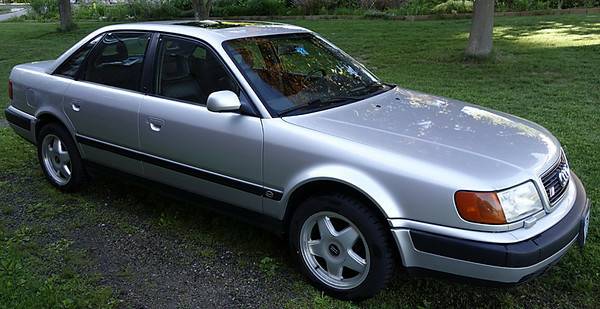 Year: 1994
Model: S4
Engine: 2.2 liter turbocharged inline-5
Transmission: 5-speed manual
Mileage: 118,000 mi
Price: $8,500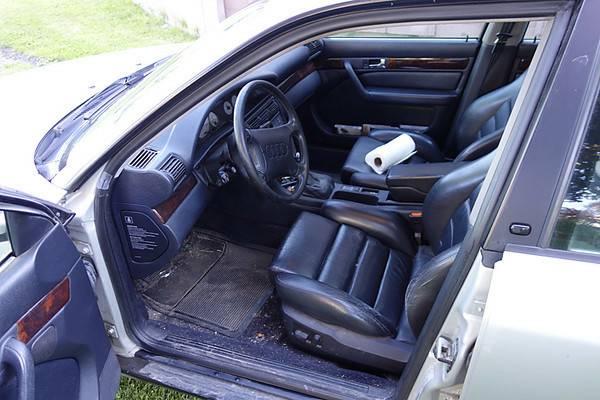 1994 Audi S4 – Last year of this body style. Purchased 10 years ago from Tim at Northern European
in Concord, NH. Tim had Russ Browning ( car head hunter ) find this for him to make a track car.
I saw it and bought it instead. Car had 77k at the time, now has 118k so I have put 41k on it in 10 years. Northern European did timing belt, water pump, etc. when I bought it and did a stage 1 chip.
Tony at Status auto in Londonderry did a stainless exhaust 5 years ago and I had it repainted then
as well. No damage, just faded paint, repainted 2001 Audi silver color.
Car just passed inspection in March. I have speed rated summer tires on stock wheels and Blizzak
snows on Milla Miglia wheels for winter.
Car is a sleeper, driven by 60 year old, so other than a few speed romps here and there, no abuse.
Car is in great shape, no rust, tiger in the snow and these cars go forever.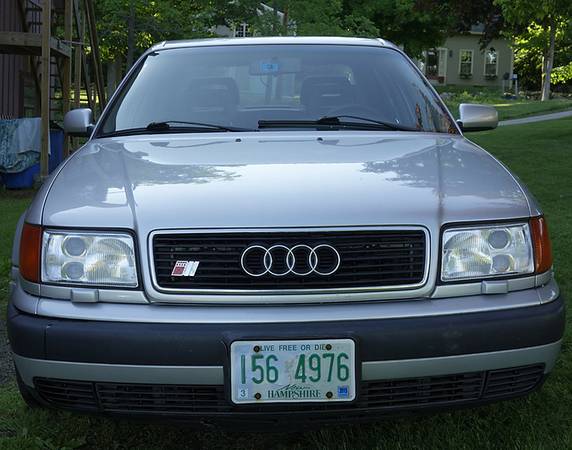 Finding clean, unmodified original S4s is a getting harder to do, though we've seen some from time to time. I really like silver on these cars, and this one has been repainted in a newer Audi silver. While not original, the update doesn't really bother me that much. I love the original Fuchs wheels, miles are in check. This car also features a stainless steel exhaust and some mechanical work recently to help justify the price, which admittedly is somewhat high. However, finding the right example of these cars can be difficult – if you like the color, condition and modifications (or lack thereof), paying a little extra probably won't bother you.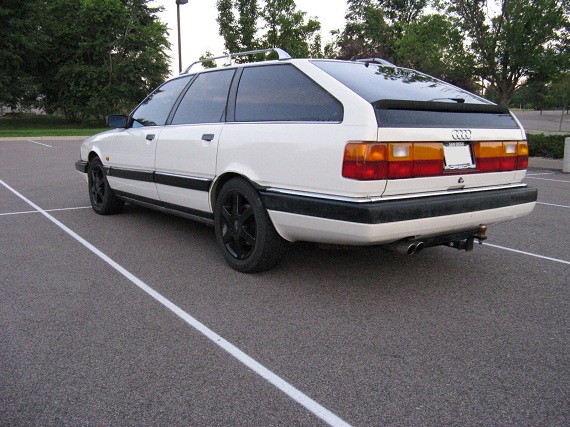 Year: 1991
Model: 200 20V quattro Avant
Engine: 2.2 liter turbocharged inline-5
Transmission: 5-speed manual
Mileage: 206,150 mi
Price: No Reserve Auction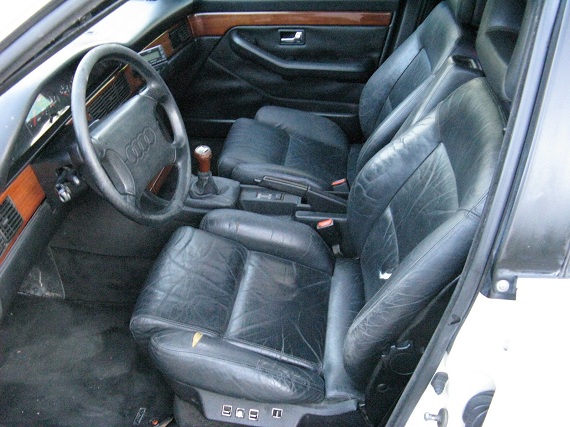 Alpine White over Black leather

Description:
This is a nice example of a very rare car. These were ahead of their time, and a 1 year only car
with this drive train. It has a 2.2 liter 5-cylinder 20-valve turbo that produced 217 hp and 228 lbft of torque in
stock configuration. This car has stage 2+ software installed by 2Bennett in Sacramento CA along
with a 2.5 bar sensor. My estimate is that it currently produces about 240 hp
It runs and drives well and all major systems work
The body is straight and rust free from being a CA car its whole life until it was recently
transplanted to CO. I have an older Carfax and new Autocheck reports that verify
a clean no accident history

Options:
Power Heated Sport Seats
Limo tint on rear windows, lighter tint on front windows
An Autometer boost gauge was also installed on the A pillar
It has been lowered and has aftermarket suspension (unfortunately I don't have any details on what suspension parts it has)
G60 2-piston calipers and conventional disc front brake conversion was done to replace problematic UFO front brakes
Aftermarket Alpine Head unit with ipod connector and cd player
Sirius Satellite Head Unit
Hitch professionally installed by 2Bennett with wiring harness

Technical:
Engine: 2.2 liter 5-cylinder 20-valve dohc turbo
5-speed manual transmission
Quattro All Wheel Drive

Known issues:
It has a slow leak of transmission fluid and needs an input shaft seal
Drivers side front outer cv boot is torn and needs to be replaced
Sunroof tilt function works, but slide function binds when trying to close so can't be used as is
Rear wiper / washer don't work
Front washer doesn't work
Cruise control control doesn't work
Drivers seat has splits and needs repair. Also, I believe that only one element in drivers seat heater works
The odometer stopped working recently, probably within the last 3 weeks.
It had a reading of 205,923 on 6/13 with the current reading at 206,139. I'd say actual is about 206,250 or so right now
(A kind ebayer messaged me and said he's got an instrument cluster he'd sell for $125 if that helps)

I've tried to give full disclosure about the needs of this car, which a lot
of sellers don't. It is 23 years old, and needs some things. However it
looks good, runs and drives well, and the major systems all work.
Fly in to beautiful Colorado and drive it home

The Good:
The engine, clutch, transmission, steering, brakes, suspension, heating, a/c, lights, signals, instruments,
doors, windows, hatch, and locks, all work
The body is in good shape with all trim pieces present, and no rust
I had an emissions test run recently and the car passed easily. I scanned the test results and put the image
with the other pics that can be accessed with the link below. This provides a positive indication of the
overall health of the engine
The 5 cylinder turbo makes a great sound when you get it up over 4K rpm. Just music to the ears

Wheels and Tires:
Audi 16 inch wheels with Hankook 205/55R16 tires in good condition

I have receipts for the service history of this car going back to 2002
I wrote up a summary of the service history, scanned it and put it in with the
images of the car that can be viewed by clicking the link below

To view higher resolution images
Click Here

This car is sold with no warranty express or implied

Zero feedback bidders must contact me before bidding or I will cancel your bids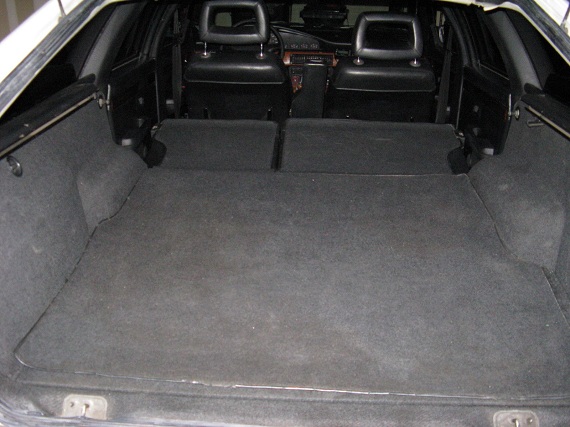 The 200 20V Avant has a avid following with all condition examples welcome. While this certainly isn't the nicest Avant I've run across it's also far from the worst. I looked at this car a few weeks ago, concluding that if you could get it at under $5,000 it would be a good driver. Despite that, this car has failed to sell at a modest $4,000 asking price. Part of that may be down to the look – the Alpine White is a rare color on these cars but looks worn with the over-tinted windows and wrong-chassis wheels in black. The other part that may be scaring people away is the list of needs, most of which are fairly costly to remedy. Still, it's a 200 20V Avant, and there's someone who wants it right now no matter what condition it's in.
What's the winner? Well, this is a tough one – because the car I'd choose isn't the one I can have. I'd pick the European market S2 Avant as my favorite of the bunch, but of course it's still 4 and a half years from being eligible to be imported to the U.S., so it doesn't make much sense to choose that one. Truth be told, they're all reasonable values for one reason or another; the look of the 200s is still something I like, especially when clean. The value of the S4/S6 is hard to argue. I think the silver S4 with a clean bill of health might be the best long term owner, but the 200 and S6 would give an opportunity at ownership for a few years that you could choose to pass on later. Amazingly, for $10,000 you're close to owning two of these cars, or certainly a nice one with enough change left to keep it running for some time. They may be the best values in classic German sport sedans going.
-Carter