Warning!
This post is in our archives. Links in this post may have been updated to point to similar cars available to bid on eBay.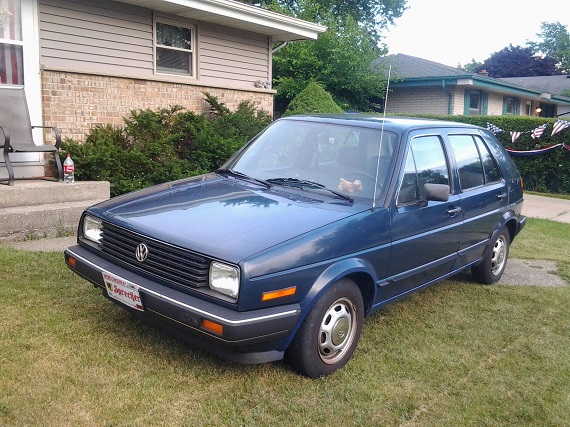 It isn't always the flashiest car that pulls your attention, and such was the case for me when pondering this 1986 Golf. Let's get beyond the diesel scandal and its impact on the company for a moment, as I want to talk about the noise. In this case, it's not the wind noise generated by the relatively upright Mk.2 design. It's not even the substantial clatter coming from the engine bay of the 1.6 liter inline-4 diesel. No, seeing this car is a trip down memory lane because of the noise it makes when the key is in the ignition. 1986 was the year that changed at Volkswagen, and I just so happened to have a 1986 Golf 4-door. The noise was the warning chime, and Volkswagen's clever marketing campaign proclaimed it as a digital "Volks-wa-gen" repeated until you either had to start the car or yank the key out. Fans of the marque have dubbed it "La Cucaracha", which it vaguely sounds like, though it's clearly a rip-off of Beethoven's Moonlight Sonata. Rip out is what I, and many others, did to the door chime relay in an effort to maintain sanity when working on the car. The signature door sound would carry on for a few generations but finally died in the 2000s like most VW electronics. I openly wonder if, in an effort to re-brand itself in the post-Dieselgate world, VW will reintroduce the theme song as a "throwback" to gain back its original fan base. After all, I'm sure I'm not the only one who vividly has those three tones repeating in my head as I look at this Golf: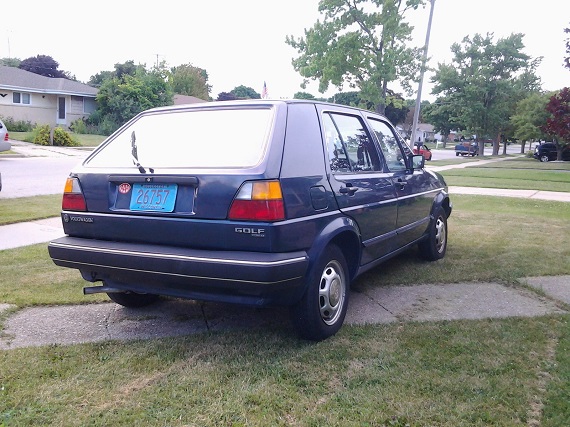 Year: 1986
Model: Golf Diesel
Engine: 1.6 liter inline-4 diesel
Transmission: 5-speed manual
Mileage: TMU
Price: Reserve Auction
vehical runs and drives perfect.i would and have driven this vehical anywhere with no wories.highly maintained and mecanically sound.the only this that are not working is the horn.the speedometer works good,but the odometer sticks at times.the odometer reads 138,000,but it was not acurate for about 2 years.i drive this vehical daily,so i would say realisticaly it has about 150,000 on it.call me with any questions Roy 414-687-9371.or email me.only sell to united states.paypall only.a 500.00 non refundable deposit is required within 48 hours of winning bid.You must pick the car up .i will not ship.thanks and good luck bidding!

"very little surface rust,minor scratches all panels.very solid.really nice interior.very clean underbody.runs great.odometer quit being accurate about 2 years ago,reads 138,000 but i would estimate 150,000.driven daily,extreamly dependable,highly maintained.3rd owner for the last 9 years.hate to sell but need to downsize.won 3 trophys out of 6 car shows.have original documents and clear title.drive it home.no issues."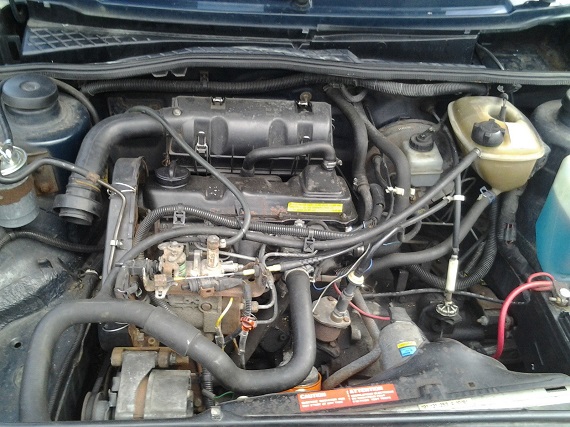 Get past the Volkslish (Englagen?) grammar and spelling, and you've got one seriously tidy 1986 Golf. Unfortunately, it's not the most desirable model but seldom are the hot ones the examples to survive in this condition. There were several small changes to the 1986 Golfs; this one, like mine, was a Westmoreland car – immediately identifiable by the signature sealed-beam grill that only came on '85/'86 models from the U.S. plant. Early cars also had split windows in front with mirrors mounted farther back on the doors. Subtle badge and trim changes rolled through the lineup, too. In 1985 and 1986, these were as cheap as a Volkswagen came. Diesels were base priced at $7,150, and came with little other than a standard rear wiper and dual mirrors. Remember when mirrors were options? Crazy. Anyway, optional were things like air conditioning, automatic transmission, power steering and a radio, as well as split rear seat. These were very basic cars, and this one was about as basic as they came. The color is Deep Cosmic Blue (LE5C) and the interior is the gray tweed, and from what I can tell the only option it has is the split folding rear seat. It's somewhat refreshing to see such a basic model in light of how cars come equipped today. My Golf was also a manual steering car, and aside from tight spaces in parking lots, I never had much problem with that. While the 1.8 gas versions felt reasonably peppy with light weight, the diesels have substantially less pickup with only 70 horsepower. 60 comes in a leisurely 12 seconds and the car tops out – eventually – at 100 m.p.h.. So, you're certainly not buying the best equipped or most fun car. What you're buying in a memory in impressive condition; one which will draw smiles everywhere you go. That is, until someone opens the door with the key in the ignition.
-Carter