Warning!
This post is in our archives. Links in this post may have been updated to point to similar cars available to bid on eBay.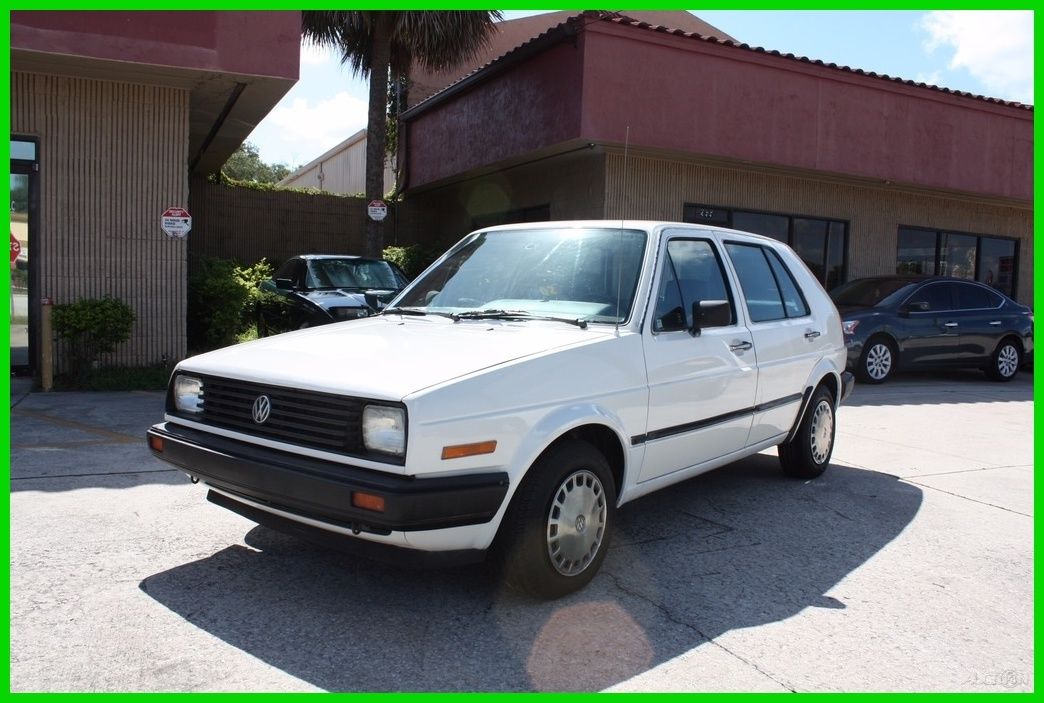 Do you ever see a car and think 'I'd love to know the story behind that one'?
I do, all the time. But something in particular caught my eye about this 1986 Golf. Well, first off, it's become rare to see a 1986 Golf anymore. The '85 and '86 model years were a bit unique, since the base and diesel models were manufactured in Westmoreland, Pennsylvania. There were minor trim differences, but the easiest way to spot them was the Rabbit-inspired sealed-beam headlight and unique grill. Unlike today's market where the Golf has gone upscale, with the launch of the A2 chassis for the U.S., the diesel Golf was the cheapest way to buy a VW – and the gas unit was only a hair more money. But they were fairly basic transportation; the 1.8 liter inline-4 GX motor was rated at 85 horsepower for adequate acceleration and fuel mileage. Interiors were basic tweed in a few colors, you had to option in things like a radio and power anything (including steering!), and they came with 13″ steel wheels. If you wanted more upscale, you either spent another $1,000 and bought a Jetta or in 1986 Volkswagen added the Wolfsburg package to make you feel a bit more special.
But this car isn't a Wolfsburg package. It's a basic Golf. So why am I interested? A few reasons. First, I had one just like it, and it was a great car all things considered. My '86 Golf was also a Westmoreland model, and quite basic. Mine had been bought new by a teacher who needed it to commute; after 10 years, she'd accrued just north of 200,000 miles on the odometer, but it still ran like a top. Yet this one, some two decades after I owned mine, has only 44,000 miles since new. That's reason number two. Reason number three is that the last time we saw a low mileage, automatic and basic Volkswagen from this period it sold for $21,000. But that was a Jetta Coupe with only an eighth of the mileage, and I doubt this one will come anywhere close despite the no reserve auction. But reason number four, and what really has me wondering what the back story is, in in the center of the dash….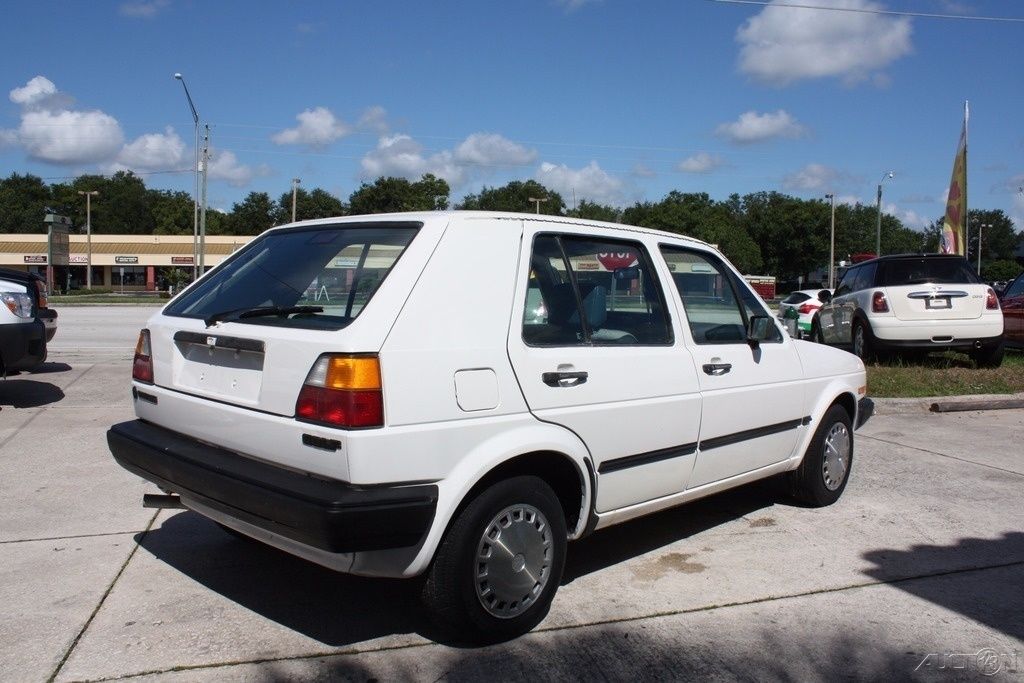 Year: 1986
Model: Golf
Engine: 1.8 liter inline-4
Transmission: 3-speed automatic
Mileage: 43,998 mi
Price: No Reserve Auction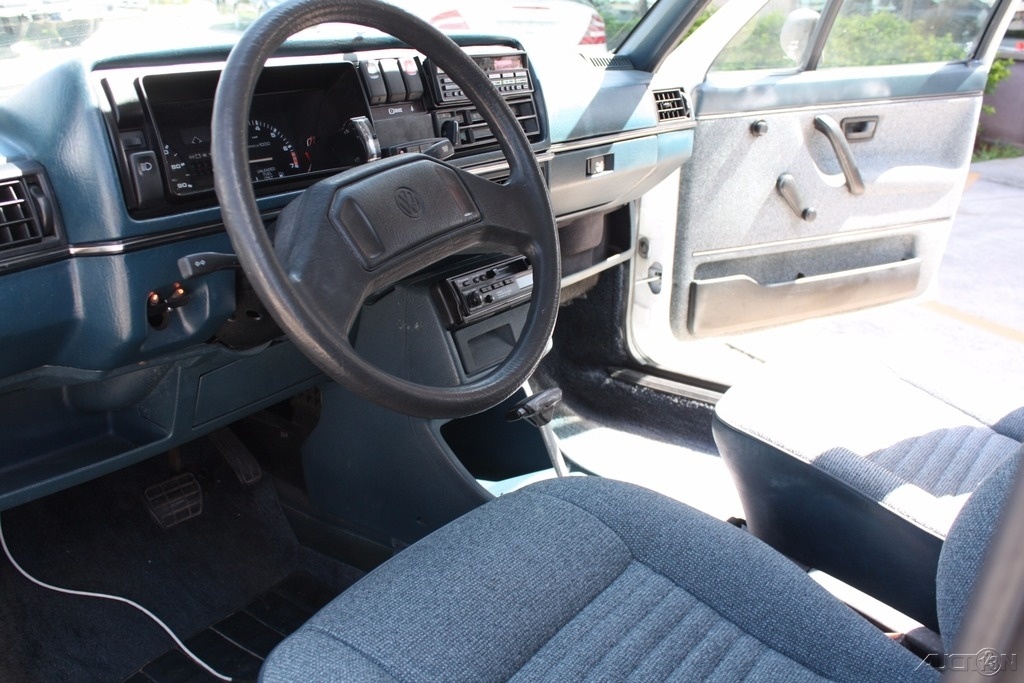 YOU ARE BIDDING
ON
A
NO RESERVE
1986
VOLKSWAGEN
GOLF
MK2
WITH
1.8 LITER 4 CYLINDER ENGINE
AUTOMATIC TRANSMISSION
ORIGINAL LOW MILEAGE
GREAT INTERIOR
FRESH REPAINT
RUNS AND DRIVES GREAT
FRESH TUNE UP
ROOF PLASTIC MOLDINGS ARE MISSING
(WE COULD NOT LOCATE NEW PART AFTER REPAINT)
HARD TO FIND CONDITION
BID WITH CONFIDENCE!

*****PLEASE READ VERY CAREFULLY*****

IF YOU WIN THE AUCTION, YOU PAY FOR THE ITEM.
IF YOU WANT IT, YOU HAVE TO BID.

WINNING BIDDERS ARE LEGALLY OBLIGATED TO COMPLETE THEIR PURCHASE

DO NOT BID IF YOU DO NOT INTEND ON PAYING. WE TAKE EVERY STEP TO INSURE YOUR SATISFACTION, AND OUR OWN PROTECTION AGAINST FRAUD

WE DO NOT ACCEPT CHILDISH EXCUSES LIKE YOUR KID PLACED THE BID BY MISTAKE, YOUR WIFE DOES NOT LET YOU BUY, OR ANY OTHER EXCUSE

PLEASE LOOK AT THE PICTURES VERY CAREFULLY !!

CARFAX REPORT IS AVAILABLE FOR MOST VEHICLES

IT IS YOUR RESPONSIBILITY TO INSPECT THE VEHICLE BEFORE BIDDING

***NOT AFTER WINNING THE AUCTION***

YOU ARE ALWAYS WELCOME TO COME TO OUR LOCATION TO INSPECT PRIOR TO AUCTION CLOSE

PLEASE DO NOT THINK THAT YOU CAN BID ON THE CAR, WIN THE AUCTION, LOOK AT THE VEHICLE AND NOT PURCHASE IT IF YOU DO NOT LIKE IT.

RESPECT OUR FAMILY BUSINESS PLEASE

WE CAN ARRANGE SHIPPING ANYWHERE IN THE WORLD

PLEASE ASK FOR SHIPPING QUOTE

WE DO EXPORT VEHICLES WORLDWIDE!!

$595 DEALER FEE WILL BE ADDED (NO EXCEPTIONS, DEALERS INCLUDED TOO)

$200 NONREFUNDABLE PAYPAL DEPOSIT IS REQUIRED **IMMEDIATELY** FOLLOWING AUCTION CLOSE

REMAINING BALANCE MUST BE PAID IN 3 DAYS NO EXCEPTIONS

BY

WIRE TRANSFER,DIRECT DEPOSIT,CERTIFIED FUNDS OR CASH IN PERSON

DEBIT/CREDIT CARD PAYMENTS REQUIRE 4% PROCESSING FEE

PAYPAL IS ONLY FOR NON REFUNDABLE $500 DEPOSIT

PLEASE READ OUR POLICY/TERMS VERY CAREFULLY!!

IF YOU ARE A FLORIDA RESIDENT, WE MUST COLLECT TAX, TITLE, AND REGISTRATION FEES

THIS VEHICLE IS SOLD AS-IS WHERE-IS WITHOUT IMPLIED OR EXPRESSED WARRANTY

TRADES NOT ACCEPTED

WE ARE NOT LIABLE FOR ANY DAMAGES OR FAULTS AFTER THE VEHICLE LEAVES OUR CARE, CUSTODY, OR CONTROL.

WE ARE HONEST AND RESPECTFUL. PLEASE TREAT US WITH THE SAME RESPECT AND WE WILL TAKE CARE OF YOU.
OUR CUSTOMERS ARE OUR FRIENDS. WE HAVE EARNED THEIR TRUST AND BUSINESS OVER THE PAST 20 YEARS.

IF YOU ARE NOT HAPPY WITH THESE TERMS, PLEASE DO NOT BID.

THANK YOU

GOOD LUCK AND HAPPY BIDDING!!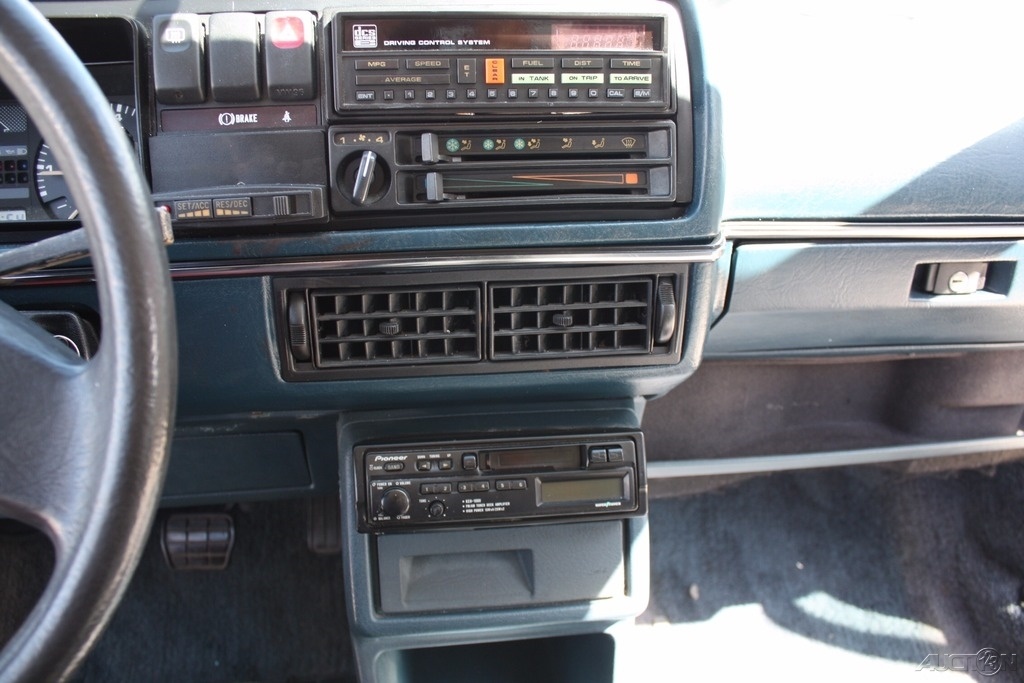 The original color of this Golf appears to have been LE9C Cashmere White, but it is not disclosed what white the dealer chose for the respray. While that undoubtedly freshened the look of the car, the detail work doesn't look like a high-quality job. The roof rails are obviously missing, all three wipers are misaligned, and there are more than a few areas of drips and orange peel. On top of that, they could have spent a day cleaning all the jambs and really jazzing the car up a bit, but as is it appears to be a quick and dirty job. There are no undercarriage shots or engine bay shots provided which, in a A2, would have me worrying about rust immediately, though perhaps the Florida location assuages some of that concern. But it's inside where things really start to get interesting. The gray tweed is nothing special to write home about though it generally looks clean. We can see that this car was originally equipped with air conditioning and (perhaps) a radio, as well as unfortunately the 010 3-speed automatic transmission, which in the case of the 1.8 GX really robs the car of much of its driving pleasure.
But it's the middle of the dash that really interested me. As first and without a closeup, it looked like the car had two aftermarket radios, or perhaps a period equalizer installed. But no, it's got an aftermarket trip computer installed! And just to the right of that, an aftermarket cruise control system installed! Whether or not either of these things function anymore is suspect, especially considering that right next to the aftermarket cruise is an aftermarket fuel gauge, is another matter. But beyond them working, it makes me wonder who ordered this car originally – perhaps a traveling sales man, who like my teacher friend that sold me my Golf was planning on piles of miles? Yet the car doesn't have those miles on it; so maybe it was just a pedantic grandparent worried about the next OPEC crisis? My quest for understanding admittedly doesn't go very deep in this car, but it does raise curiosity.
Value? At the end of the day, it's a slightly messy basic automatic Golf with some period electrics poorly stuffed in it. With a day and a half to go, it's at $1,500, and I'd expect it'll only finish at around 1/10th of the number that crazy Jetta auction achieved.
-Carter