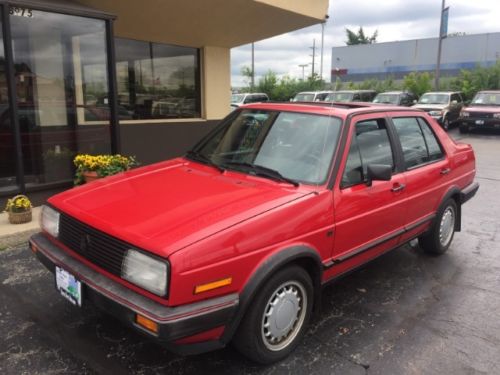 Like its brethren GTI, in 1985 the Volkswagen Jetta GLI went a bit more upscale with the second generation of water-cooled performance. While the two shared most underpinnings between them, the Jetta was aimed at a slightly more upscale buyer. As a result, things like power windows, locks and mirrors and (gasp!) even an automatic transmission were available in the sedan but not the hatch. The GLI package, like the GTI, offered visual clues that greater performance lay under the hood; you got a red-striped exterior and alloy wheels outside. But unlike the GTI, VW omitted the blacked-out VW badges and the flashy "GLI" grill insert until later in the run. Inside, special velour sport seats, a multi-function display and standard power steering (it was optional in the rest of the range) with a leather-wrapped steering wheel helped to distinguish the model. But the meat of the meal was the added sport; the HT-code inline-4 was good for 100 horsepower and mated to a close-ratio 5-speed manual as standard. You also got disc brakes all around and an upgraded sport suspension with front and rear anti-sway bars. You could grab all of this fun for just a hair under $10,000 with no options – exactly $100 per a horsepower.
For 1986, power was up slightly to 102 with a new RD-code motor, again shared with the GTI. That massive power increase was met with a corresponding increase in base price to $10,190. Yet most reviews of the period felt that even at that price, the Jetta represented a great value; a perfect mix of sport and practicality with reasonably good build quality. The GLI of the period never sold quite as well as the GTI or caught on in quite the same way, though, so it's a special treat to come across a clean and mostly original '86 like this one: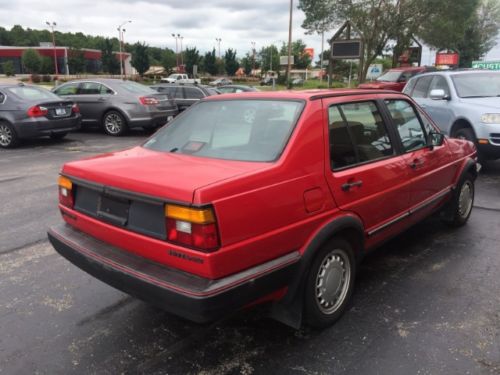 Year: 1986
Model: Jetta GLI
Engine: 1.8 liter inline-4
Transmission: 5-speed manual
Mileage: 120,296 mi
Price: No Reserve Auction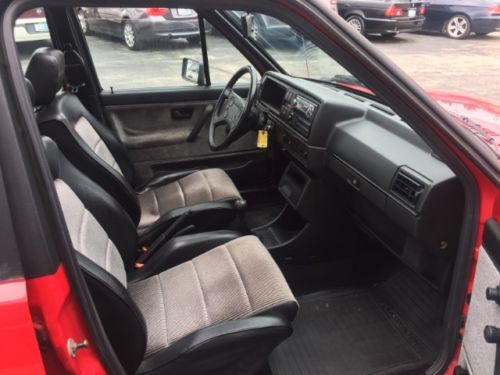 Yes, you're reading this right, a RED 1986 Volkswagen Jetta GLI, for sale! This car is not only a charmer, but also a clean and very well maintained vehicle. It's a 5-speed manual transmission car that runs well, and can help you relive the eighties!

This car was under the prideful ownership of the same person since 1990, and has remained in excellent condition. The air conditioning has been converted. The brakes and tires are in good condition. All in all, it is a very mechanically sound vehicle. This Jetta is exceptionally clean and is fun to drive!

Why wouldn't you get this great car?? If you have any questions or want to look more into this '86 VW Jetta, go to our website and feel free to checkout the Carfax.

Buyer is responsible for transportation of vehicle after purchase, title, tax, and licenses in county of residence. The vehicle is being sold as is. We welcome independent mechanical inspections, and of course, any questions.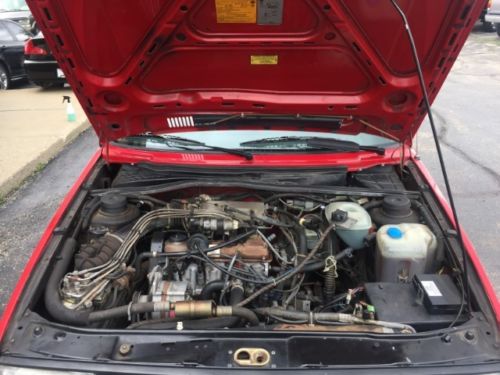 Options on this car appear limited to air conditioning, sunroof and cruise control. It may have had the upgraded radio as well, but as with most at this point in life it has been replaced. Outside of that, it appears to have an aftermarket alarm system but otherwise the car is remarkably original and pristine. As with most of the '86 GLIs I've seen, this car has a the grill's VW emblem blacked out, but it's interesting to me that the original press literature for the GLI in '86 still featured a chrome badge. Photographs lack the detail to prove absolute condition, but a look over the interior – typically where these cars fall apart – shows significantly better than normal. Outside of some expected paint loss to things like the valve cover, under the hood looks quite tidy as well. As they did originally, these GLIs haven't really caught on in the same way that the collector GTI market has. So far this car has not gotten a bid on the $3,000 no reserve opening price point with a few days to go. At that price it strikes me as a very reasonable value given the condition if you like the sedan form of classic VW performance.
-Carter