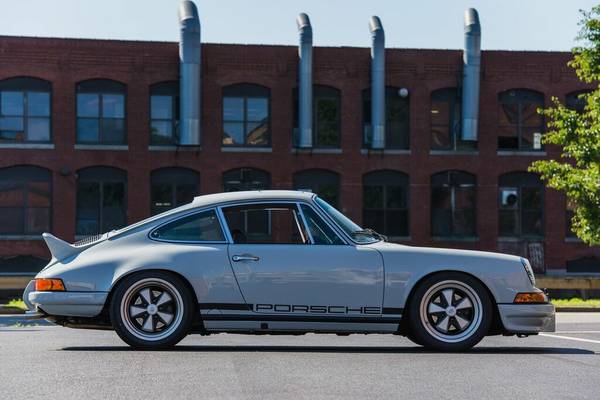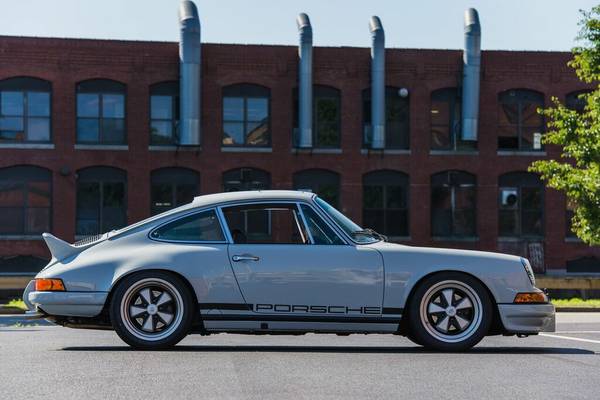 Among Porsche 911 enthusiasts and collectors the 1973 911 Carrera RS is a much adored car and for very good reason. While not the very first performance oriented model of the 911 Porsche produced, previous versions like the 911R were produced in such small numbers that most buyers never would have had any shot at them. While the Carrera RS was still produced in relatively small numbers, production still reached around 1,500 so there were a few to go around and they caused quite a stir.
Naturally, all of this greatness means prices are now very, very, high. Some Lightweights have eclipsed $1M. Because of those high prices and the general demand for the style and performance it has become increasingly common for builders to backdate later 911s, usually the 3.2 Carrera or (more rarely) the 964, bringing the style of the long-hood Carrera RS to the more modern mechanicals and underlying structure of a later 911. We've featured quite a few of these builds and they come in all sorts of spec and with a wide range of prices. Here we have another, which I think looks fantastic in its very understated, but still quite pretty, Dolphin Grey exterior and within the typical range in which we see these priced, this one seems pretty reasonable!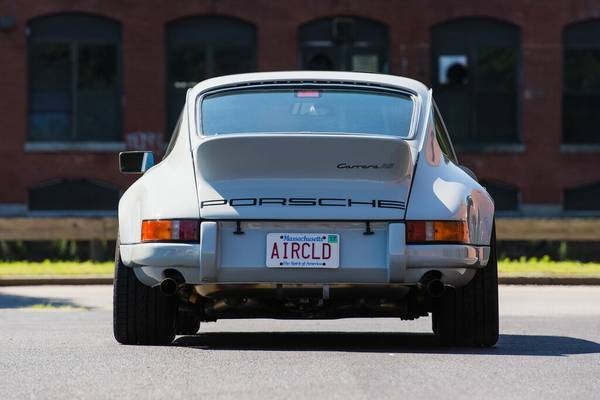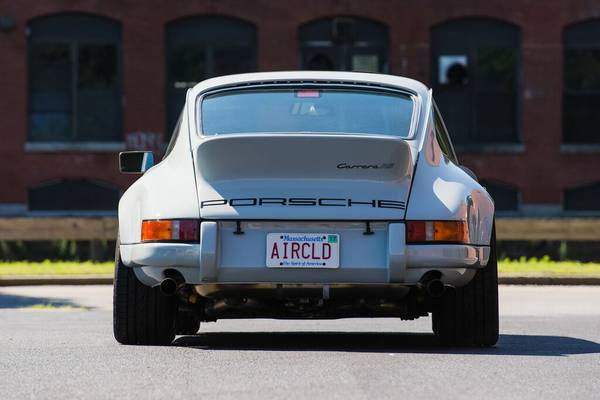 Year: 1987
Model: 911 Carrera
Engine: 3.2 liter flat-6
Transmission: 5-speed manual
Mileage: 134,600+ mi
Price: $58,995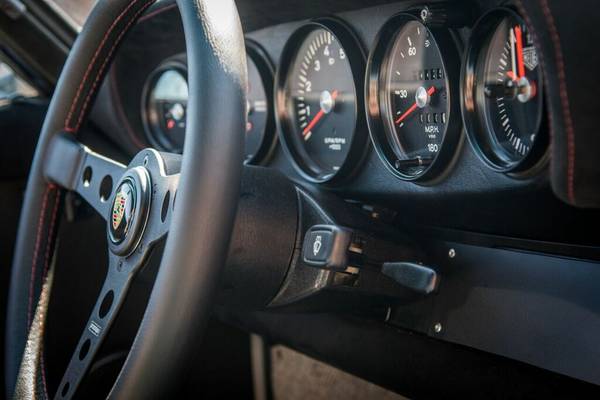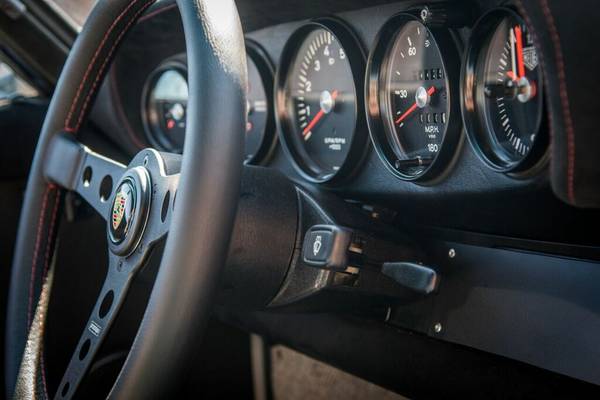 KMC is proud to present a unique opportunity to own this bespoke, award-winning, Restomod air-cooled 911. The build was based on a clean, numbers-matching 1987 911 Carrera from California. This was a perfect base for the build, given the well-established reliability of the 3.2L engine, with a slicker-shifting Getrag G50 gear box and revised chain tensioning and lubrication system (which plagued the previous 911 generations). The car has been restored in the style of the venerable 1973 911 RS, with steel long-hood and fenders, and a fiberglass rear-lid with ducktail. All of the chrome trim, door handles and window latches have been re-anodized, which balance out the beautiful, Glasurit Dolphin Grey (an original 356 color) paint. The 17″ pristine replica Fuchs complete the clean and classic look of the car.

The interior has styling cues from the famed Singer 911, including period-correct gauges with a Heuer-logo clock, powder-coated floor-boards and classic-styled, hounds-tooth sport bucket seats. Subtle details like the authentic (and hard to find) Heuer Rally dash timers, Alcantara headliner, dash and door trim, wood 917-style shift knob and made to order Autoflug-style 5-point harness truly make the interior a special and inviting place.

Mechanically, the car is well sorted out with a valve adjustment and clutch service at 134,600 miles. The struts, sway bars and wheel bearings have also been serviced recently, and the car has just been fitted with a brand new set of tires. Tasteful performance upgrades include a Wevo short-shift kit, Steve Wong chip, SSI heat exchangers and Dansk sport mufflers. This car has no cold-start issues, pulls hard and has no oil leaks.

Make no mistake, this is a driver's car that is as amazing to drive, as it is to behold in your garage or at a car show. If you have ever drooled over Rob Dickinson's, Lightspeed or Autofarm 911 Restomods, here is your chance to own a one-of-a-kind classic, yet affordable, re-imagined 911.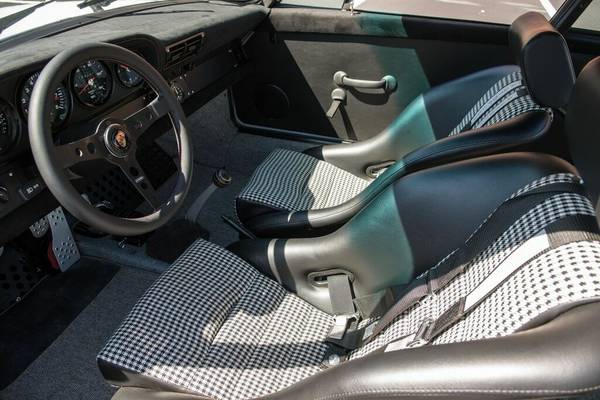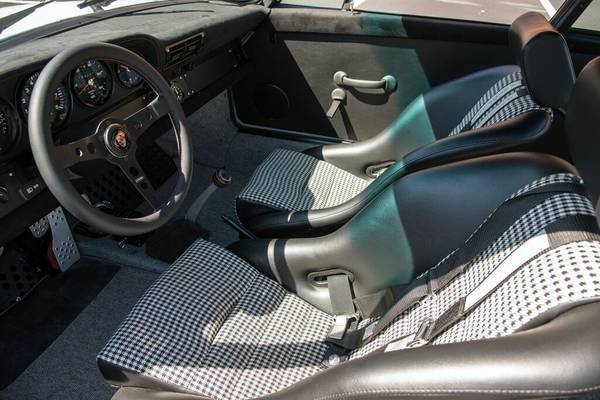 This particular build began with an '87 Carrera Coupe, so you're getting the stout 3.2 liter flat-6 paired with the G50 5-speed transmission. It makes for a nice base and in most cases leads to higher prices though that isn't much reflected here. The engine sounds like it's mostly in stock form. There area a few upgrades, but I would expect power levels to be fairly typical for this period Carrera. The exterior is what we expect from such a build: long-hood, ducktail, wider rear, all paired with a nice looking set of Fuchs replicas. The interior looks nicely outfitted as well and in an understated way. They haven't gone over the top with the details, but things like houndstooth seating and a set of Heuer rally timers are nice additions that provide a sporty feel to the car. Like the RS itself there's little in the way of extra components to the interior; we have the things we need for piloting the car and little else. In that regard it's excellent.
And at the end, with an asking price a little below $60K they aren't asking for something too unreasonable either. Someone interested in replicating such a build will be hardpressed to do so for cheaper without already possessing a well-sorted 3.2 Carrera to use as your base. If you had to buy a car as well it might not be possible. Some may prefer a brighter color (heck, I might prefer a brighter color!), but this isn't the first 911 I've seen painted in one of the lighter shades from the 356 and they tend to look really nice. This one is no different. I wouldn't say it's a sleeper, but you can certainly cruise a little freer.
-Rob