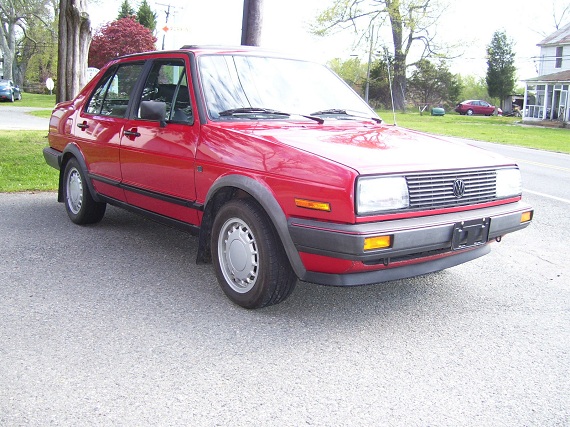 When I owned my 4-door 1986 Golf, there were two things I really coveted but never had; blacked-out VW symbols front and rear and red piping on my bumper covers. It may sound silly to hear such things, but those small details were just about all that differentiated the GLi and GTi from the normal Golfs and Jettas in 1986. Granted, there were other details, too – for example, you couldn't get the color of my car – Titian Red Metallic – on one of the performance models, they had "big" 14″ alloys, subtle fender "flare" trim and the red piping continued to the side moldings. Other than that, you'd need to jump into the car to tell the difference; again, small but notable details like the steering wheel, dash trim and options that weren't readily available on most normal A2s. But the addition of a few horsepower to these light sedans really transformed the driving experience. They weren't fast by any means, but instead of lazily climbing the tach like your overweight co-worker trying to make it up the flight of stairs when the elevator is out, the GTi/GLis raced up the tach like those red trimmings seemed to promise they would. At least, it felt that way in 1986….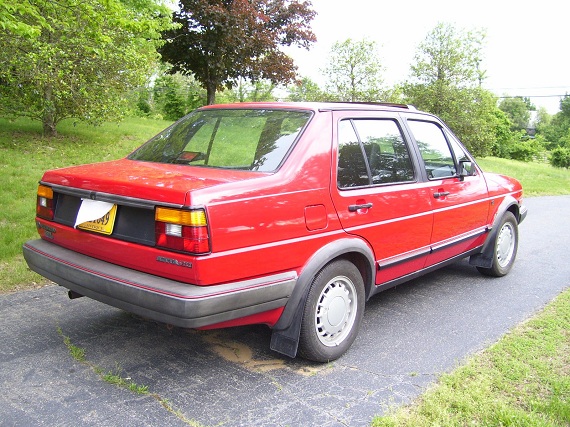 Year: 1986
Model: Jetta GLi
Engine: 1.8 liter inline-4
Transmission: 5-speed manual
Mileage: 75,000 mi
Price: No Reserve Auction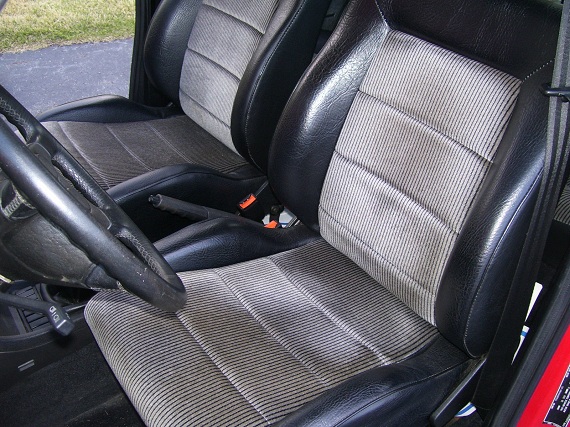 This rare Jetta GLI is in excellent, original, unmodified condition, with super low original miles (approximately 75000), and is a blast to drive! Handles and is way more fun than new cars, with its slick 5-speed transmission, great handling and road feel! Plus it has a sunroof and original VW equipment (owners manual, window sticker, owners card), and its original Tornado Red paint still shines.

It is hard to find such an original Jetta GLI, let alone in such condition. This GLI has its original paint that shines, and does not appear to have ever had any body work. All four original alloy wheels are in good condition and still have their center caps, the headlights are clear and bright, and the doors and windows all open and close properly. There are three small areas of minor rust, shown in the photos, all on the passenger side of the car (one small area at each wheel arch, and one near the gas filler), and there is surface rust on some components on the underside of the car. I have chosen to keep the car as is original, as these small areas do not detract from the excellent original appearance of the car. Overall, the body and paint is in incredible original condition and looks great.

Mechanically, this Jetta GLI has the full complement of GLI equipment, including the 1.8 liter high performance engine, 4 wheel disc brakes, multi function trip information computer operated by a stalk on the steering wheel, wheelhouse flares, alloy wheels, performance suspension, tachometer, and power rack and pinion steering. The car starts right up, runs and drives great, and handles great. The front wheel bearings and brakes (calipers, pads, hoses, using correct GLI parts) are new. The tires have decent tread, but are older and have a slow leak on the passenger side tires, and the exhaust has a leak (not bad, sounds a bit sporty, but it and the tires could be replaced to be in top original condition). I have always garaged the Jetta, and based on its condition and appearance, it must have always been garaged. In the five years that I have owned it, I have used it for short occasional drives in the area, and it has always started and run beautifully.

The interior on the GLI is amazing, it looks like an almost new car. The dash has no cracking or fading, the terrific and comfortable sporty GLI seats are excellent (the back looks like it may have never been used, the front has a couple of minor spots on the cloth, but even the bolsters are in great condition and there is only slight cracking on the leatherette drivers bolster), the leather wrapped steering wheel and shifter are in great condition, there is no fading or cracking even on the back of the rear seat or rear dash! The headliner is great and the manual sunroof opens and closes as it should. The optional original VW AM/FM cassette stereo works when it wants to, leading me to believe that there is a loose connection somewhere because when operating, it sounds great. I have never tested a cassette tape, but all but one of the cassette tape holders in the console open and close properly. Note that this car does not have air conditioning or the power window and lock package, which I always felt was good not to have these features as they are some of the more troublesome areas on this generation Jetta. The trunk compartment also looks virtually new.

The Jetta even includes its original keys!

This is a rare opportunity to own and drive one of the best handling, fun, and economical 1980s cars in outstanding original condition.

Please ask any questions before you bid, and understand that a bid is a contract to buy this special Jetta. I have described the Jetta to the best of my knowledge and ability. The Jetta is sold in as is condition, and the buyer is responsible for transport, although I can arrange to be available for a transport company to pick up the Jetta. I can continue to garage the Jetta for a brief time prior to pick up or transport. A non refundable $500 deposit is due within 24 hours of auction end. The car will not be released until it is paid for in full and all funds (cash, bank check) have cleared. The clear title is in my name, and will be released when the car is paid for in full and funds have cleared.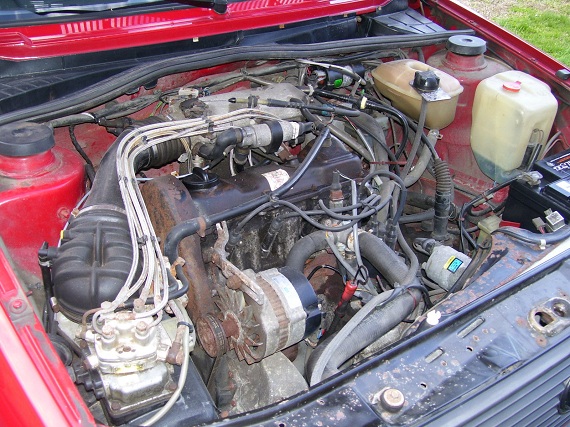 Truth be told, these just aren't fast cars at all; but like the 2002 I wrote up last week, they're cars you can enjoy at the limit – and that limit is pretty easily reachable. I spent much time and effort turning my plain Jane Golf into a GTi/GLi clone, complete with this same interior. Over the regular seats in the Golf, the sport seats were quite comfortable and it's not often you see originals in the shape of this car. Indeed, that extends to the rest of the car, as it's not often that we see 1986 Jettas in this shape with lower miles any more. There are lots of little details that make this car very cool; the cassette holder, the two year only "Bottle Cap" alloys, the narrow bar grill, the early split windows – stuff that really only VW geeks get excited about but is cool to see. It's also not only infrequent to see these cars at all, but in all original shape makes it quite a treat. Granted there are some points that need to be addressed, but as of writing this is a well-priced example of the second run of the sport sedan that is now nearly 30 years old and vintage, hard to believe though it may be. It won't be everyone's first choice but this is a really fun car that can be run on a very modest budget!
-Carter