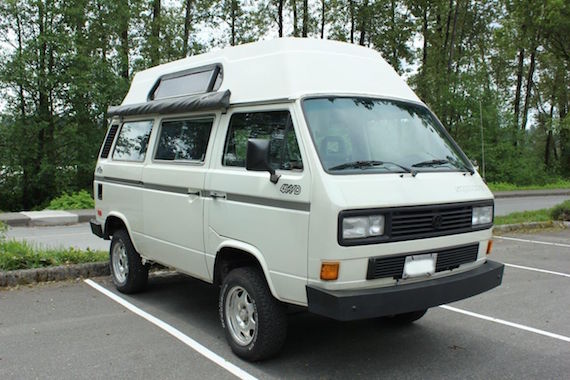 Here's one of the best deals on a Syncro camper we've seen in a while (if not ever!) and it comes with a well-done Subaru boxer swap. These High Top campers are much more rare than their pop-top brethren, but it's a pretty awesome look with more 4-season capability. Though listed with 290k miles, the engine was put in 20k miles ago and had a decent refresh at the time along with a rebuilt transmission. Clearly owned by a well-informed and diligent Vanagon enthusiast, this Syncro camper is going for about half of where most start. It's caveat emptor with any swap, high-mileage car, or 80s Volkswagen in general, but anyone looking at this van should have a healthy level of project-excitement and an appreciation of getting this much Vanagon for a reasonable price.

Year: 1986
Model: Vanagon Syncro
Engine: 2.2 liter Subaru flat-4
Transmission: 5-speed manual
Mileage: 290,000 mi
Price: No-Reserve Auction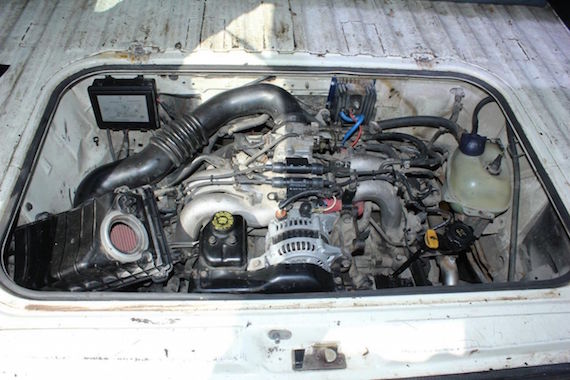 This is a very clean, super reliable VW camper-van with a *ton* of upgrades:
Subaru EJ22 engine conversion (with California-legal conversion kit). Yes, the tachometer works. Conversion by Kirk at NorthWesty in Seattle in 2008.
Rebuilt manual transmission (rebuilt by Daryl at AA Transaxle) with five forward gears (L, 1, 2, 3, 4) and reverse. Includes stick shift extension to bring the knob higher.
Syncro viscous coupler works well. I've driven it for short distances without rear axles, and the van drives fine in front-wheel drive. No issues with VC.
Adventurewagon high-top with "widow's attic" and a second level, perfect for a child's bed or lots of storage.
2″ GoWesty lift with Old Man Emu performance shocks
Five 16″ Mercedes Benz wheels with very new rubber (tires have about 2,000 miles on them)
GoWesty heavy-duty bumpers with spare tire and tray. Rear trailer hitch (and front trailer hitch, uninstalled, will be supplied)
Recently replaced (new) radiator and all new hoses, new radiator thermo-switch
ARB awning
Kenwood stereo with four speakers
Propex HS2000 propane furnace (works)
Sink, with powered cold water tap
Engle MT45 fridge/freezer (works, and easily gets cold enough to freeze
Brand new starter battery
Two aux deep-cycle batteries with marine-grade isolator (batteries will need to be replaced soon, isolator is solid)
Power mirror on driver's side works, passenger side does not work.
Recent tune-up, new spark plugs and wires (May 2015)

Everything works – gas gauge, interior heater, the rear power heater under the rear bench seat, speedometer (reads about 2% slow due to larger tires)… All the stuff that is so often broken with a van of this age works on this van.

The Subaru EJ22 engine is a *beautiful* engine for this vehicle. It's super-smooth, and the power band is very, very wide. On the stock 2.1 VW engine, you have to rev it to 1,500 before it develops any real torque. On the Subaru EJ22, you have a ton of torque even down to 800-900 RPM, which is what you need when crawling over rocks. You just put it in low, release the clutch, let it idle, and you're crawling, even uphill. It's a fantastic engine. And it's non-interference – if the timing belt goes, the pistons don't hit the valves… so you just need to replace the timing belt and you're up and running. (Other engines, if the timing belt goes, say good-bye to the engine.)

At time of conversion (2008), the engine got a new timing belt, idlers and seals, thermostat and new stock clutch/ pressure plate and new cat converter and muffler, brake fluid, PS fluid. In the interim the van has about 20,000 miles (30,000 km) and has had new brakes all around, new radiator and fluid flush, and steering rack adjustment. During the lift we also swapped the bearings and seals, and the rear axles.

Includes Westy swivel mount for passenger seat (not installed). Includes Ikea-style kitchen cabinets and counter-top with integrated sink – not original.

The driver's seat armrests are not working; they hang down, and need to be fixed. Easy to fix with the right tools, I just don't have the time. And i haven't figured out an elegant way to mount the front license plate to the front bumper, so it's just zap-strapped to the front grill.

I absolutely love this van, but I have kids now, and no time to use it. So I'm hoping it goes to a good home. This van originally came from Washington State, and I have the WA title. Legally imported to Canada. Should be pretty easy to reimport back to the US for a US buyer. And there's nothing else that needs to be done to it – you can buy it in Vancouver and drive it to Miami, it will get you there and a lot farther with no issues.

Offered with no reserve.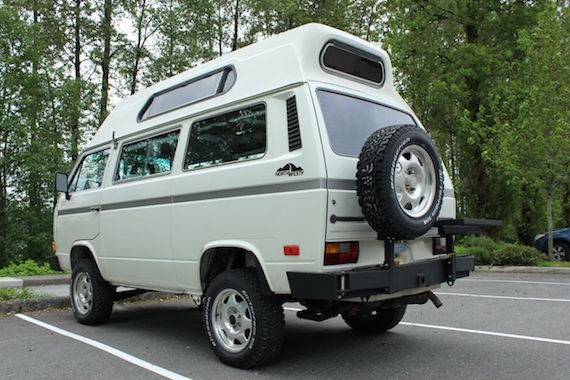 I really dig this entire set up – it's clean with elements of well-done homebrew. I especially like the wood floors, DIY-upstairs and shelves, and the floor-mounted electric sockets. If anything should just encourage the next owner to stay creative as they make this excellent camper their own. Meanwhile the exterior all class, with great Benz steelies, GoWesty bumpers, and a nice awning. With no reserve, if this thing stays anywhere under $30k it is a complete steal. I'm trying to calculate if I can make a bid…
-NR