Warning!
This post is in our archives. Links in this post may have been updated to point to similar cars available to bid on eBay.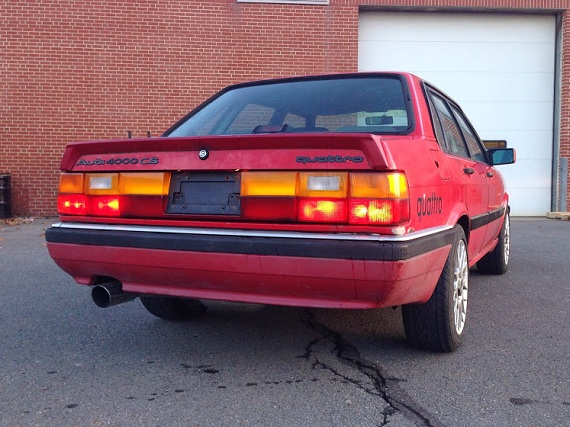 The Audi 4000 Quattro has been on a fairly meteoric rise in value over the past few years, shadowing its original market competition E30 BMW. Granted, much as when new the Type 85 chassis hasn't gained as much press as the E30 does, but we've recently seen $14,000 4000 Quattros – unthinkable even a year ago, and a signal that the strength of the 1980s market really has pulled up everything along with the big headlines of the 911 and M3. Of course, because they languished in value for so long, there just aren't many mint condition 4000 Quattros remaining. Because they haven't been valuable for a long time, and because of the robust nature of the drive train, the 4000 Quattro has been lurking for a long time as a popular tuning platform. Engine swaps abound; from 5000 Quattro spec 2.2 10v turbos through twin turbo 4.2 V8s and 1.8Ts, just about everything has found its way into the engine bay of the 4000; but by far, the one that most wish for is the 20 valve turbo version of the inline 5, with up to and above 1,000 horsepower possible and the Group B soundtrack. Today's 4000 has just such a swap completed: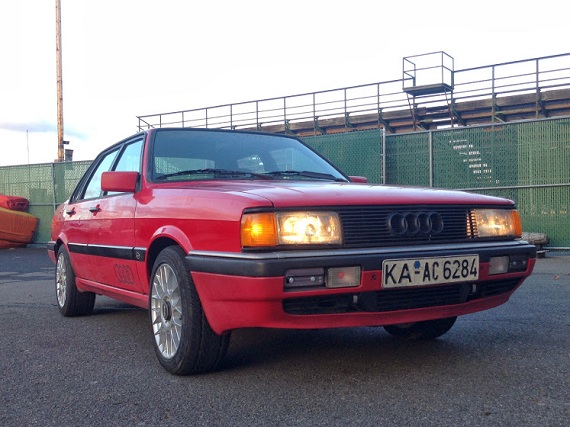 Year: 1987
Model: 4000CS Quattro
Engine: 2.2 liter turbocharged inline-5
Transmission: 5-speed manual
Mileage: Not Listed
Price: $6,500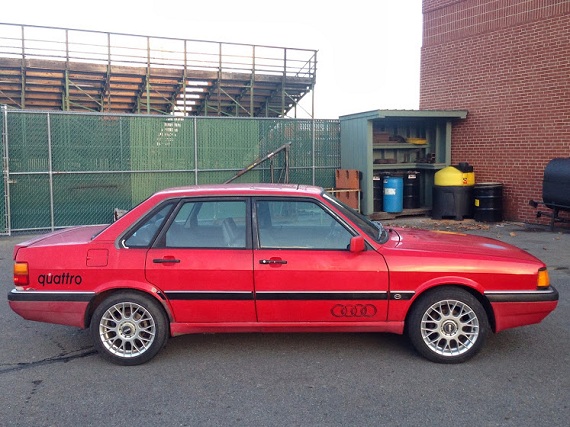 Bob Pastore 370hp+ RS2 chipset
Forged H beam conrods
RS2 bearings (mains and rods)
New rings
New valve seals & valve job
ARP rod bolts
ARP head studs
MLS head gasket
New timing belt & chain
New Hepu water pump & new tstat
Every gasket & seal is new
034 7A Lightweight flywheel
New clutch
3bar VMAP 27psi boost
36# injectors
3″ full stainless exh
2.5″ FMIC
Underdrive pulleys
3-4″ intake
Stainless tubular manifold
All new front and rear suspension bushings and ball joints (literally all but sway bar end links).
New transmission mounts and engine mounts
Autometer boost gauge
ProsSport A/F gauge
16″ BBS wheels and new tires & alignment.
New fluids throughout including drivetrain.
New fuel filter
All aluminum radiator
New battery relocated to trunk in Summit battery box
Red exterior with charcoal Quattro script interior
All windows and roof work (new sunroof seal)
Will need a heater core (removed and bypassed) super easy to install – take literally 20 minutes!
$6500 located in 17847. Clear title in hand.
I have receipts for everything (totals up to more that asking price -not including ANY labor charges)
Crazy to drive.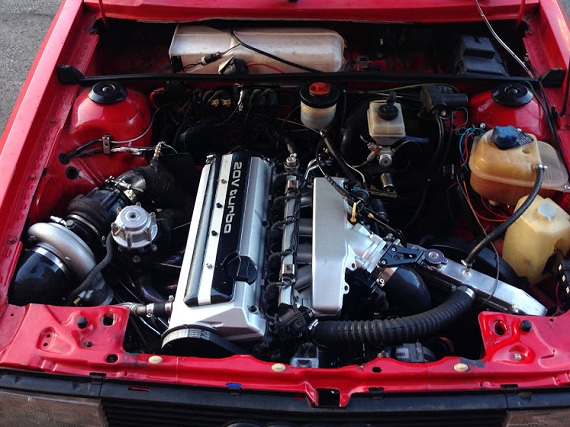 There's certainly a lot to like here and plenty of detail offered in the seller's build photo album. The engine swap looks well executed and this car really looks like a sleeper. You'd certainly be able to surprise just about any E30 you found driving, and many more too. Downsides? Well, at this point the car certainly has enough power but likely needs much more braking and suspension work to deal with three and a half times the power it left the factory with. There are a few spots on the outside that need attention, but overall it's a pretty good starting point if you want to restore the exterior; or, you can just drive the car and have boatloads of fun. Seriously, at $6,500, there isn't much more that you could ask – sourcing a clean engine and harness, rebuilding and installing it into the car alone would cost most folks at least that amount, if not more. This car is a deal if you're not looking for a show-stopper; but if you want that, the potential (and speed) are there.
-Carter