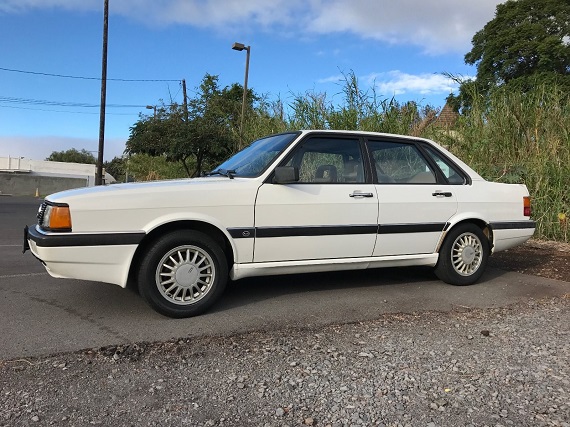 With a few winter storms heading in to New England today, I'm warming my memories up with this 1987 Audi 4000CS quattro. It's not so much because of the winter prowess of the model in this case, though; it's because this particular last model year of the B2 chassis is located in Kula, Hawaii. Road (and boat) trip, anyone?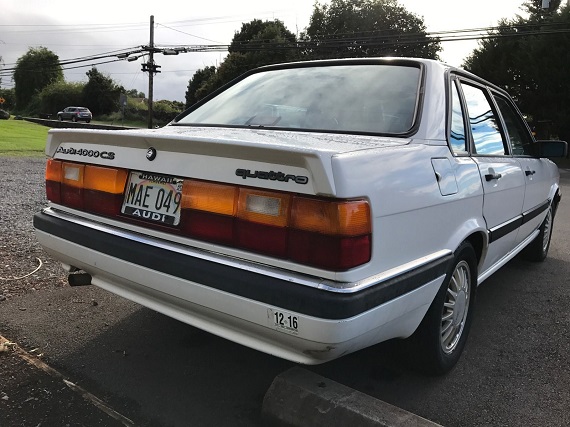 Year: 1987
Model: 4000CS quattro
Engine: 2.2 liter inline-5
Transmission: 5-speed manual
Mileage: 112,781 mi
Price: $7,900 Buy It Now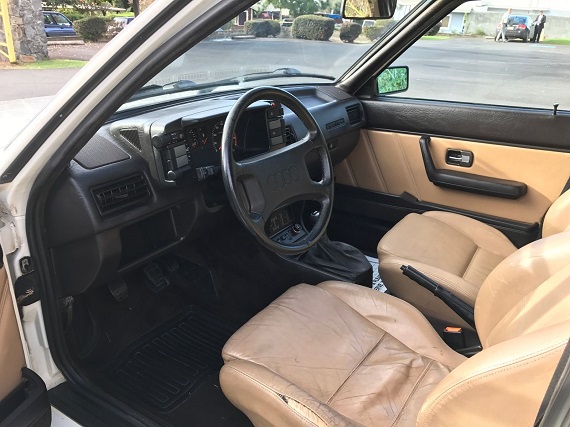 1987 Audi 4000CS Quattro VIN: WAUEB085XHA019436 condition: excellent cylinders: 5 cylinders drive: 4wd fuel: gas odometer: 112781 paint color: white size: mid-size title status: clean transmission: manual type: sedan 1987 Audi 4000CS Quattro all wheel drive 4 door sedan. One owner car since new. A very collectible car!!! A lot of recent mechanical work done. Body and paint are all original and tan leather interior is in very nice shape. No rust and car was rustproofed a few years ago. 2.2L 5 cylinder gas engine and a 5 speed manual transmission. Alloy wheels, Michelin tires, Bilstein struts all around. Sunroof, Kenwood CD unit. Recent Interstate battery with custom cutoff switch. Over $29,000 in documented professional mechanical restoration done since 2008 at 90,721miles including timing belt/water pump, radiator, belts, distributor cap, rotor, wires, plugs, engine lifters, tie rods, 4 Bilstein struts & mounts, all 4 control arms & ball joints, wheel bearing, front brake pads & rotors, brake proportioning valve & fluid flush, trans & differential mounts, fuel pump & fuel accumulator & fuel lines, accelerator cable, tires, battery, service & oil changes . Registration thru 4/17 & safety thru 1/18. 112,781 miles now. $7900.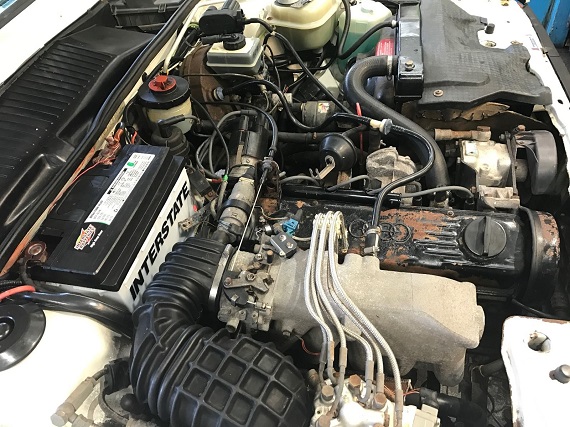 Besides the location, which will get back to in a moment, there are some interesting things to see. One of 2,929 4000CS quattros sold in 1987, the last model year is the least numerous for the lineup. Alpine White is one of the most popular colors, but inside the tan leather interior is very, very rare to find. Those seats are heated, and otherwise this car carries the standard assortment of power items these 4000s came with. Frankly, there were very few options you could select.
While condition is not exceptional, it is certainly not bad overall. The driver's seat has some more serious wear but the rest of the interior seems to be in good shape, as do the carpets. It looks to have original mats and outside of a aftermarket stereo head unit is otherwise as you would have seen in some 30 years ago.
Now, the interesting parts. First, the car is located in Hawaii. While contrary to popular belief it does snow in certain parts of the islands, I have a hard time understanding why someone decided to pay a premium for the all-wheel drive 4000. After all, you could get a very nice 4000CS front driver with leather/suede seats in the same year; it was less expensive, as quick and got better gas mileage. But beyond the original purchase, there's then the claim that since 2008 someone spent $29,000 on the car. Really? You more than doubled the original price of the car in restoration and the driver's seat was never remedied? How about the wheels, which though original and generally better than most show significant paint wear? Or the scuffed bumpers? Or the missing reflectors, tired badges, non-original exhaust, missing lower grills and broken center vent retainers? How about under the hood, where the engine – which had to be apart to do the claimed lifter service (the noise was probably the high-rpm vacuum pump, anyway…) has plenty of surface rust on the engine covers, core support and under hood? And why did you have to put a custom electrical shutoff? Where, pray tell, did that $29,000 go, if the cosmetics were never touched?
These things are to be expected in a car at this age, but for one that's claimed to be a collector and priced as such, they're a bit inexcusable. The car generally looks solid from what is shown and probably one of the nicer '87s overall that we've looked at recently. The interior is a neat option, but needs work. And, at the end of the day, unless you're in Hawaii, too, you'll be paying to ship this car across the Pacific. Ultimately, that makes this example worth around half what the current $7,900 ask is, in my opinion.
-Carter