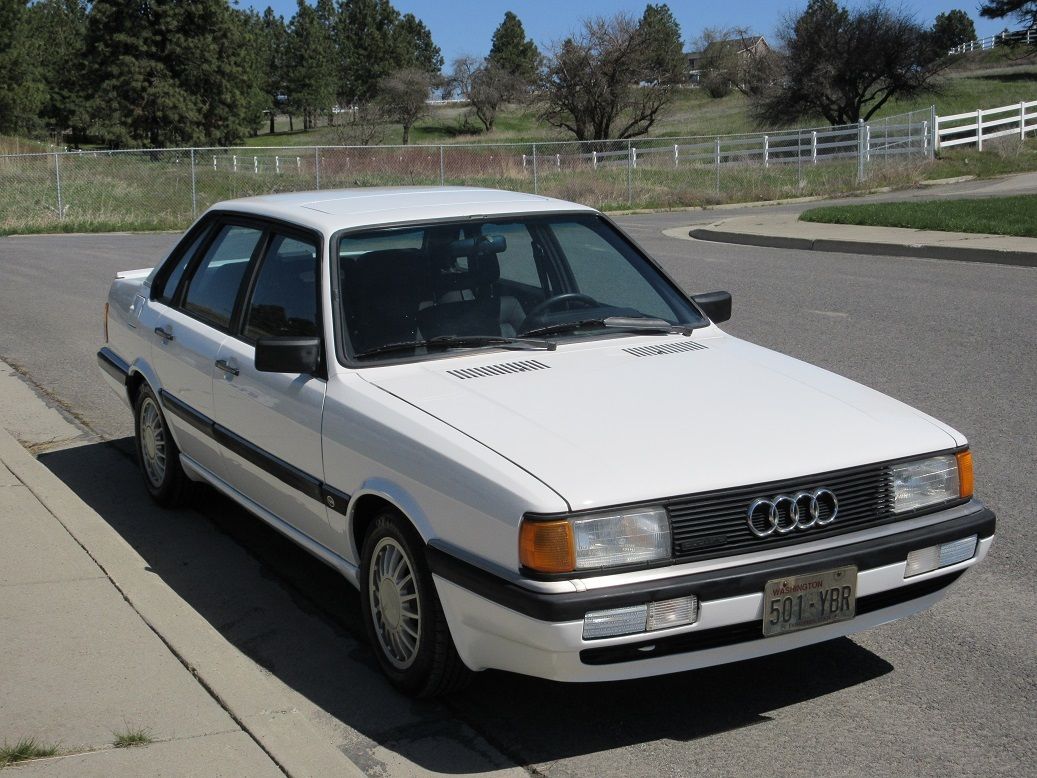 You either get old Audis, or you absolutely don't.
It's something I've never quite understood. Put a 1985 Audi 4000CS quattro next to a 1985 BMW 3-series, and the Audi looked more slick. The interior details were certainly on par with the BMW, too. Tech? Sure, the Type 85 had basically all the same gadgets that came on the E30, too – which is to say, not many. Electric windows, sunroof, power antenna, power locks were pretty much standard fare in the marketplace by that point in the near-luxury class. The Audi was reasonably quiet going down the road, fit five in a pinch, had a reasonably sized trunk and got reasonable mileage – though admittedly the "power of six, economy of four" idea of the inline-5 worked out generally in the 'economy of a 6', power of a 4 direction. The quattro also featured fully independent suspension, 4-wheel disc brakes and sway bars front and rear. None of this was particularly revolutionary at the time.
What was somewhat revolutionary, though, was what Audi had done in 1983. No, it wasn't the introduction of all-wheel drive; the Quattro had already been on the market for a few years, and in all honesty the Jensen FF well and truly beat it to the technology by a full decade and a half. Unorthodox, though, was taking that basic supercar (for the day) platform at plunking it in the more reasonably priced 4000 model. Removing the turbo and boxflares reduced the asking price by over 50%, yet you got 90% plus of the Quattro's performance and driving experience. For an entire generation of rally enthusiasts and VW fans, the 4000 quattro was legendary even while it was still on sale. BMW owners would quip that it was slow and underpowered (apparently, in that case, never having driven an early 318i); Mercedes-Benz enthusiasts would counter that the W201 was better built. They're probably both right, but to me, they just didn't get it.
In total, Audi managed to sell around 16,500 of the model over four production years here. That was a resounding success compared to the 664 Quattros the company sold in five years of being offered. There were few cosmetic changes outside of the 1985 entire range refresh; it's virtually impossible to tell a 1986 and 1987 model apart, for example. The 4000CS quattro was my first car, and so I formed an intimate attachment to it; though I was faced with the choice of which to keep (Coupe or quattro) in 2003 and chose the track-focused two-door, my love for the all-wheel drive model persists. When this lower mileage, pristine '87 in the same Alpine White I owned popped up for sale in the Pacific Northwest, the flood of memories could only be navigated with both differentials locked: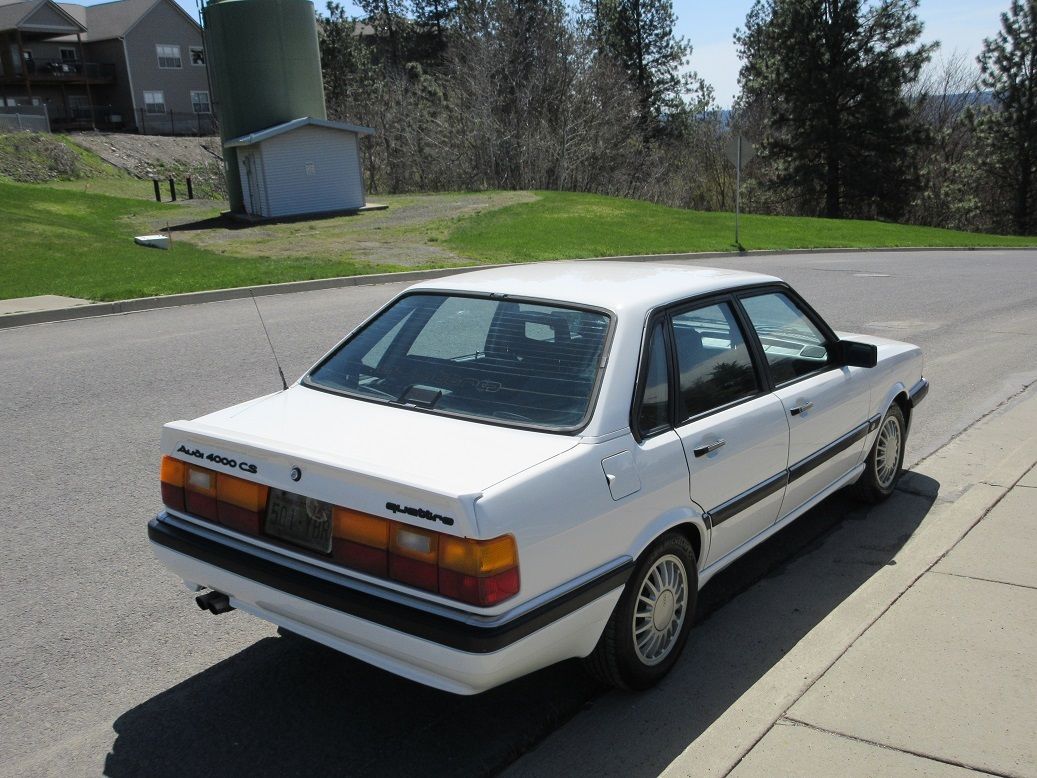 Year: 1987
Model: 4000CS quattro
Engine: 2.2 liter inline-5
Transmission: 5-speed manual
Mileage: 107,500 mi
Price: Reserve Auction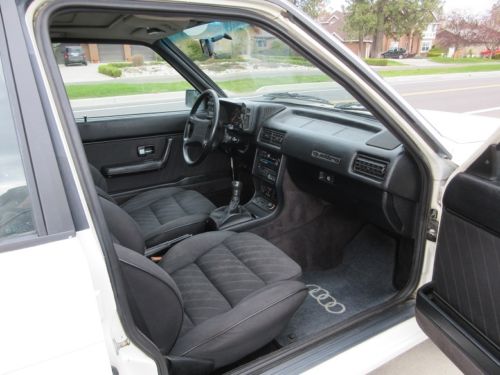 Up for consideration is a California native 1987 Audi 4000 CS Quattro in Alpine white with black Quattro Script interior. Has spent the majority of it's life in proper storage, driven mainly on Sundays. Imported to Washington 2 years ago. Has seen in a dryer, clean climate, absolutely no rust. 107k miles.

The 5 cylinder NA engine fires right up with minimal right foot aid. 5 speed tranny slides well into all gears. All wheel drive and lockers front and rear engage fine. All windows, door locks, sunroof, lights in/out, gauges, mirrors, cruise, heat work as expected. Fully intact A/c could use a charge. Interior is clean, comfy, and complete. Minor wear, average drivers seat. Good carpets, door cards, headliner. Decent Blaupunkt head unit and Jbl speakers.

Exterior is quite sorted as well, unoriginal paint shines nicely. Trim all there. Glass is good, two nicks on far passenger side windsheild. Michelin all seasons with many miles left, on original 16 spoke wheels in great shape.

Drive train solid, engine purs well, even on cold starts. Uses no oil, running Mobil 1 synthetic. Timing belt in good condition with no cracks, no odd noises under hood. Newer Ngk spark plugs, air filter, cap/rotor, coolant hoses, radiator rebuilt, vaccum lines, valve cover gasket, engine mount bushings x2, tranny mount bushings x2. Clutch pedal feels good, new pedal slave cylinder. Original type exhaust in great shape, is a bit on the quieter side, none the less has a little 5 cylinder raspyness. No leaks, No smoke. Brakes, suspension, struts, feel tight. Goes down the road at 30 or 70 mph just fine.

Overall this is a very nice, cared for, low mile 4k capable in any weather with great reliability. Probobly one of the funnest cars ever put into production, that should be around for another 30 years in the right hands.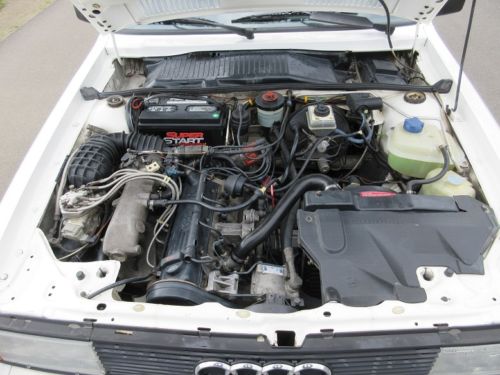 What's to like? A lot. Alpine White is, to me, the best color on the 4000CS quattro, though it's not the rarest seen. It did somehow seem appropriate given the quattro's snow-bound nature. Inside is the desirable quattro script Jacquard cloth which was more frequently opted on 1987 models. The car sits in original configuration and in remarkable shape; all the underhood stickers are in place, the valve cover is still the original black, I believe I even spy the notoriously deteriorating side radiator cover. The under car shots depict a rust-free example. The 4000s and Coupe GTs were lest rust-prone than the Quattros due to zinc coating and fender liners, but aren't immune, so it's nice to see this condition. The seller discloses good maintenance performed outside of the typical "AC recharge" line, and while not mentioned anyone who owned a 4000CS quattro will know it's had suspension work, too; they notoriously sag in the rear, so I'd guess this one either has replacement springs or has never once carried anything heavy.
Drawbacks? Few, but a couple of things stand out. The original antenna is, unsurprisingly, gone, as is the original radio (though at least they stuck a Blaupunkt in there!). The paint, as it turns out, is a respray but looks good. The passenger rear centercap is borrowed from a 4000S front-drive model. The Ronal R8 wheels, while very similar looking, have smaller diameter bolt circles and corresponding center cap covers, so consequently you can see a 1/8th inch gap all around on that one wheel. I know, it's a ridiculously minor point, but it's one that would annoy me. A Coupe GT or 4000CS quattro cap would solve the problem after a bit of searching, though often the center caps haven't aged well so sorting one without clearcoat damage will take time (even if it's not expensive). Lastly, there's the price.
In 1995, I bought my 9 year old 4000CS quattro for $2,500. In 2003, I sold my 4000CS quattro for $2,500. Today, that same car trades for nearly quadruple that in equal shape; recently, an Alpine White/Brasil Brown Velour sold for $8,000. This car is certainly superior to that example, with lower miles and in slightly better condition. If the right parties are in the room, it would not surprise me to see bidding surpass $10,000.
-Carter