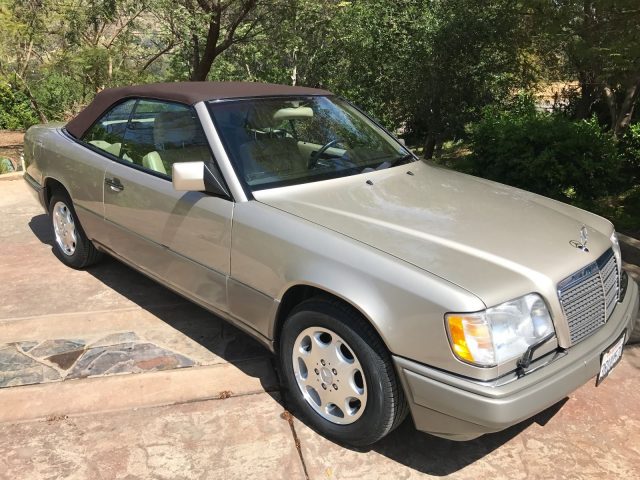 Ever been out shopping and you impulse bought a shirt, wore it a few times, then it sat in the back of your closet for many years? Then finally one day you rid yourself of that shirt because you wanted it gone without too much hassle? Well, that's what we have today. Only it's not a shirt, but a highly desirable Mercedes-Benz.  Imagine living in a world where in 1995 you drive down to your local Mercedes-Benz dealer, purchase a car for $79,000 ($125,000 in today's money), put a few thousand miles on it, then seemingly forget about it. Situations like this still blow my mind.
This 1995 E320 Cabriolet for sale in, you guessed it, California, was sitting at an estate with four flat tires for over ten years. It had only 6,300 miles before being noticed then rescued by the seller. It received a careful examination and full rehab before being listing for sale ready for a new owner. Much like the 1,300 mile 1982 240D I looked at last week, this is essentially a brand new car. So with nice examples of these cars with over 100,000 miles still selling for prices in the mid-teens, how much will this one bring? I might have an answer.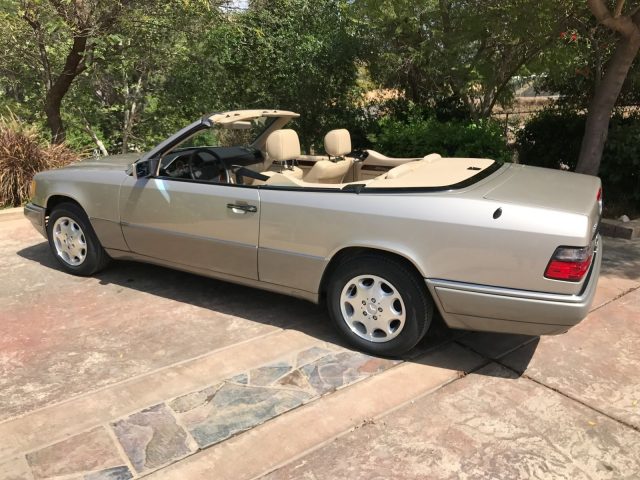 Year: 1995
Model: E320 Cabriolet
Engine: 3.2 liter inline-6
Transmission: 4-speed automatic
Mileage: 6,348 mi
Price: Reserve Auction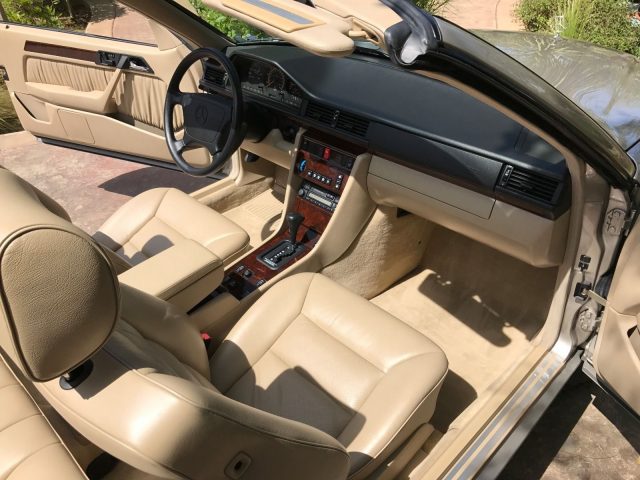 This an amazing find, and the cleanest Mercedes I've ever seen outside of a new car showroom. It's an almost mint condition 1995 Mercedes E320 convertible coupe with only 6,384 miles on it and one prior owner. It was stored its entire life in a perfectly conditioned garage, and wasn't driven the last 10-12 years before I got it. This car is in amazing condition, down to the still legible paper price-tag style stickers clearly visible on the brake heat shields, and all the paint markings on the undercarriage from original assembly at the factory. The seats are soft and supple leather, as new, with no cracks or visible wear, at all. This is possibly the only W124 convertible E320 in the country with such amazing original paint and interior leather upholstery and wood and fabric soft top. It truly may be the finest Mercedes E320 convertible in the country, in all respects. What is most remarkable about this E320 is the incredible condition it's in without any kind of restoration. The beautiful paint hasn't even been polished, just washed and waxed. (I apologize in advance to the high bidder on the higher mileage, less desirable, '94 Mercedes E320 convertible that won last week for $40k, I couldn't get this car ready for sale in time.)

My father in law has a custom gate building and repair business here in San Diego, and he saw this Mercedes E320 in a garage, with another car, while repairing the front gate of a property that turned out to be a summer vacation mansion. The conservatorship wanted to be rid of it, and no one knew the last time it had been run, or if it even ran, at all. On the day I went to look at the cars, one of the owner's long time house staff was there, and she told me she couldn't even remember the last time the owner had been to the house, but guessed it must have been at least 10 years. The E320's registration sticker was from 2007, and even though it is now registered through 2018, the 2018 sticker is unapplied, in case the next owner would like it to be stickered in 2007, as found. The other car was newer, and had 30,000 miles, so it was obvious this E320 had been the 'go for a nice drive' car. Both cars had been wired with battery isolater switches, furthering the vacation home and not often driven story. The E320 was covered in dust, and had been sitting so long that the tires were flat, the fuel had turned to varnish, and the battery was dead. I had high hopes for its condition, as everything from wiper blades to radiator hoses, vacuum hoses, and even the serpentine belt were in perfect, soft, new looking condition. The undercarriage is still coated in a newly applied looking clean, yellow, hard grease, factory applied to protect it from corrosion, I've read. When I took the wheels off to replace the tires, there are even paper price gun parts inventory stickers that are still clearly legible on both rear brake disc heat shields. Also, throughout the suspension and undercarriage, the hand applied paints done by workers at the factory, indicating a certain procedure in the manufacturing process had been completed, are all still there and look brand new. After I got this car home, I was very careful not to put electricity to the car before I completely went through the fuel system. I drained the fuel tank, replaced the battery, fuel pump, and fuel filter (all with new MB parts), changed the oil and other fluids, and it fired right up once everything was ready. It is truly incredible how perfectly and smoothly this car drives, after all these years. Brakes work great, transmission shifts smoothly, everything feels perfect. Every single switch and knob works, the top cycles very smoothly open and shut, the doors open and close perfectly with that remarkable Mercedes feel, the trunk and hood open and close perfectly, the windows roll up and down like new, all the vacuum operated accessories work, the A/C even blows ice cold! I did have to put on new tires, as the others had cracked sidewalls from going flat. I have pics of the sidewall lettering neatly transferred to the clean garage floor where the car sat for 10+ years. I re-registered and smogged the car, detailed it inside and out, and then immediately put it in storage. It will stay in storage, and is not being driven, so the car should have less than 6,390 miles at the end of the auction. I think I have driven it a total of 15 miles to get it to a smog shop and into storage, since I purchased and towed the car home. The original manual and paperwork is with the car, in excellent condition. The only flaw I can find on the entire car is a small tear in the headliner where the original owner let the headliner get pinched by the power latch mechanism that closes the convertible top lid. I can't justify keeping this superb car for myself, as it is far too nice to be driven on a regular basis. It really belongs in a collection, and I no longer collect cars I can't drive, every day.

Please read this complete agreement for the auction before bidding. If you bid, you will be agreeing to the following terms of sale. All inspections are welcome, and encouraged, either by potential bidders or their representatives, by appointment. I will be happy to demonstrate that the car runs great, and drives, but just around the storage facility (it is too rare in its current condition to be casually driven on the road). Upon winning this auction, a non-refundable good will deposit of $1000 is due within 24 hours, and may be paid by Paypal, or the winning bid is considered void. The balance remaining must be paid within 7 days, and may only be paid by cashier's check, or money order. If these conditions are not met within the time frame above allotted the car will be retained, the deposit kept, and the car free to sell to another buyer. This car will, under no condition, be released to the winning bidder, or the title signed over, until all funds for the car have been deposited and cleared into the account of the seller. Due to the collectible nature of this car, and its extremely low miles and superb condition, there will be no test drives allowed until funds for the car have cleared the bank, and it has become the property of the next owner. I'm not even allowing myself to drive this beautiful car. The car was registered on 18 April, and the CA DMV typically takes two to four weeks to send a new title. If the title is not in hand when the car is sold, a CA DMV service can file transfer of ownership to another CA resident, or if an out of CA buyer, a CA bill of sale can be completed, and the title signed and overnight Fedexed to the new owner the same day it arrives to me. I am also happy to sign any bill of sale supplied by the buyer, as long as it is factual. Either way, the car will be released and provided with a CA DMV bill of sale (or buyer supplied bill of sale, if asked) once the purchase funds have cleared the bank, and the title can be signed and overnight Fedexed the same day it arrives here from the DMV, if it comes after car is sold and released. I am a ship captain, and as such, subject to an unusual schedule. In my absence, my wife will be handling all affairs regarding this sale, and may be contacted in the same manner as myself. Buyer is responsible for any and all shipping arrangements and costs. I can be reached with any and all questions, and for appointments to see this E320, at captaingeoff@msn.com. Thank you, and happy bidding!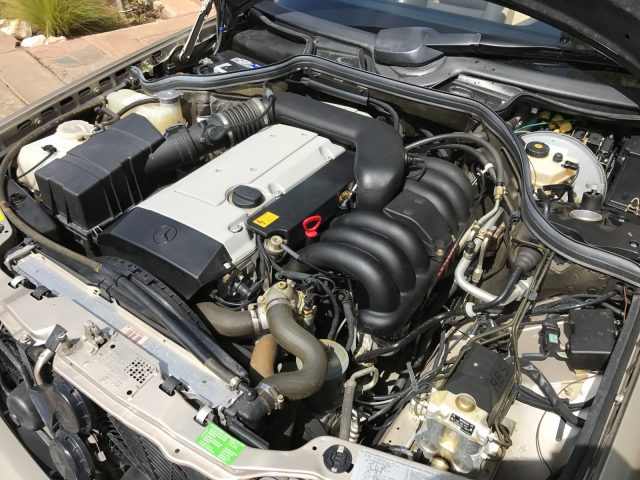 I don't need to repeat everything the seller laid out about the condition of this car. In fact, I'm a little surprised how well it held up being in California its entire life. San Diego county isn't exactly Death Valley, but unless this car was sitting in a dark garage constantly I thought I'd see some kind of wear seeing as even with its low mileage. It is still a 22-year old car after all.
So how much will this car bring? Believe it or not, a 1994 E320 Cabriolet with 7,200 miles in an almost identical color combination sold a few weeks ago for $40,000. That car was located in northern Michigan and garnered seven bids from seven different bidders. I was surprised it ended that high given the Smoke Silver Metallic paint (beige in my eyes) and the location of the car. This being a California car for sale in an affluent area with the rare brown top (not the usual black) might mean the bidding will top that $40,000 we saw a few weeks ago. It's already past the $25,000 mark with four days to go with what looks like more than a few bidders involved. I'll be keeping an eye on this car one on the final day because it might set the new high water mark for E320 Cabriolets.
– Andrew