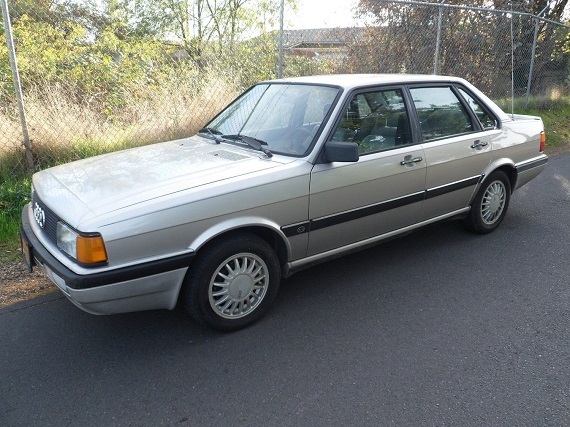 We usually try hard to steer clear of nefarious characters, both in automotive products but more often in sellers. Today's 4000CS quattro comes from a flipper in the Pacific Northwest who has gained a well-deserved reputation in the rather close-knit classic Audi community for misrepresenting, over selling, incorrect information about the cars, high and unrealistic prices and my personal favorite – the inability to take a whole picture of the car with normal perspective. So why am I once again showcasing a car of his? Well, two-fold; I'd like to correct the once again poorly researched information he's provided (and, he managed to provide TWO whole frame photos!), and it's just so infrequent that we get to gaze on a reasonable condition 4000CS quattro that I thought it was worth a look. Can we see past the seller to find a potential reasonable ride?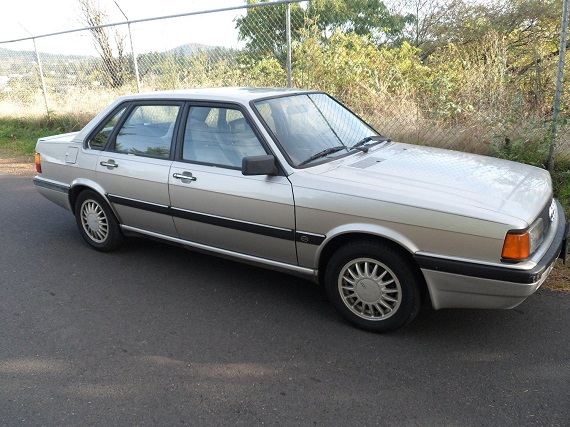 Year: 1987
Model: 4000CS quattro
Engine: 2.2 liter inline-5
Transmission: 5-speed manual
Mileage: 165,500 mi
Price: $3,900 Buy It Now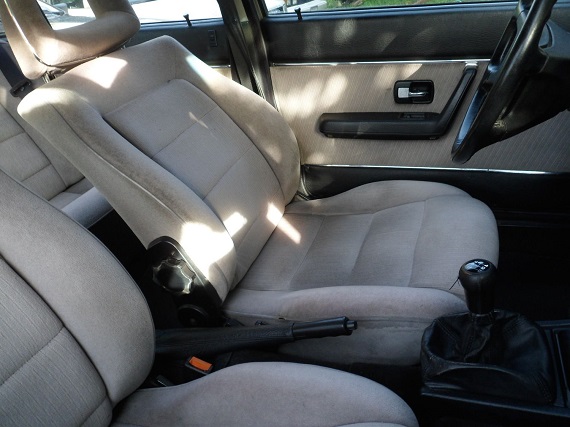 Selling another one of my collection. Only a few left. This is a Rare 1987 Audi 4000 CS Quattro. only 165K. Diamond Silver and grey/Silver Velour interior. Seats are like new without tears or rips and very very clean. Carpet is in great shape. original floor mats. Power windows that all work. Power locks that work. Has the trip computer, etc. All doors work!! AC doesnt blow cold. Clean car fax. Bought new in Portland, Oregon and has never been anywhere else. Super clean underneath. Original Paint. no rust. Comes with original jack, tools, spare. In the last 5K miles new Radiator, front struts, strut bearings, dust boot, sway bar bushings, front cv boots, control arm bushings, Sachs clutch kit.
Car needs rear struts soon as it is a bit bouncy in the rear. Tires are less than 3 years old and are 80%.
Clean title, original owners manual and warranty and maintenance books as well. have a fair amount of receipts as well. good matching tires. car will drive anywhere.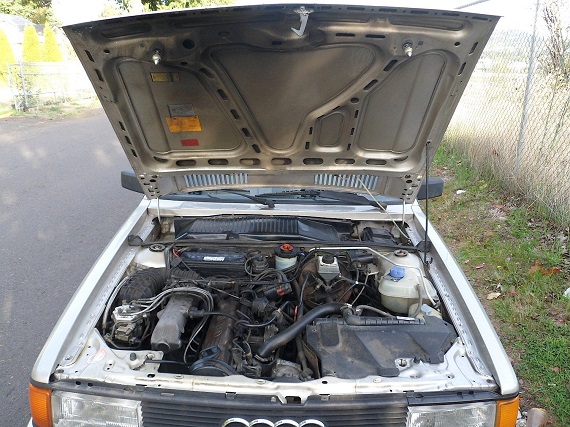 Let's break down the advertisement first. Is the 4000CS quattro rare? Yes. Audi claims it sold 2,929 1987 models, numerically the lowest of the four years the car was available here. Is "only 165K" notable? Well, in terms of these cars, it's on the low end of normal mileage. It's not outrageously low, but mileage really comes second on these cars to condition and care. Is Diamond Silver/Silver velour correct? No, it doesn't take more than 30 seconds of research to find that Diamond Silver, the color associated with early 1980s Audi/Volkswagen products like the GTi, was replaced by Zermatt Silver Metallic later in the run, which is what this car is. There's also no "Silver" velour, as this is Grey Savoy Velour. Look, if you're going to go through the trouble of claiming it is something more specific than "silver", get the color right. Metallic paint, the sunroof, trip computer and a few other bits were optional extras on the already high base price. Is it normal for all the doors to work? Yes, I'd have to say that's a strange addition, but perhaps it's a nod to the often broken door handles. Is it normal for the A/C to not be working? Again, yes, I'd have to say it's pretty standard for them to not be working by this point of age. The seller claims a fair bit of mechanical history, mostly recent, and the big ticket item here would have been the expensive to replace clutch and difficult to do control arm bushings.
Okay, so the advertisement isn't the best, but how about the car? It looks great overall. There's a missing reflector lens on the front but notably most of the NLA items are there – even the floor mats. The paint looks good, the wheels are in above average condition, and outside of the out-of-place radio the interior looks well kept. Disintegration of the leather shift knob is normal, but the good news is that underneath lies wood that can be refinished easily and looks great. Even the seats and mats, which typically show some wear (notably, on the seats the piping becomes exposed from wear) appear to be very good. Is this example worth the asking price of $3,900? It's probably a little strong, but it is certainly much more in line with the market on reasonable examples of these cars than we're used to from this seller. You won't get many opportunities to come across a clean, non-rusty, mostly original, and in good running condition example these days for much less. If you like it, my advice is look beyond the seller and don't wait for another.
-Carter