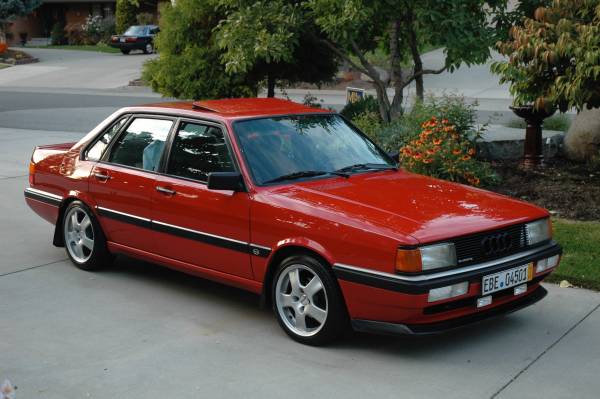 I've taken a fair amount of heat over the past few weeks for posting front drive B2 models. But, in fairness, there was reasoning behind it; several of the examples were far above average, if not the best examples for sale anywhere today, and the fact of the matter is that the front drive Audi B2s are really fun to drive. "Quattro" becomes this obsession that overshadows the rest of the model run to the point that even Audi fans dismiss the two wheel drive variants as worthless. However, the much larger issue is finding good examples of 1980s quattros for sale. They do pop up from time to time, but largely what comes to market is used – and used hard. However, I came across one that appears to be in above average shape, so let's take a look at it: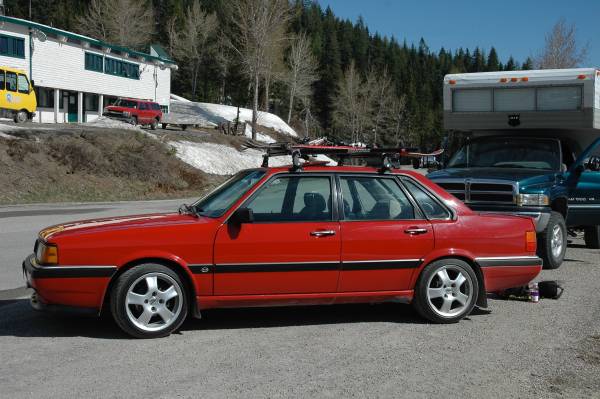 Year: 1987
Model: 4000CS quattro
Engine: 2.2 liter inline-5
Transmission: 5-speed manual
Mileage: 250,000 mi
Price: $4,750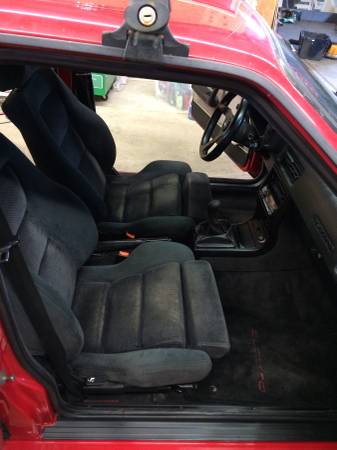 1987 4000CS Quattro.

Tornado red. Stock. No rust. Quattro system functions flawlessly. Airflow seats, momo wheel, pedals, and shift knob with boot. Two sets of Borbet wheels and tires. All major work done as needed, including clutch, brakes, suspension, and timing belt. Wiring in good order. Sunroof works. Needs window regulator and A/C charge. Antique next year.

Of Note:
1) 250K on the motor and body.
2) The interior is near perfect. No rips in any seat. No dash cracks.
3) The only pieces not in the car are the door pockets in the front but door panels are perfect.
4) The motor is unmolested. No upgrades. Not raced. Family owned for 25 of its 29 years.
5) The paint on this car is near perfect, as shown in the picture. Has been repainted by J & A auto in Spokane, WA.
6) Cruise control does not work but trip computer does.
7) Power locks work.
7) Front passenger window regulator (motor) needs to be replaced. Back windows need switches.
8) All maintenance records since 1996. All done at European AutoHaus and Sutherland Motors.

Own the nicest 4000cs Quattro around. A true Audi enthusiast's car. Timeless body style, the most desirable quattro system of any Audi.
No Trades. No Low Ball Offers.

Audi, Audi Quattro, CS Quattro, Quattro,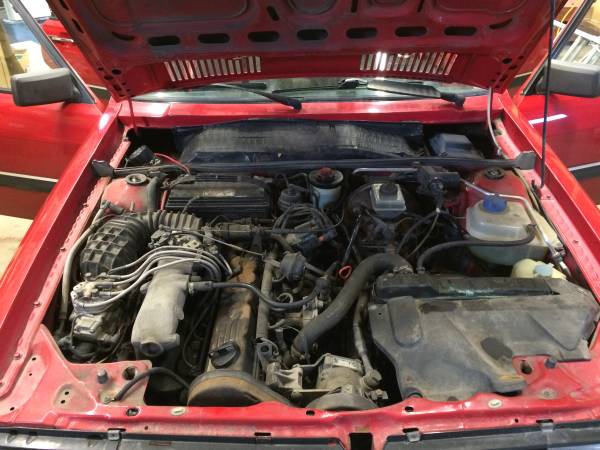 Is this one of the nicest 4000s around? It does appear so at first glance, with what was clearly dedicated ownership. There are, of course, some shortcomings. First off, there are plenty of modifications from stock. The steering wheel, shift knob, wheels, and grill rings are easily remedied with some used parts. The foglights and European plate on the front are generally tasteful, as is the mega-rare Votex front spoiler. And, generally speaking, the seats look okay even though they don't match the original gray velour. But the radio is, to me, probably the biggest detraction; aside from the head unit not integrating well into the 1980s interior, the speakers look garish and have really marred the door cards. You'll need replacement units to undo that, though they can be found. Then, there's the quarter million miles accrued and the ensuing respray, though the car does appear to hide those miles very well overall. The price is, I'd argue, high for such a higher mile example – especially with multiple non-functional items, though at least they're disclosed. There have been cars with less mileage and more originality on the market for lower asking prices. But, I do have to give a positive nod to the great presentation, careful ownership and enthusiastic nature of the seller. And, he has a V8 quattro, good for huge amounts of bonus points in my book. It even looks like it might run! If you like the look and the mods, perhaps it makes sense to you, but the flip side is that the car appears to present so much better than an average 4000 quattro these days that the pricing likely reflects that alone.
-Carter