The 1994 BMW 530i we featured last October is back up for the sale at the same ask of $9,900. If you've hankered after the chance at a clean example of one of the most handsome 5 series to date with an eight cylinder engine under the hood, you'll want to take a second look at this sedan.
The below post originally appeared on our site October 6, 2015:
The E34 BMW 530i might not be the enthusiast choice in terms of a fast 5er, but looking over this low mileage example, I can't help but thinking how honest this car is in its mission. Sure, this one has a whole lot of grey going on, but its appearance could best be described as tasteful. And while the M60 V8 produces a nominal amount of horsepower in comparison to today's engines (218 bhp), you still have plenty of power and a nice eight cylinder to go along with it. Many of the new BMWs are just a bit too radical for my tastes in terms of styling, but there wasn't a BMW I met that I didn't like back in the 1990s, including the E34. While the E39 is certainly a favorite, the styling here is just a bit more crisp in nature and a good balance of old and new when it came to BMWs of the era.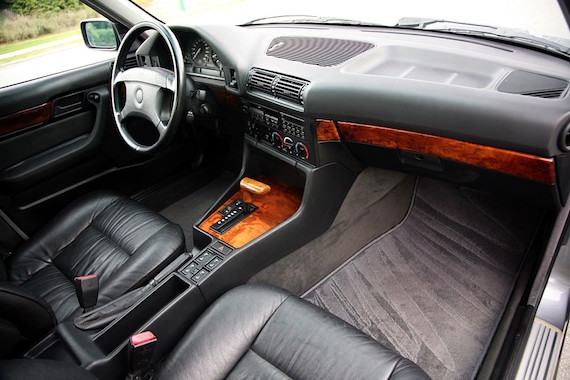 Year: 1994
Model: 530i
Engine: 3.0 liter V8
Transmission: 5-speed automatic
Mileage: 74,500 mi
Price: $9,900 Buy It Now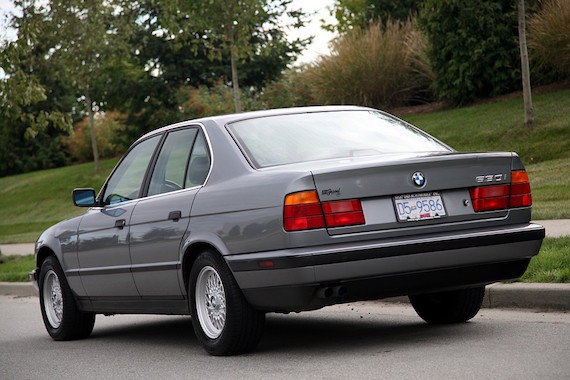 This is an immaculate and original 1994 BMW 530i E34, which has covered only 119,900 Kilometers (74,500 Miles) since new. It has had one elderly owner only. Original paint is in fantastic condition. It was originally sold by Brian Jessel BMW in Vancouver and always serviced there. Complete service file is available. The car is currently registered in British Columbia, Canada. It drives great – powerful, smooth and quiet. As it can be seen from the photographs, it is in immaculate condition. Everything works, recent Michelin tires, NO Leaks!

The interior is very clean, no cracks on the dash. The leather is soft and supple, the wood trim in fantastic shape. It has all the usual power options; it is equipped with Limited Slip Differential. Pre-wired for CD changer. All electrical accessories work – power windows, mirrors, sunroof, AC, etc. All books and keys.

We have seen many clean and original classic cars, but this one is special. Incredible condition.

For more information, or to schedule viewing appointment in Vancouver, please call Splendid Automobiles Inc. (604) 516-6002 or visit

Complete safety and mechanical inspections were performed on this vehicle as part of our reconditioning process. This vehicle is fully operational and can be driven anywhere

A NOTE TO OUR USA CUSTOMERS: As this vehicle is over 23 years old, it is exempt from US EPA compliance requirements. We will provide a letter from BMW certifying that the car complies with US DOT requirements. It is fully admissible to USA and NO modifications are required. We can assist you with shipping arrangements worldwide. Canadian residents are required to pay GST, BC residents pay PST and GST. No tax will be collected from non-Canadian residents.

We ship worldwide.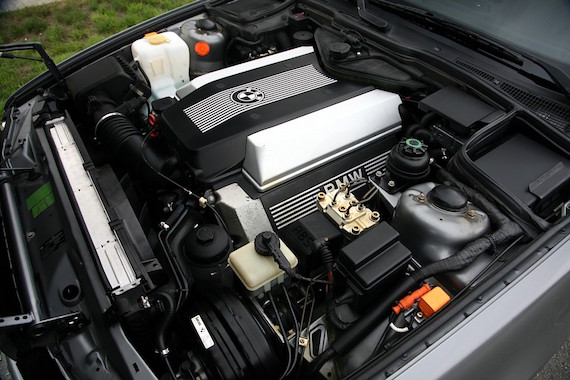 Looking over this car, it struck me that I could find worse ways to outlay what amounts to pre-owned compact car money. This is strong money for a non-M E34, but consider you are getting a low-mileage, well-kept V8 BMW in the process. The automatic transmission might turn off some enthusiasts, but as much of a three-pedal fan that I am, that's not what a car like this is about. The V8 might not be the most economical choice engine wise, but for those looking for a long-haul cruiser, this 530i would be an excellent choice. It's not every day you see these early M60 engined Bimmers running around. Hopefully someone will pick this clean example up and cherish it for generations to come.
-Paul