The gulf between North American and European market performance was wide in all manufactures in the 1980s, but no where did it feel more vast than with the Audi products. That was especially true with the turbocharged variants of the large chassis. In European guise, the Type 200 5T developed 170 horsepower even without an intercooler, while the U.S. 5000 Turbo managed only 130 from the 2.1 liter inline-5. That was a 24% drop in performance, and it didn't get much better with the Type 44 replacement. Though displacement later grew to 2.2 liters in the MC1 and 2 codes, power output never exceeded 162 horsepower. That meant that the 1987 Audi 5000CS Turbo (and the turbocharged quattro model) produced only about 81% of its European equivalent's power output.
Despite that, the 5000 was a great sedan. It was quite, comfortable, and more modern-feeling than its contemporaries. It was also good enough for notorious BMW-friendly Car and Driver to add it to their 10-Best list – even without the trademark all-wheel drive. With weight fairly far in excess of 3,000 lbs, the luxury sedan wasn't a rocket off the line, but on the roll it was a competent and quiet cruiser. Audi claimed the automatic-equipped Turbo model would hit 60 mph in 8.7 seconds and flat out would do 130 mph – numbers that were barely better than its normally aspirated smaller brother Coupe and 4000S front-drive models (themselves not particularly notable for being quick!). But thanks to some notoriety in Ferris Bueller's Day Off and great press (ahem – well, for a bit anyways!), these Audis sold fairly well. For example, compared to the 4000 quattro and Coupe GT models, the 5000 Turbo was traded in much greater numbers despite its high price. In 1987, Audi sold just shy of 2,000 Coupe GT models and nearly 3,000 4000CS quattros. But the Turbo? They sold 6,849 of them. Why are they so rare to see then?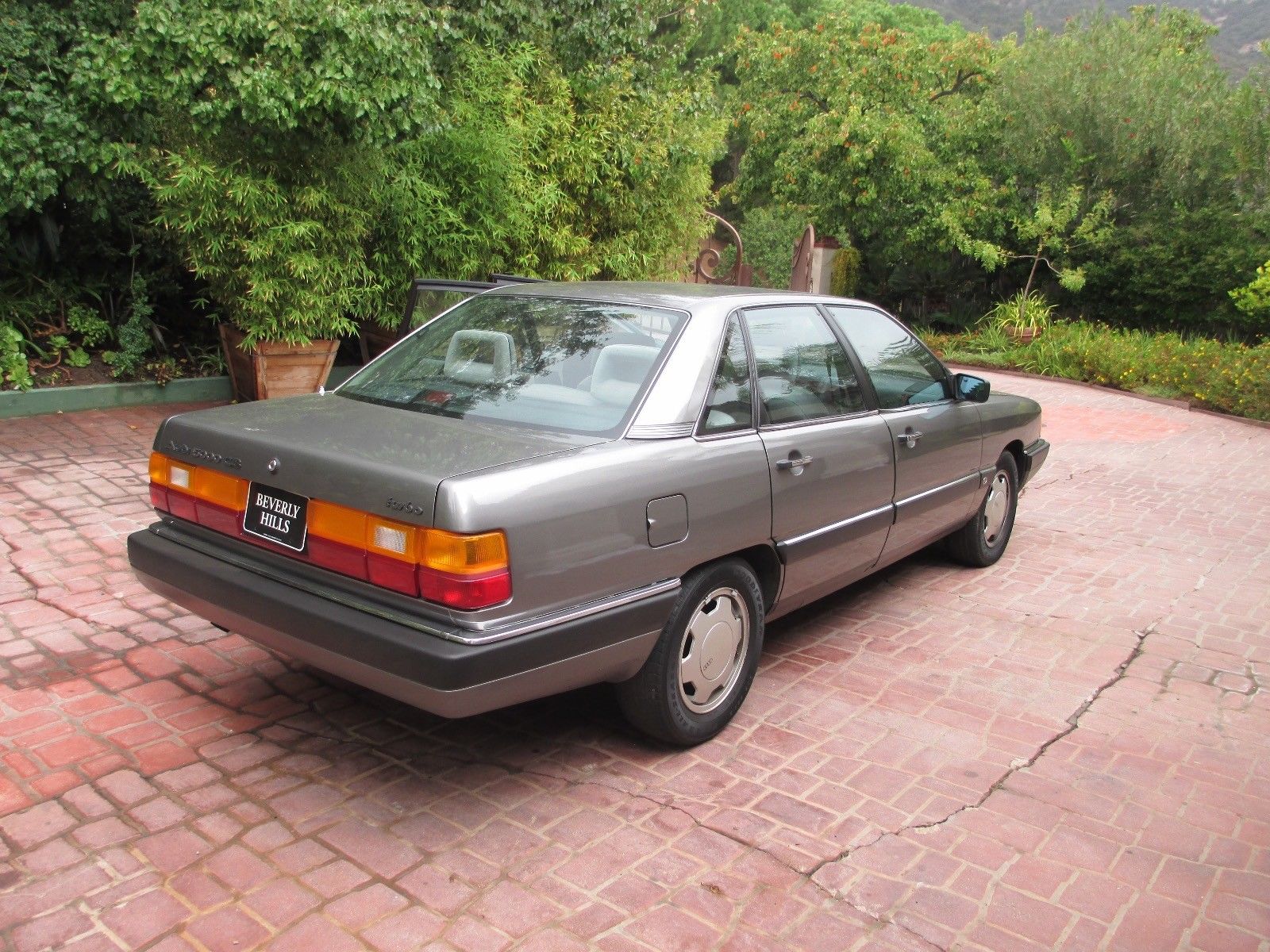 Year: 1987
Model: 5000CS Turbo
Engine: 2.2 liter turbocharged inline-5
Transmission: 3-speed automatic
Mileage: 63,156 mi
Price: Reserve Auction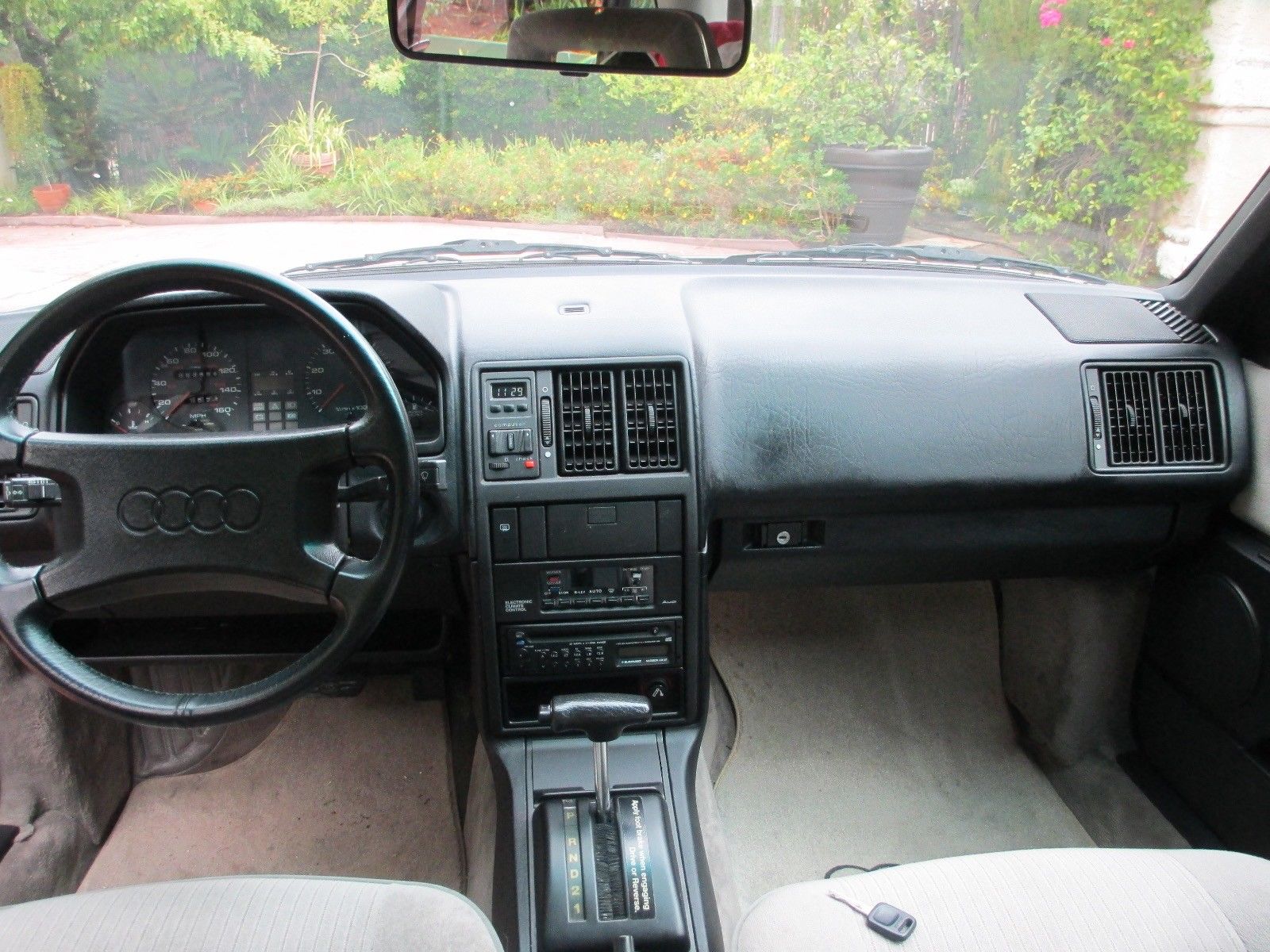 Pristine condition. Very rare car in excellent condition. Interior and exterior like new. Engine/Turbo purrs like a kitten. Looks like it was just driven off showroom floor. Car is meant for the Audi connoisseur. Everything works as new.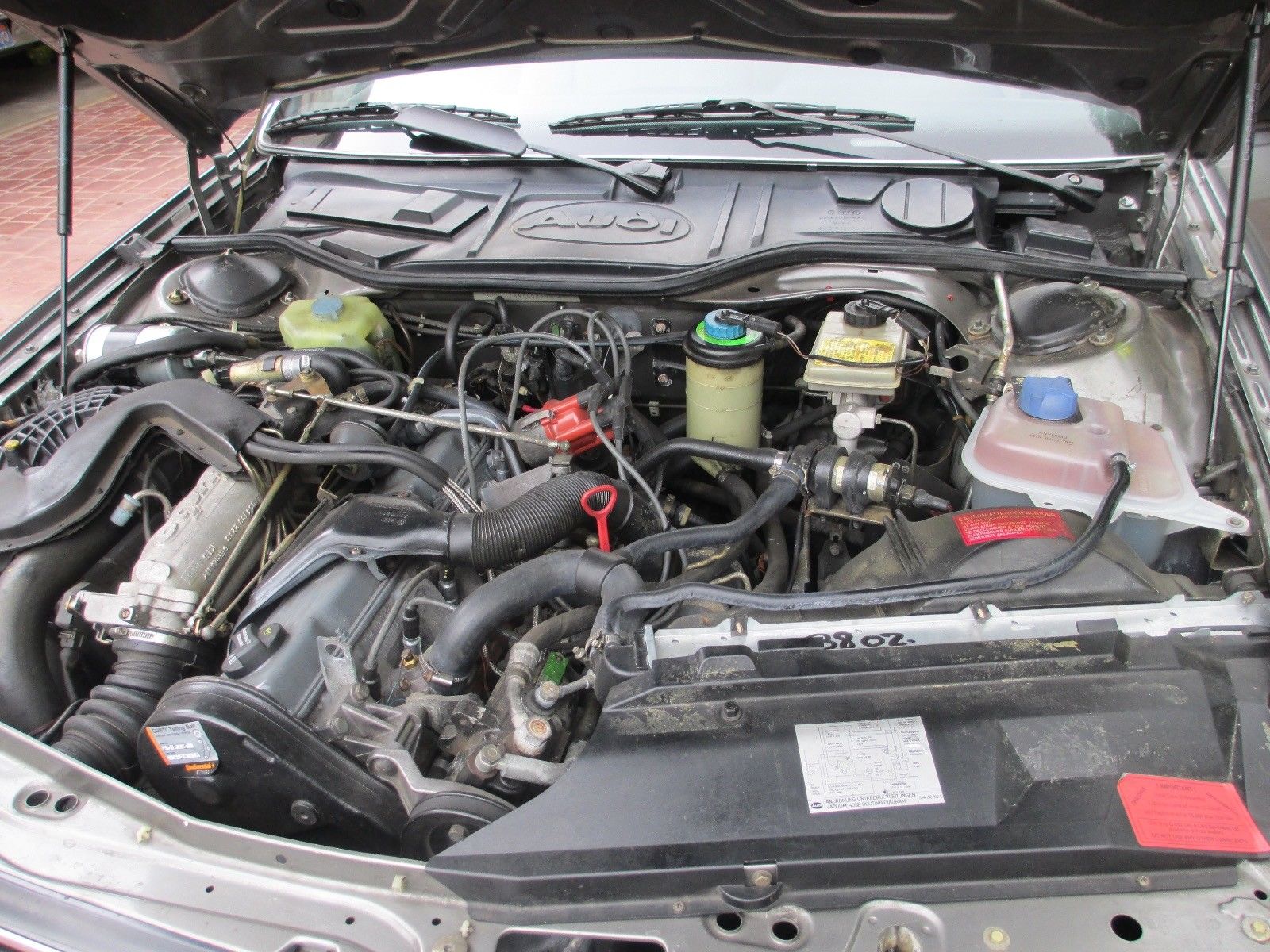 Of course, you already know. 60 Minutes did its "Fake News" best well before anyone knew what the '2017 Word of Year' meant. Though Audi stood on the verge of taking off in 1987, the bad press had immediate effects. For 1988, the Turbo model's sales cut in more than half to below 3,000. The lightly revised 200 did little better and Audi itself wouldn't recover until its re-branding with the A-series cars in 1995-6. Couple that low residual value with expensive parts and some notorious problems – the hydraulic system for example – and most ended up in junkyards or as heart-transplant donors for other models. Yet this lower-mile example has escaped that fate and looks like a time machine fast-forwarded from 1990.
Little information is offered, but this example seems to be Stone Gray Metallic with Quartz Gray Savoy Velour. As most items were electric as standard on the upscale CS Turbo and quattro models, the only options you could select were ABS, leather seats, seat heating and an automatic transmission. Unfortunately for us, this car only appears to have the last option. Finding a manual Turbo is possible but exceedingly difficult. Most were automatic-equipped, as the folks interested in the manual usually also opted to pay the small premium to get all-wheel drive, too. Condition is truly outstanding and especially for this model. Yet desirability, in general, is quite low. There are a few devoted Type 44 fans that swear by these models, but even they tend to be fickle. Most are either looking specifically for a quattro model or prefer the cheaper to run, easier to maintain 2.3 normally aspirated model. That should make this one very affordable, but it's not.
The reserve is set over the current $5,000 bid, which to me – a devotee of the Vier Ringe – is just crazy. True, you couldn't replicate the condition of this car from a lesser example. But the bugger question is, "why would you want to?" $5,000 gets you into a much more desirable 200 20V quattro or S4/S6 model if you like the turbo five, and you can find more classic Coupe or 4000CS quattro models from the period for less, too. It's neat to see such a model and it clearly had a loving owner(s) along the way. If this car was very cheap it would make an entertaining and unique driver. But pay a premium for ownership? That's much harder to conceptualize.
-Carter