It's no secret that most of the sedans from Audi, BMW and Mercedes-Benz sold in the US are heavily optioned. Wood, leather and power everything are the order of the day. Over in the Old World, it's a different story. Many of these cars that seem aspirational for us Americans are used as everyday transport over there. Even on a recent trip to The Netherlands in 2008, I came across a Mercedes-Benz S class taxi. Occasionally, one of these stripped down models makes its way over to our shores, like this BMW 518i. Equipped with a 1.8 liter fuel injected four cylinder engine, wind down windows, cloth seats and hubcaps, this is about as far from an M5 as we can get. For sale in Georgia, this is an opportunity to own an E28 rarely seen on these shores.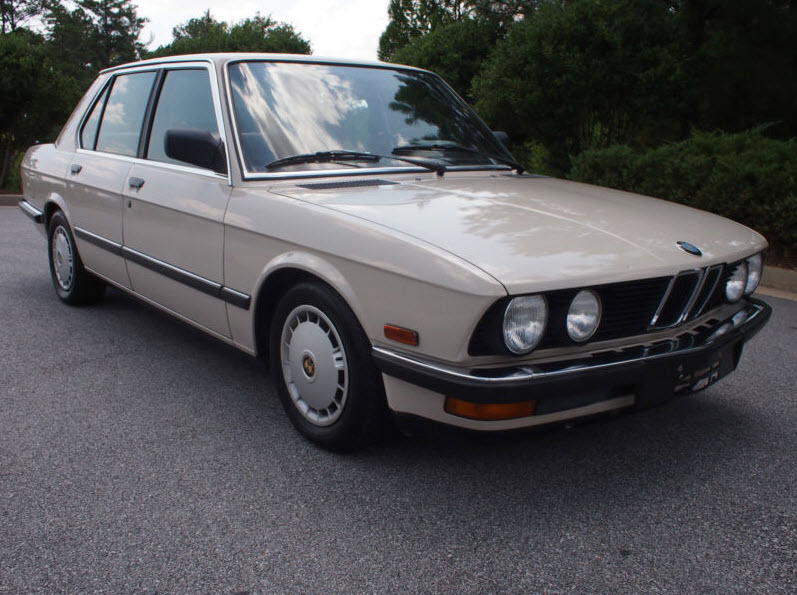 Up for auction is an extremely rare 1987 BMW 518i Euro export one owner with only 69,000 miles on it. This 518i was only sold in Europe, as you can tell by the chrome bumpers. This is an awesome four cylinder, 5-speed manual 5 series BMW and I'm sure you will be the only one driving around town in one! This is the only 518i on eBay (current or completed listing). Don't miss out on this chance at this great find. No reserve auction! This BMW drives great, the A/C blows ice cold, the engine sounds great, transmission and clutch work great. Has the original stereo that works great. All of the gauges work. The tires have more than 75% of life left on them. The car looks great for its age. Does have some dings, cracks in the dash, patch in the driver's seat and carpet a little worn on the front passenger floor. This car has absolutely no rust! This car was imported when it was new and titled here in Atlanta, Georgia in 1988.
This 5er has relatively low mileage for the year, so it will be interesting to see what a no reserve auction will bring for such a rare (for this market) piece. My guess is we'll probably see a final bid of around $5,000 to $6,000. Beige wouldn't be my first choice of color, as it looks a bit like a Berlin taxi. On the other hand, the color fits this car's simplistic persona. I really like this 518i and for anyone looking for an economical sedan with an added bit of character should eye up this piece.
-Paul