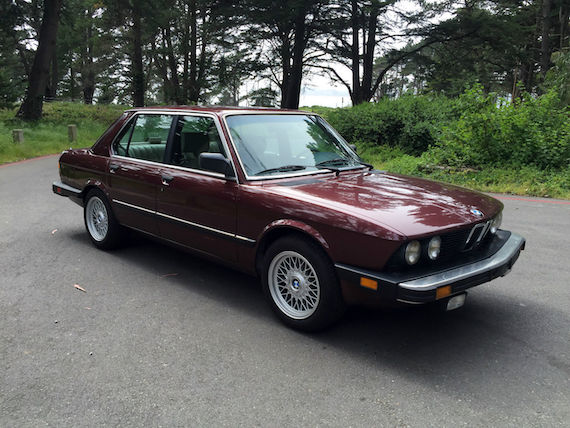 This beautiful Burgundy 528e is one of the nicer non-M E28s we've seen in a while. The red and brown tones come together to underscore what this model is all about. The eta-engined Bimmers of the late 80s were value judgments from the get-go – are you ok with going a little slower in exchange for torque and fuel mileage? If so, you'll still get the handling and killer good looks of the E28 while being primed to crush long miles without heading to the gas station every few minutes like in my M5. There are some compromises to be made with this particular example as well, like accepting that the real mileage is unknown due to a replaced cluster and knowing there are a couple small spots of surface rust hiding in the Burgundy next to seams. The flip side is extremely conservative bidding on the no-reserve auction for this nice daily-driver quality E28.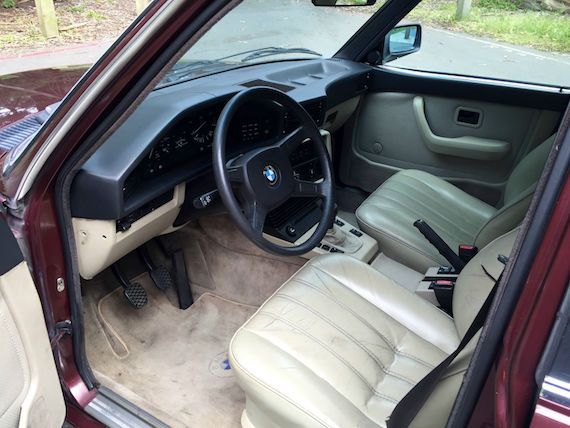 Year: 1987
Model: 528e
Engine: 2.7 liter inline-6
Transmission: 5-speed manual
Mileage: Unknown
Price: No-Reserve Auction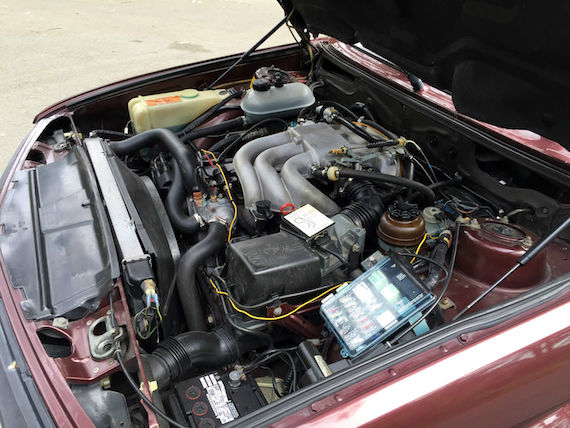 1987 BMW 528e
VIN# WBADK7309H9653169
5-speed manual transmission
Color code: 199 Burgundrot Metallic / Pearl Beige Leather
Mileage: True mileage unknown due to speedometer replacement by one of the previous owners

Vehicle Description

Exterior:

This is a very complete, solid and presentable E28 528e. All body panels are very straight with good gaps. It appears to have had one high quality re-spray at some point in its original factory color, however, all door jambs, inside the trunk and engine compartment show original factory paint and all factory VIN# tag stickers are present on all panels. There is minimal rust limited to the lower rear window seal and some isolated bubbling at the lower driver's side front fender. The rocker panels are in good condition with only slight surface rust near both front jacking points. The underbody is excellent with no significant corrosion.

Interior:

The interior is clean with soft supple leather seating surfaces in very good condition. Driver's seat has some typical wear on seating surfaces and arm rest and one of the bolsters is torn. Dash has typical cracks. Hand brake needs adjustment/repair. All electrics work except the factory radio (not hooked up), power door locks, passenger headrest height adjustment and a missing glove box light. Rear speakers have been upgraded with quality aftermarket speakers. Has a broken antenna mast. AC blows cold.

Mechanical:

The car starts up easily and settles to a smooth and quiet idle. Throttle response is a bit hesitant when cold, but drives fine when warm with no strange drivetrain vibrations or noises. The motor runs cool and has no leaks and no smoke. Handling is very good and controlled. Suspension, with Bilstein HD shocks on factory springs, feels tight with no shake or shimmy at speed or while braking. Braking is very good with a recent brake service. Tires have about 2k miles and are mounted on 16 x 8 OEM BMW E38 alloy wheels in good condition. New rear muffler. Fuel consumption is good, averaging 29+ mpg on I-5N from Los Angeles to San Francisco.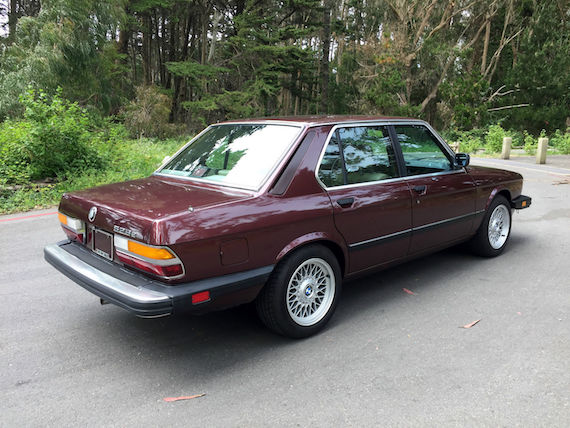 The radio and e-brake should be fixed ASAP, because after that this is a perfect commuter. You'll be getting high-20s while looking infinitely better than the AltimaCamrys you're surrounded by. Considering the lack of mileage info and small needs, it's probably not worth more than $5k, but holy cow! I can't think of a cooler car for that cheap.
-NR