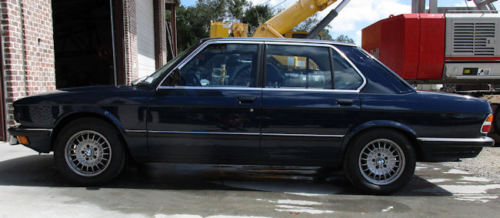 My recent coverage of the 5-series BMWs seems timely. Just last week, I looked at a 1982 BMW 528e. Since it's been so short a time, I won't reiterate the major highlights of the model again – click HERE if you'd like to read those details. So why look at what many consider the least excited E28 so quickly again?
Well, in part it's because of what occurred this past weekend. If you weren't paying attention, a stellar 1988 BMW 535i came up on Bring a Trailer. It was probably the most impressive older 5-series I've seen in a long time. So it was expected to bring pretty big numbers when the auction closed, and like looking through the picture gallery, it didn't fail to disappoint. The final bid was $50,000 – unfathomable to this point for most of the E28 lineup.
Admittedly, the example I have today isn't as nice. But it shares many things in common. First, it's not a top-flight model, though again the Eta motor isn't what many would prefer. So what does it have going for it?
Comments closed