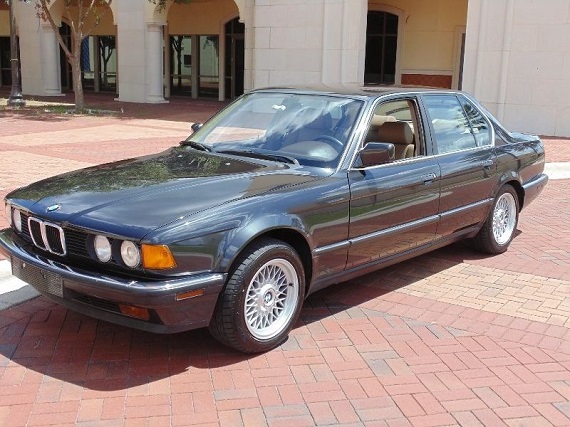 Much like the E23 that it replaced, we just don't seem to see a lot of good condition E32s cruising around these days. In comparison to the E34 that was launched at the same time and shared much of the technology, it's interesting that this is the case; is it that 7-series owners just didn't care for their cars as well, or expected something different from them? Certainly the German ultra-luxury market witnesses the greatest depreciation this side of a Nissan product, resulting in expensive cars in the hands of those who sometimes can't afford or aren't willing to maintain them. We've certainly seen our fair share of 750iL wrecks, for example – cars that just could never be brought back from the brink. But it still surprises me that we don't see more of the 735i, especially the fairly rare 5-speed variants. We've listed them before, and I think one of the comments was "does a 7 series really fit with a manual?" Having grown up with one in the household, I can say it's an emphatic yes. It may not have been the preferred transmission for the E32, but it transformed it from a sedate luxury car to a sports sedan with a luxury bias. It felt much quicker than it probably should have and drove more of less just like a heavier version of the 5 series – which is to say, quite well. But they're very rare to see, so when this 1987 European-spec model popped up I was sure excited: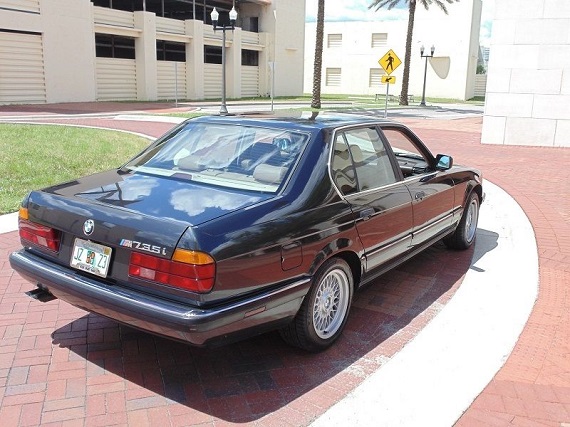 Year: 1987
Model: 735i
Engine: 3.4 liter inline-6
Transmission: 5-speed manual
Mileage: 96,000 mi
Price: $7,850 Buy It Now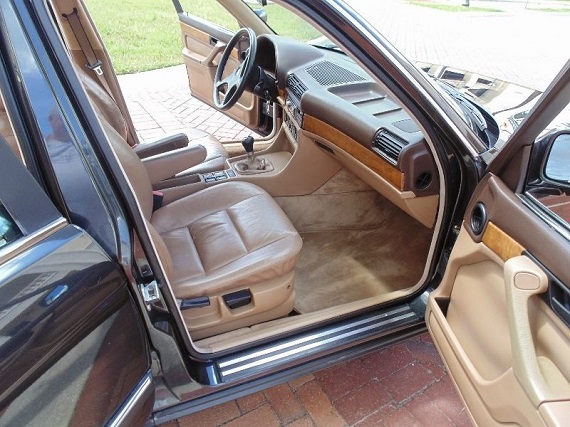 For sale 1987 E32 Euro 735i with a 5 speed transmission.

Born date 6/87

This car is in excellent condition. Paint is original and has a brilliant shine. Car is Diamond Schwartz with a Llama interior. Interior is an 8.5 out of 10. Seats are mechanical; car does not have cruise control but does have heated seats. All electrics work. Dash has no cracks and the tool kit in the trunk is complete including the original blue cloth with the BMW logo and the Euro warning triangle still in the plastic bag. Car has rear shades. This car drives like a new car. It has 155,000Km which is about 96,000 miles. Steering is tight and it runs down the road with no shimmy of any kind. Car is unbelievably quiet. The handling for a large car is superb. It actually drives very similar to my 535is only it is bigger. I am NOT responsible for the M badge on the trunk!!

I decided to put newly restored style 5's from the E38 740i on the car with brand new Firestone Firehawk tires size is 225/50/16. Besides the rims and tires I have done the following work on this car within the last few months:

Installed a rebuilt power steering pump

Replaced all belts including power steering and alternator

Installed new brake master cylinder

Installed new wheel hubs

Installed new front rotors and pads

Changed out the clutch seal

Changed the oil pan seal and changed oil and filter using Castrol 10/30

Replaced all the motor mounts

Replaced shifter knob with leather M style

Replaced hood struts

Drained and refilled rear end and tranny with Red Line synthetic fluids

Replaced center link

repaired and replaced "Sword"

What it will need:

Existing starter occasionally makes a grinding noise which may be an indication that it is going but it could last for years. But the car starts with no problem EVERY time.

I have been a BMW CCA member for 15+ yrs. I just drove the car on a round trip of 1,600 miles to the Euro Auto Festival in Greenville, SC. from Tampa. The car ran PERFECT. I would not hesitate to drive this car anywhere. There maybe less expensive 735i's for sale but not a Euro 5 speed car in this condition.

Price is $7,850.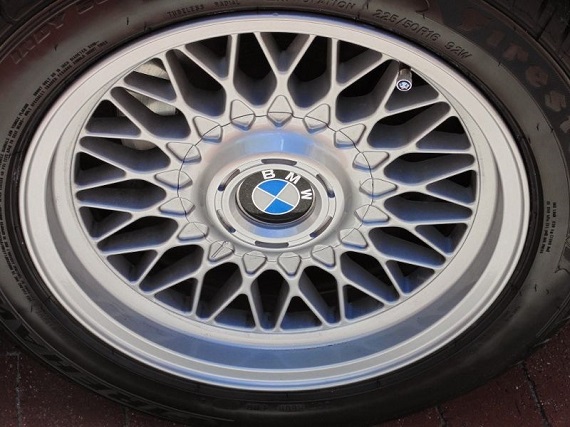 Buying from an individual, and especially from a BMWCCA member, is automatically preferred to the normal place we'd find a used 7; at the local 3rd rate dealer, at least around me. Condition of the car seems to be really very good overall. The E38 wheels are a nice match for the shape and dress it up; on a whim, one time I mounted E28 M5 wheels on the 7 and I can say they looked pretty awesome too. With proper suspension upgrades, I think it would also be pretty great to mount up some M-Parallels or M-System II Throwing Stars for kicks; they look great on the E34, so why not here? The interior is especially interesting to me; the 7 we had was all blue inside which sounds worse than it was, but the two tone brwon/tan with Llama leather is very interesting here. The M badge is perhaps the only disappointing thing; I'd figure out a way to remove that before long. Otherwise, it looks like an honestly presented car that was maintained. My family sold the 7 off when the climate control unit went; perhaps the reason for many that died. But a few enthusiasts like this seller kept them going, and for that we can be thankful. The asking price seems a bit high at first glance, but I think it's probably spot on. You could find a lesser condition car with more miles for half the price or less, but you'd certainly be quickly up to this price in repairs or restoration. As a unique package, I'd actually prefer this car to a non-M E34 in all honesty and hope someone pays the seller for their devotion and keeps the 5-speed 735i flame alive!
-Carter