Warning!
This post is in our archives. Links in this post may have been updated to point to similar cars available to bid on eBay.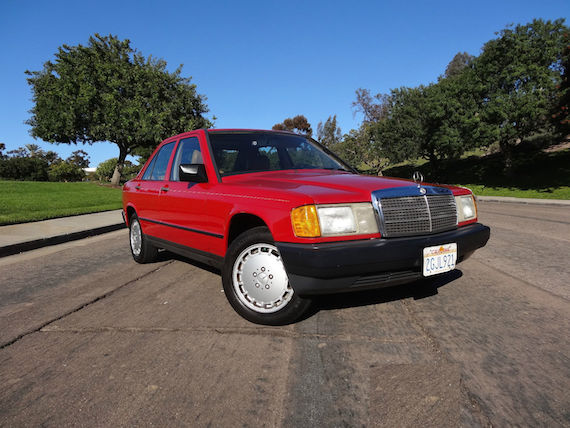 I've have a love for all things basic. Perhaps its my adherence to a minimalist lifestyle. I can't help but get inspired by certain modern art galleries I've visited and translate those ideas to interior design. As a result, the ideal living room for me consists of four while walls, a concrete or white marble floor and one stainless steel side chair. With a very thin flat screen TV hanging on the wall, of course. Maybe it seems extreme, maybe those with children will laugh at me, but clutter unnerves me.
Looking through the online brochures of the 2015 Mercedes-Benz lineup, I see a lot of automotive clutter. Certain vehicles seem a bit out of place, others seem overtly festooned with features I don't need or want. This 1987 190E 2.3 for sale in California, though, is everything I need in a car and nothing I don't, short of maybe a bit more power. For someone who wants a usable commuter with a touch of class, there's few better options.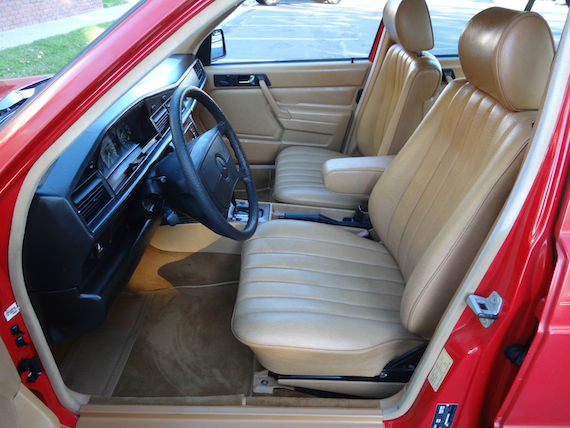 Year: 1987
Model: 190E 2.3
Engine: 2.3 liter inline-4
Transmission: 4-speed automatic
Mileage: 36,000 mi
Price: No reserve auction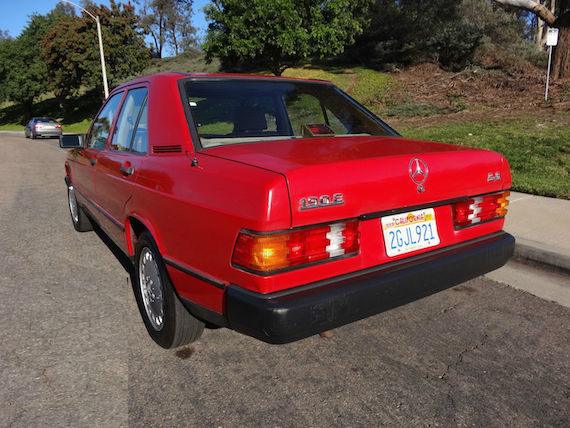 1987 Mercedes-Benz 190E 2.3L in excellent condition! Car has been 100% garaged, One owner, meticulously maintained since purchase! with only 36000 original pampered miles. clean California Title. True to original spec! Excellent condition throughout! This is a really nice example of a very desirable and collectable car. One owner vehicle, always garaged and serviced , basically it looks like the first day it came of of the showroom.

The vehicle is equipped with a 4-cylinder engine and automatic transmission, runs Great!! Economical to run with 25mpg city / 30mpg highway. The engine was given a host of maintenance in the recent servicing. It's well equipped with most of the options: sunroof, power seats, A/C (blows cold), alloy wheels, rear window defroster, power mirrors, cruise control.

The interior is in excellent shape, the leather seats are in like new condition with absolutely no wear / tear. The exterior of the vehicle is Red and is in excellent shape, with the paint shining like new! The tires appear to have 60% road life left. True to original spec! This car is a solid choice as a daily driver with tons of European flair! Please feel free to call or text with any questions / picture requests: David (858) 733 1030

History
Between 1982 and 1993, Mercedes Benz manufactured nearly two million entry level luxury cars labeled as the 190 Series. The sales were very good in Europe, but the little Benz did not do well in the United States. It was discontinued after the '93 model year. The M-B 190 Series was a small vehicle positioned below the S-Class top-of-the-line series and E Class mid-sized vehicles. The 190 was offered as a four-door sedan only and was powered by a variety of M-B engines; Inline four cylinders from 1.8 to 2.5 liters and a 2.6 liter inline six. Diesels from two liters to 2.5 liters were also offered, both non-turbo and turbocharged.

In a response to Audi entering into sports sedan racing with their Quattro" all-wheel-drive and turbocharged engines, Mercedes Benz turned to racing engine builder Cosworth to adapt their 2.3 liter I-4 for racing. The result was the 2.3-16, the latter digits denoting the sixteen valve heads on the 2.3 liter four-banger. In racing form the engine produced 320 bhp. The German Touring Car Championships into to which the racing 190 was entered require that the race car be built from a road-going vehicle, so Mercedes Benz prepared and sold a sufficient number of detuned vehicles. Badged as 190 Series 2.3-16, these little sedans were blisteringly hot.

While testing the "Cosworth" 190, Mercedes Benz set twelve endurance and speed records, including an average top speed of 154+ miles per hour. The street version still produced 187 horsepower and was a fast, nice handling little car. The 2.3 liter engine was bumped up to 2.5 liters in 1988. The street vehicles now had more than 200 horsepower in the sixteen valve version. A Getrag five-speed manual gearbox was offered in the 190 2.5-16.

The suspension on the 2.5-16 was lowered and stiffer than the stock 190. Gauges and seats were different as well, being more performance oriented. The Benz "hot rod" was competitive with the BMW M-3 and Ford Sierra Cosworth high performance machines. A little over 500 Evolution model 190 2.5-16s were made, that featured another thirty horses, an even stiffer performance suspension, and a power-pack' intake and exhaust system. This "Evo" was sold only in Europe, much to the dismay of American enthusiasts.

Diesel powered versions of the 190 Series were very rugged and many of them recorded over 500,000 trouble-free miles. The baseline diesel was their 2.0 liter model, but 2.3 and 2.5 liter engines were available in some model years. The 2.5 liter turbo model was available only in 1987 and these models are considered collectibles today. The 190 Series was replaced by the present day C Class of sedans, coupes and station wagons.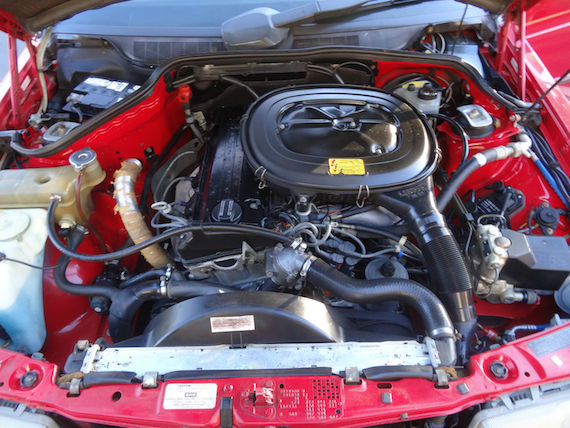 Having grown up for a time with a 1992 190E 2.6 in the family, I can certainly appreciate the charms of the W201. It was a shocker at the time of its introduction, much in the way the new CLA sedan has become. However, I don't think the CLA combines the classic Mercedes elements in a small package as well as the 190E does. The wild styling and front-drive chassis just don't seem to have what it takes to weather the years as well. Benzes from the 1980s and 1990s, to me, still look fresh. The bridge a gap between the classic and modern and will forever be frozen in time as a thing of beauty, in my opinion.
Okay, off my soapbox now regarding the classics. Sure, the 2.3 engine isn't the most desirable powertrain to have graced the engine bay of the W201, but if its efficiency you are looking for, short of a diesel, this is the one to get. Even in good condition, you won't be paying a mint for one of these. The 2.3-16s have started to appreciate just a bit, so this may start trickling down, as we see with a car like we have here, which is verging into late model 190E 2.6 territory.
-Paul