Warning!
This post is in our archives. Links in this post may have been updated to point to similar cars available to bid on eBay.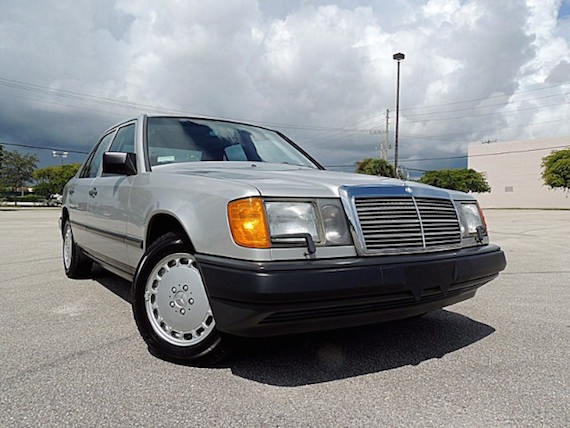 The Mercedes-Benz W124 E-class came in many shapes and styles, from the stately four-seat cabriolet to the muscular Porsche built 500E/E500. After we featured the low mileage 1986 300E last week, I was surprised to see yet another mint example of an early W124 crop up, this time in Florida in the classic combination of Brilliant Silver over blue leather. This car might be 30 years old, but it's certainly a classic that could be used daily and in the process, provide motoring pleasure hard to match from many modern day machines.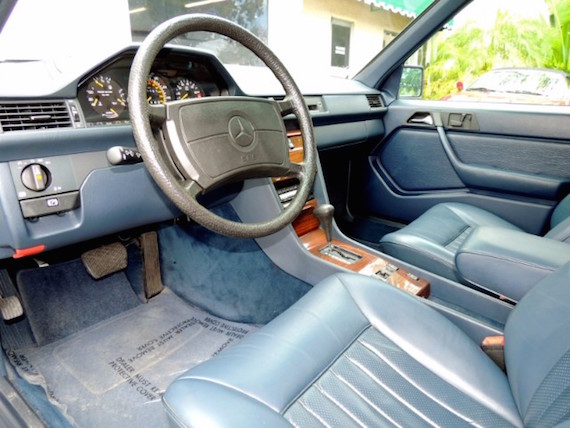 Year: 1987
Model: 300E
Engine: 3.0 liter inline-6
Transmission: 4-speed automatic
Mileage: 32,897 mi
Price: $12,800 Buy It Now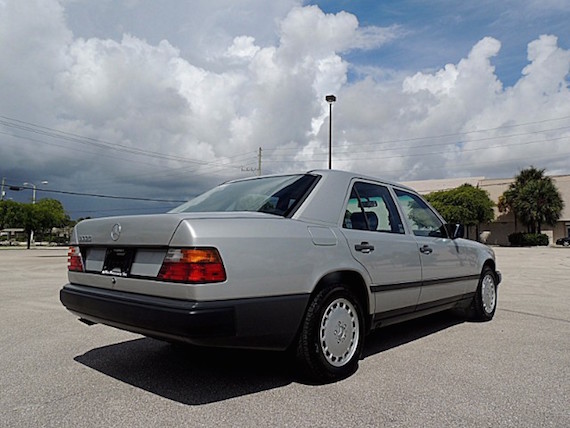 Hello and thank you for viewing another Premium Listing from Mint Motorcars. Up next is a 1987 Mercedes 300E with only 32k original miles. No, that's not a misprint.

The condition of this 300 is even nicer than it's mileage would suggest. It could easily pass for a one year old car. All of the electrical and mechanical functions work exactly as they should. The suspension feels compliant over the road and the engine/transmission perform flawlessly. There's a brand new set of tires installed. The leather, wood and carpets look like they still belong in the showroom. There's only one way to acquire a nicer 1987 Mercedes-Benz 300E……..Time Travel.

This 300E is easily collector quality and most likely the nicest one left in existence. You would swear it was a five thousand mile car. It comes with every manual, hanger tag, booklet, sticker or brochure as when new.

This is the car you can buy with the satisfaction that you own the nicest 300E anyone will ever lay eyes on. In just a few short years this Mercedes will be collector car status and the price just goes up from there. Weather you plan on keeping it for just a few years or putting it away forever, your friends will marvel over such a fine vehicle.

Remember, only one person ends up with the car everybody wants. If you let one like this hang out there for too long, you will loose it to someone who is absolutely sure they deserve the best. These people are out there. I know this because I put cars like this in their garage for a living.

If you would like to discuss this 300E in depth, call Tom at (954)461-1892. This is the preferred method of contact over email, so please call. Thank you for taking the time to read this listing thoroughly and Good Luck.

Call Tom at (954)-461-1892 with any questions.
This 300E brings back a lot of memories, as my father's 400E was the same silver over blue combination. While the 400E was a beast in a straight line, I tend to appreciate the smooth sixes of yore. In addition, there's something I like about the earlier models with their lack of body cladding. It just looks a bit more basic and I have a soft spot for designs in their purist state. The aforementioned low mileage 1986 300E we saw last week pulled one bid at $7,000. That car had a Buy It Now price of just under $11,000. While this car has lower mileage, the ask is a bit high for an early, six-cylinder W124. The sweet spot seems to be in the $8,000 to $9,000 territory for an E-class such as this one.
-Paul