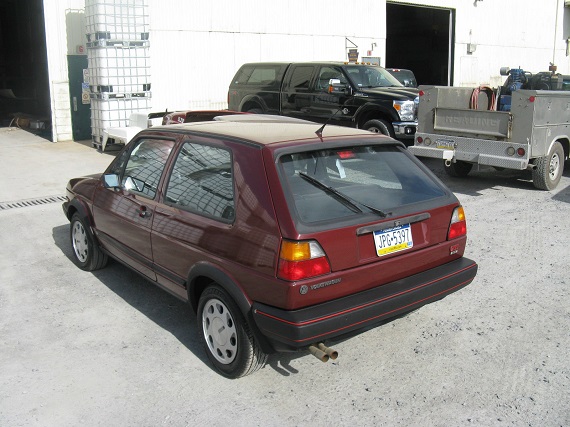 1987 saw some serious upgrades for the original "Hot Hatch" GTi. Externally, you'd have to be a seriously devoted Volkswagen fan to pick them all out. The body and trim remained effectively the same as they had been in 1985 and 1986, but new "Teardrop" alloys replaced the leftover "Snowflake" (also known as "Avus") and "Bottlecap" (also known as "Montreal") wheels that had adorned the earlier models. Squint closely at the front, and a new deeper chin spoiler sat under the bumper with two brake ducts. The GTi sported a new spiky hairdo as well, with a new roof-mounted Fuba antenna which would become signature for the model going forward. But the change that enthusiasts really liked was under the hood, where eight more valves made their appearance on the venerable 1.8 mill that had powered the GTi. That new motor was announced on every side of the car with new "16V" badges adorning the front, rear and side trim. Horsepower increase was relatively modest – about 13 more horsepower over the high-compression 8V that the car ran in 1985 and 1986. But the letters DOHC were magical pixie dust for wannabe racers in the 1980s, and the entered you into the coolest club out there – Club Twin Cam. Everything sprouted Twin Cams in the 1980s, but it brought the GTi up a notch in performance to compete with the new crop of Hot Hatches it had helped to sprout. 0-60 was now achieved in under 8 seconds – a serious feat for an economy car at that time. The new 16V GTis would be available – as before – in only four colors; Diamond Silver Metallic, Dark Blue Mica, signature Tornado Red or my favorite, Red Pearl Mica (LE3P) that this low mileage example is shown in: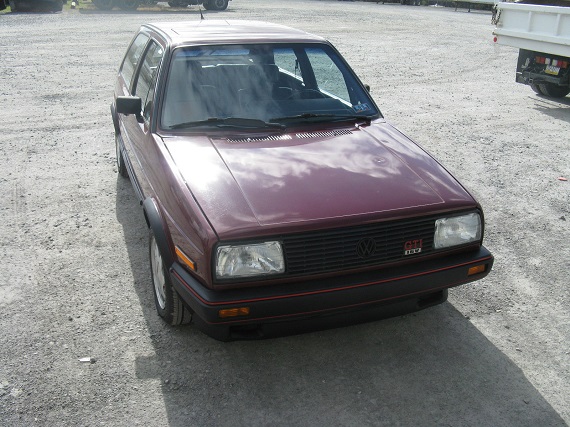 Year: 1987
Model: GTi 16V
Engine: 1.8 liter inline-4
Transmission: 5-speed manual
Mileage: 60,000 mi
Price: Reserve Auction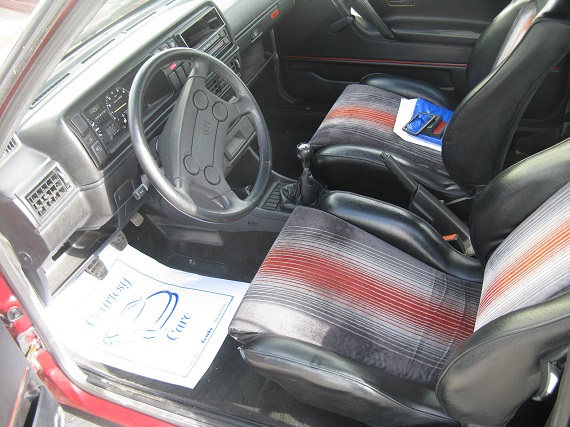 Up for bid: 1987 Volkswagen GTI

60K Original Miles
I am the third owner
Car is in great shape!
A/C blows cold
Very nice original car
Teardrop wheels
Currently PA inspected
Needs stereo / radio
Runs and drives fine ~ Come see for yourself!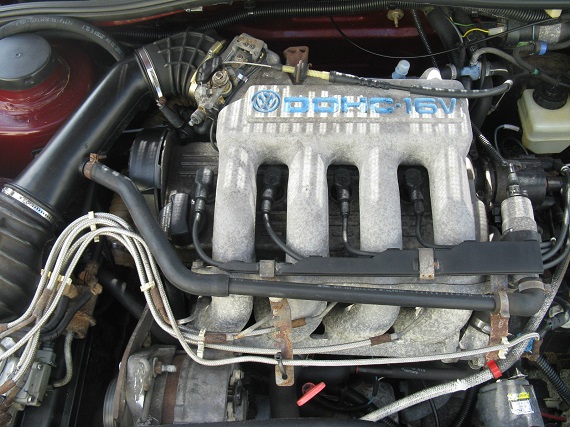 On the list of near-endangered species, original Mk.2 GTis are hard to come by in any configuration, but the early 16Vs seem particularly prone to obliteration. They're still out there, but many have been overly modified, rusted to death or abused. They were relatively expensive at the time, so it's no surprise that they were somewhat rare. Despite this, selecting the GTi got surprisingly little standard equipment – it came with a clock, carpets (no joke), visor mirrors (OOOOOOoooo!) and sport seats, now with Leatherette bolsters – perhaps an acknowledgement that the cloth previously specified failed rather quickly. The Leatherette, though, didn't fare much better and few have survived like this model with no tears. This car had some optional equipment such as the sunroof and air conditioning; the original radio is gone which is unfortunate, but the car's manual windows are probably a blessing. Even the metallic paint was an optional extra. It's hard to tell from the photos it cruise control was specified too, but most probably wouldn't miss that either. Overall, this car is an incredible time piece and shockingly original. There's a nasty dent/scrape that would take some work to repair, but this example is certainly worthy of such effort. Unsurprisingly, it has attracted some very active bidding. At time of writing, the reserve is still on and seventeen bidders have pushed the price past $4,300 with about a day and a half left. To me, finding a GTi like this is such a rare treat that were I in the market, high single digits wouldn't be an unreasonable starting point for price. It's certainly an amount that it's predecessor A1 model has been able to achieve or more. Though 16V models have always commanded a premium, I don't think we're far away from seeing examples like this be worth in excess of $10,000 – a fitting tribute to the awesome driving package that Volkswagen delivered in the Mk.2 GTi.
-Carter