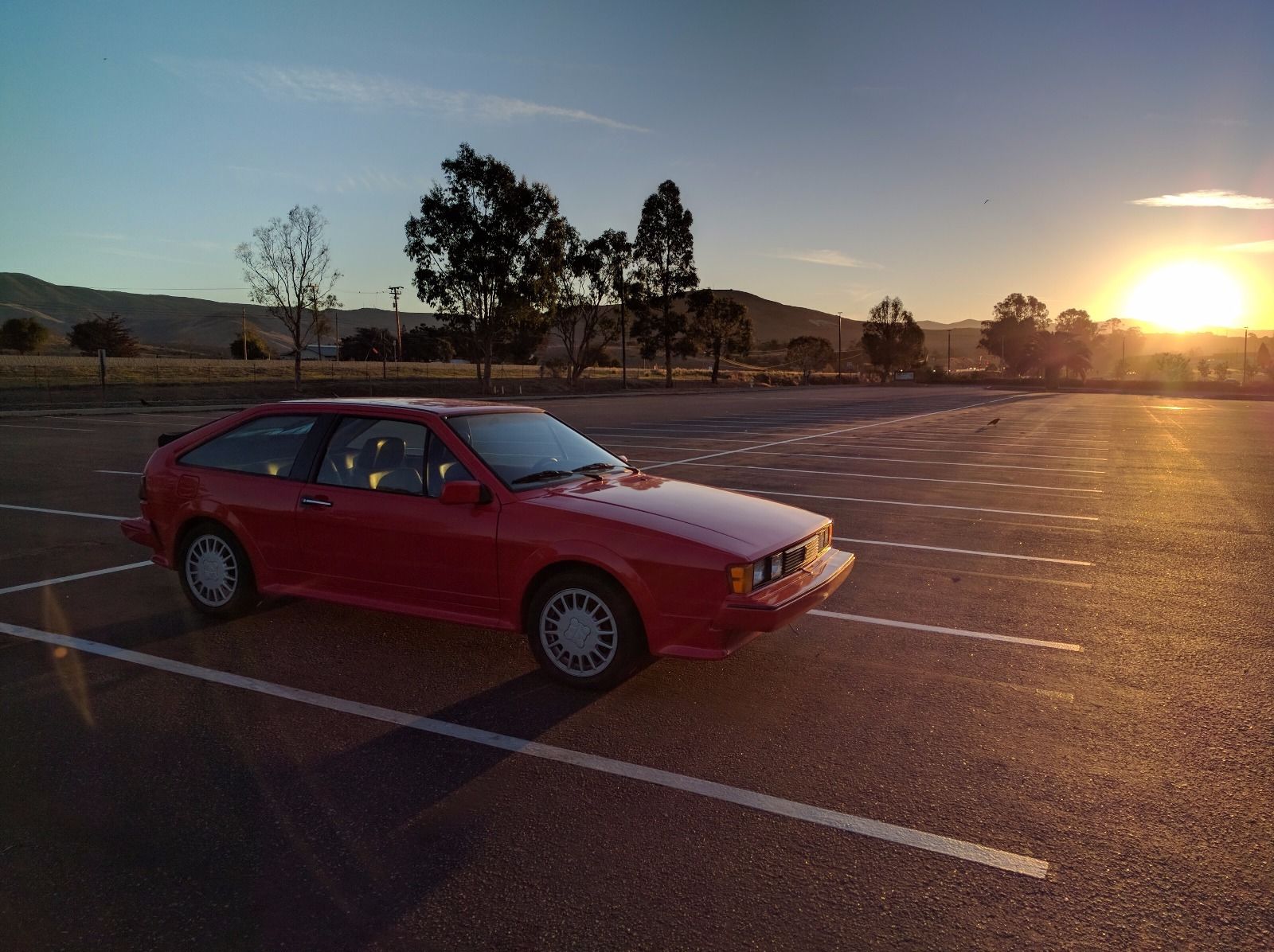 How can you talk about 1980s Volkswagens and not mention the Scirocco? Karmann's lift of the Giugiaro Asso di Picche, Asso di Quadri and Asso di Fiori designs was plainly evident, but that they were borrowed really should come as a surprise. After all, the reception to the master Italian designer's other pens – the Golf, first generation Scirocco, Audi 80 (4000) and Coupe GT firmly established both companies in the public limelight. In the case of Volkswagen, it defined a company emerging from the shadow of the air-cooled generation; for Audi, it modernized designs and capitalized on the success of the 100 lineup in the 1970s. But Karmann had been integral in the production of the first two as well, making an easy transition from ItalDesign to Volkswagen's go-to special production for the second generation Scirocco.
But while the design was all grown up and modern for the 1980s, the underpinnings were the same; little changed dynamically between the 1981 and 1982 model year, and though upgrades came over the next few years with higher-spec trim and a bit more power, it wasn't until 1986 that VW coupe fans finally got to rejoice as the addition of the PL 1.8 liter dual-cam inline-4 finally joined the lineup. Now with 123 high-revving horsepower, the Scirocco went a bit more like the wind it was named after. The wide-ratio, economy-minded gearbox of yore was gone too, replaced by a close-ratio gearbox. Like the GTI and GLI, 14″ 'Teardrop' wheels and a new bodykit heightened the boy-racer appearance, and the 16V models got all matchy-matchy before the Golf and Jetta, too, with body-colored painted bumpers.
Perhaps this was a shot across the bow of the other Giugiaro-designed, sporty 2-door coupe on the market – the Isuzu Impulse Turbo. Because as much of a VW nut as I am, let's be honest – the Impulse was cooler. It had much better integrated bumpers, for example, and looked even MORE modern than the Scirocco. And it had cooler wheels. And it had a turbo, and as neat as having dual cams was, having a turbo got you into pants in the 1980s. While it only had one cam, the intercooled 4ZCI was good for 140 horsepower in 1985. That power was channeled through the back wheels, too, with near perfect weight distribution. To top all of that off, in 1987 you could get the "RS" model which was painted all white – yes, even the wheels. My '87.5 Coupe GT Special Build was even jealous. They came fully loaded with electronic gizmos, and mostly unlike the VW, they worked. Then, as if that wasn't enough, GM links created the "Lotus Tuned Suspension" package for the 1988 model year. If one of these rolled up to the party you and your Scirocco were at, you were going home lonely (and, slower).
But this isn't "low-production Japanese cars for sale blog", so we'll look at the Scirocco.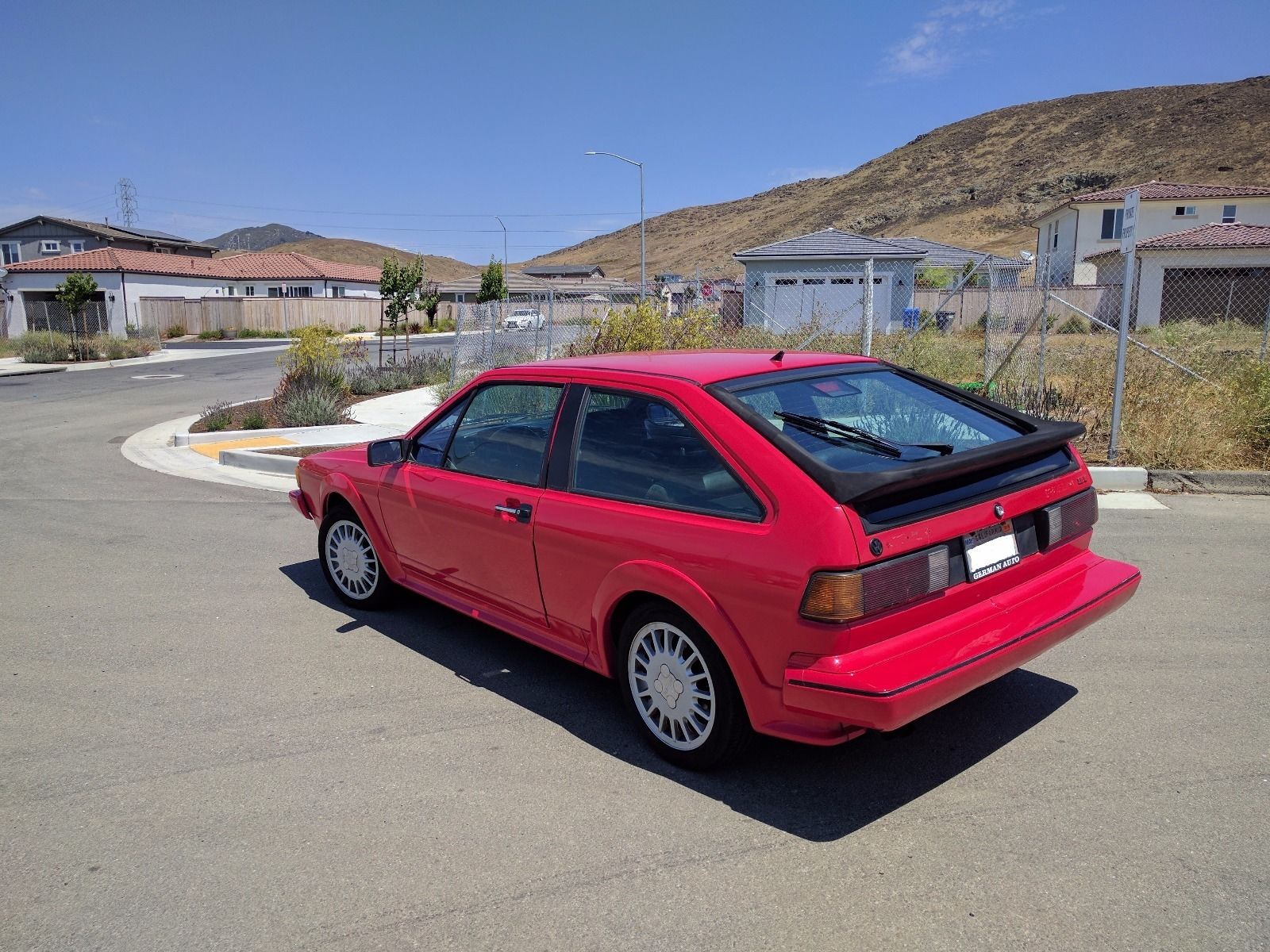 Year: 1987
Model: Scirocco 16V
Engine: 2.0 liter inline-4
Transmission: 5-speed manual
Mileage: 160,000 mi
Price: $8,000 Buy It Now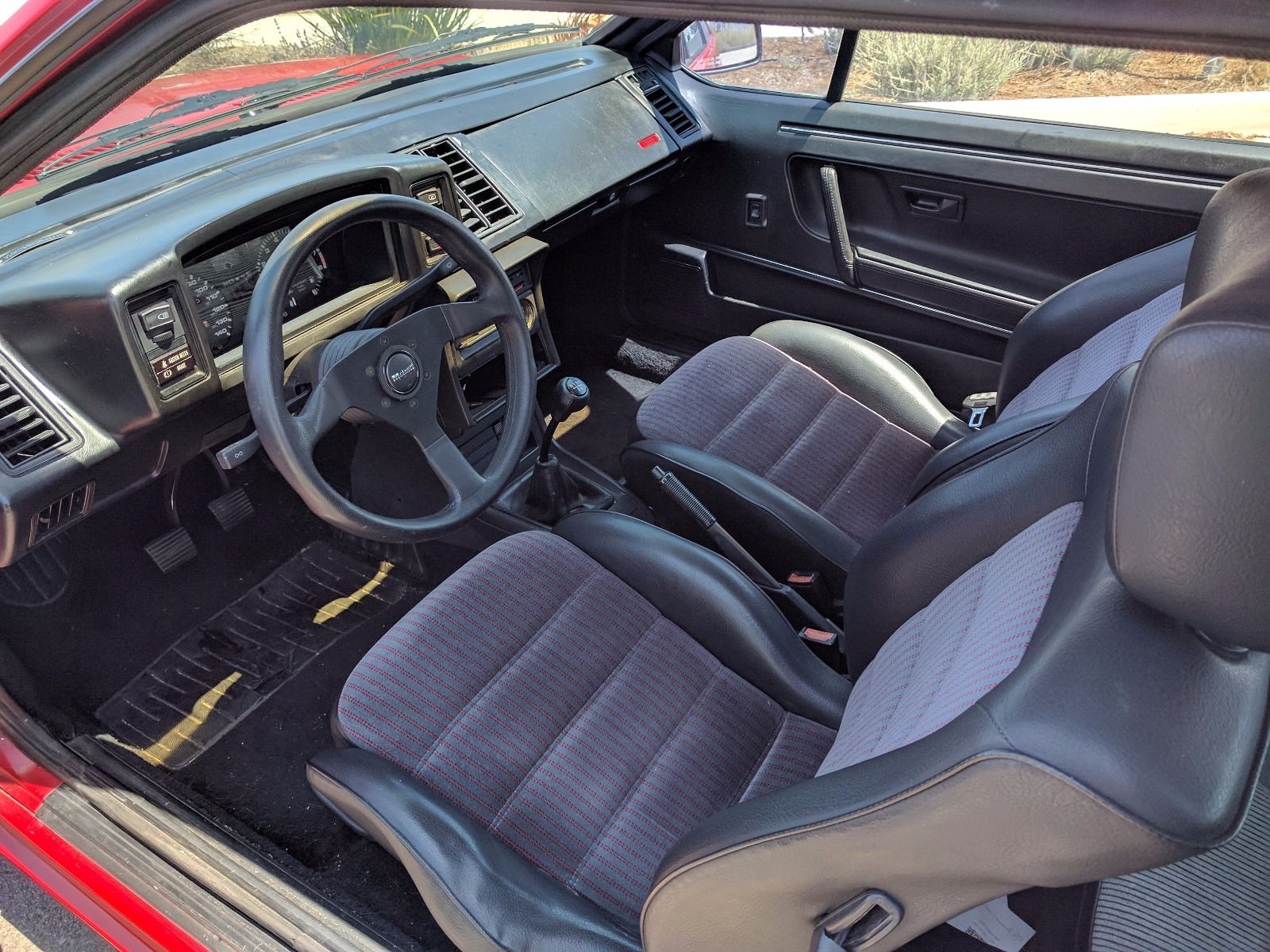 If you are looking at this, you probably already know about these cars.

Where to start…The car was basically totally mechanically restored from bumper to bumper by the previous owner. Literally almost everything mechanical is new on the car. 160,000 on the odometer but almost everything has been replaced. The engine was rebuilt about 3000 miles ago, with a 9A bottom end with new crank bearings, piston rings, seals, oil pan, oil pump, water pump, water pump pulley. The 2.0 head was supposedly rebuilt by the dealer. The salvage title is from seats being stolen from the car, with no evidence of any accidents. The car was just painted last year in Porsche Guards Red. I had big plans for it, but an out of state move is forcing me to sell.

Here is a list from the previous owner of all the new stuff. All with about 3k miles on it.

Fuel:
– New tank
– New main fuel pump
– good used in tank pump with sending unit (it works)
– new fuel filter
– new OEM fuel injectors
– new filler hose

Exhaust
– new magnaflow cat
– new OEM midpipe and exhaust

Transmission
– changed output seals and main input seal. It still leaks from some place so it will have to be resealed at a point in the future
– new shifter linkage (near transmission and shifter in the car)
– new short shift kit
– new shifter knob
– new clutch cable

Brakes
– new master cylinder
– new hoses and caliper seals
– new Hawk pads all the way around
– new brake disks, bearings in the rear and seals

Wheels
– Sebring Corrado wheels in great condition (with caps)
– new tires: Toyo 195/50/15
– new OEM lug bolts

HVAC. A/C works (retrofitted to R-134)
– new heater core
– new heater core valve
– new expansion valve and drier
– new A/C compressor
– new fresh air blower
– good used evaporator and condenser
– fixed dash plenum so that the vents work and everything is nice and clean

Miscellaneous;
– all 4 new headlights and bulbs
– new trunk shocks
– new wipers
– old Corrado front seats
– new Momo Montecarlo steering wheel and hub
– new turn signal switch
– new wiper switch
– new headlight switch
– new pedal pads
– new license plate lights

If you pick it up locally I also have boxes of stuff that can come with it, including the original front seats, steering wheel and another set of what could be track wheels with basically brand new tires on them. It is really a great car, and almost impossible to find in this condition. It really would make a great base for an amazing project for someone who knows what they are doing with older VWs.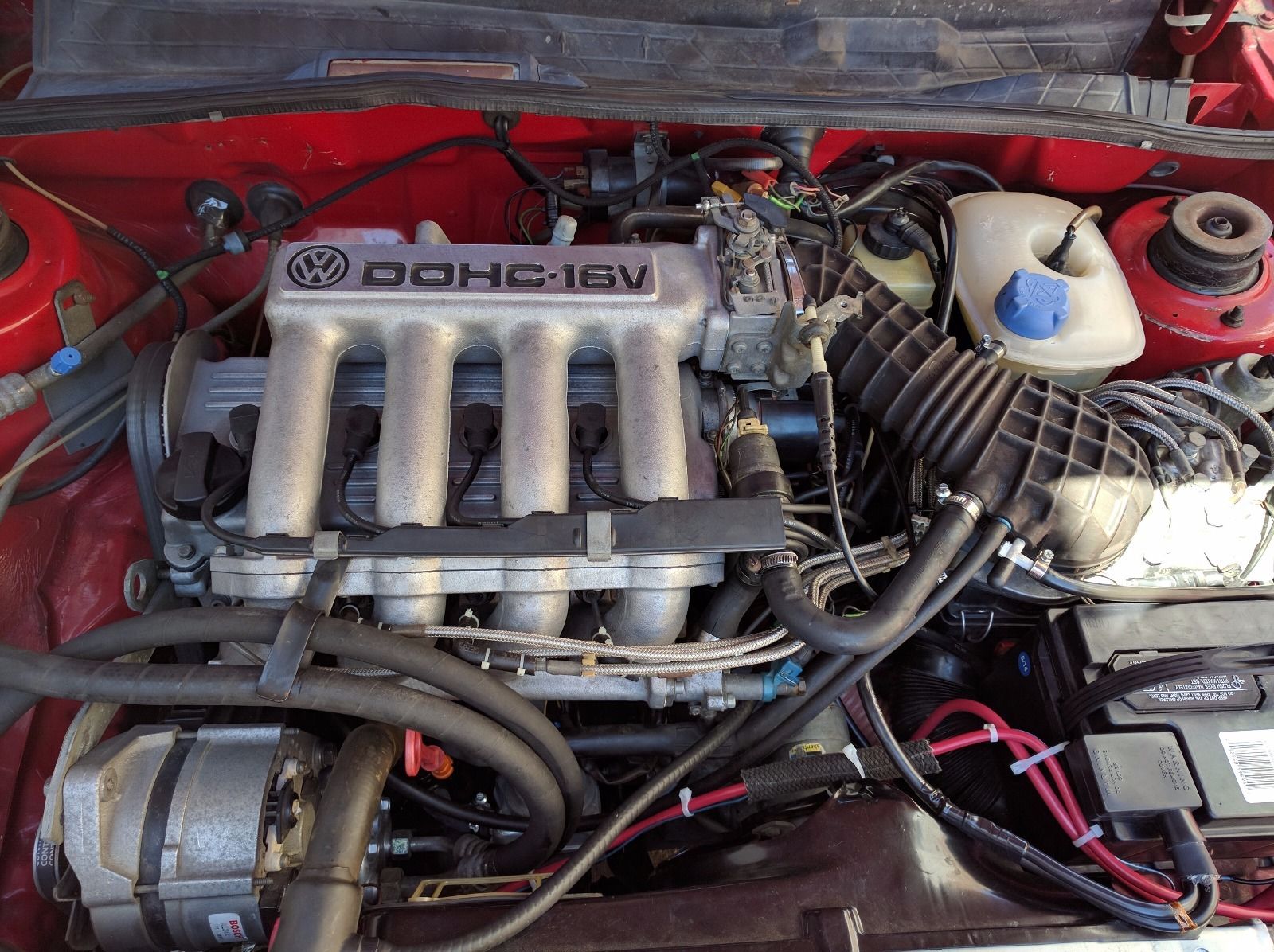 There's a lot to like here, from the mechanical freshening with the 9A 2.0 16V adding another ten horsepower to the mix to the Guards Red respray. Though not original, it certainly looks nice and is well offset by the Sebring Corrado alloys. But the one that had me mouth-agape? The air conditioning WORKS. When was the last time you saw a modified 1980s VW product (this author's included) where the air not only worked but was updated? The Corrado seats also look at home. There are a ton of spares which are included, too.
Downsides? It's unfortunate that prior to respray an unbent front clip wasn't sourced, and it looks as if someone stole the 'Volkswagen' and 'Scirocco' badges from the rear, leaving scratches. There's the branded title, too, but the positives in this case far outweigh that problem to me. At $8,000, this car is towards the higher end of the second-gen Scirocco 16V market right now but given the work performed it seems not very much out of line.
-Carter