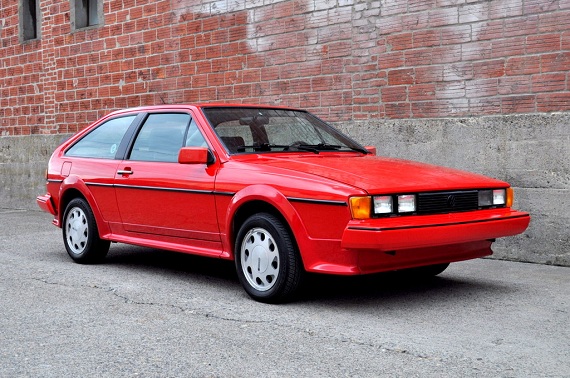 Last month Paul wrote up a pristine white Scirocco 16V that shocked all of us when it hammered for $15,000. That, we'd like to remind you, was substantially more than it cost originally and as far as we know the most money a Scirocco of any sort had changed hands (minus some really cool Group 5 racers). Now we'll get to see if that was a fluke or where the market is headed on these clean Karmann coupes, as a second pristine Scirocco has appeared with even lower miles than the white one. This time around it's in the arguably more desirable Tornado Red – take a look at this time capsule survivor: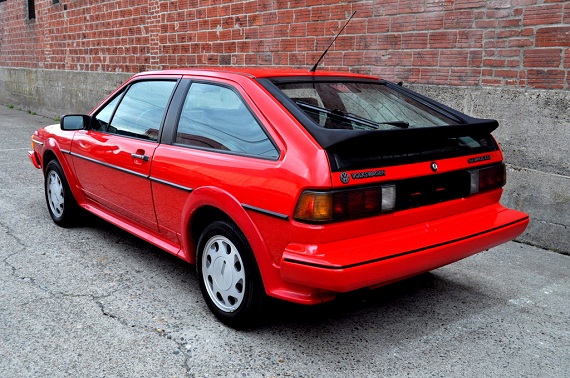 Year: 1987
Model: Scirocco 16V
Engine: 1.8 liter inline-4
Transmission: 5-speed manual
Mileage: 66,280 mi
Price: Reserve Auction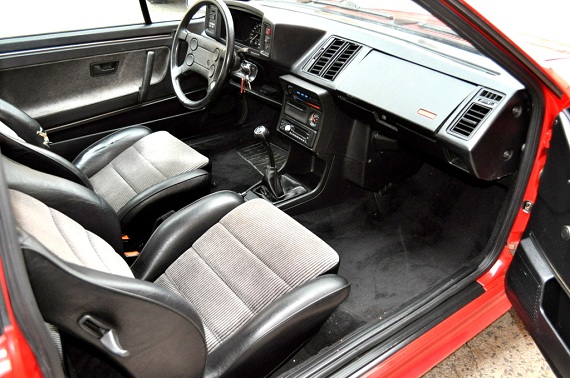 1987 VW Scirocco 16 Valve 66K

Hello eBayers! I am very excited to show you this new listing! This is a 1987 Volkswagen Scirocco 16 Valve 5-Speed finished in Tornado Red. This is a real car. Original paint, with the exception of the hood and bumpers, and 66,280 original miles. It comes with its original window sticker, all of the records showing the low mileage through the years, and service manual too.

Driving this car is like a trip through time. I have not seen an original survivor Scirocco like this in years. It is the car that I wish I had in high school but honestly never did. I had a few Sciroccos back then, but never a 16 valve. This is a non –sunroof version and the headroom is far better in these. Also, this car has manual roll down windows and Air Conditioning that blows ice cold.

The Scirocco is tight and clean and absolutely rust free. Not a trace of even surface type rust anywhere. It has lived its life in a garage, warm and dry. The original paint is still beautiful and bright. The weakest part of the finish is the hood that looks to have been re-sprayed 20 years ago and is not holding up as well as the rest of the car. Also, there is a small crease in the driver's door. I almost had a dent doctor see if he could make the small crease go away with the magic they do but did not get a chance. Original cars are sad to paint, but the door may need to be repaired and the hood is an easy job, it is original to the car. Paint always fell off the bumpers of these cars and this one was no exception. They were repainted, but look great. The "16V" badge is missing from the rear, I hope it is making a nice necklace someplace.

The interior is in really good and original condition. The drivers bolster needs to be repaired but that is as bad as it gets. Carpet, headliner, dash, door panels, all beautiful. No smells or odors or surprises.

The car runs great and drives great too. No leaks or smoking or hard starts. The clutch is strong, the shift linkage is tight. The brakes stop straight and true and the VW goes straight down the road at any speed.

I hope the pictures demonstrate how nice this car really is. It could be perfect with the few cosmetic issues repaired. I wanted to showcase the car exactly as I found it. I didn't even have to wash it. It has always been loved and cared for.

This VW has all of the vintage 80s appeal and will surely be one to hold on to for future appreciation.

I am setting the reserve very low and I know the Scirocco will sell the first go around as long as we all play by these rules.

#1. Only bid if you have intentions to buy.

#2. Ask any and all questions before bidding.

#3. Please contact me BEFORE BIDDING if you have zero or negative feedback.

#4. This is an AS-IS sale. I have done my best to describe it exactly as I see it but it has no warranties or guarantees except a clean and clear legal title after payment.

#5. I will not accept Pay-Pal for the balance payment of the VW. Pay-Pal for deposit only, balance must be paid by certified check or wire. Legitimate and legal buyers only please.

Just be real and genuine and I will make sure that the winning bidder is happy with his or her purchase. I have 100% positive feedback and I plan on keeping that. Also, I will end the sale for the right offer so don't wait till the last second and worry about missing out. Just call me and we will work out a fair price..

I'm Justin my Phone number is 503-969-5127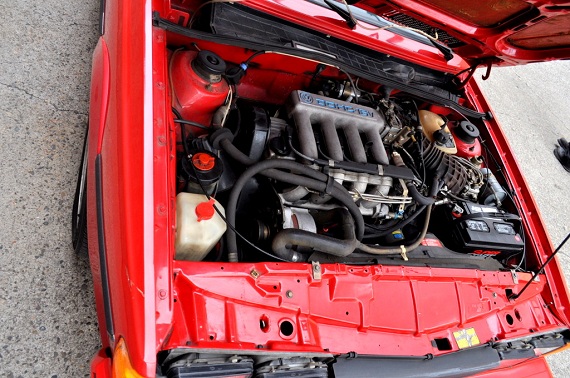 Impressive is the one word I'd sum this car up with. Tornado Red is a hard color to keep looking great over time because of the lack of clearcoat – you really have to stay on top of it to keep it looking sharp. While the hood and bumper were resprayed the rest of the car looks immaculate, as do the hard to keep clean teardrop wheels. This was a base 16V, with roll up windows and no sunroof but taller folks not into older VW electrics will appreciate both of those items. The shots of the underneath of the car are downright impressive; coming from someone who lives New England, you just don't see cars that look like that around here.
There are a few minor details that are in need of attention in a car of this caliber; the 16V badge is missing from the front, the hood rod catch is broken, and most notably the seat bolster on the driver's side is ripped. However, I doubt any of those items will stop a die-hard Scirocco fan from loving this car. The Pacific Northwest has been a recent hotbed of rare Audi and Volkswagen finds, all of them commanding strong money. With this Scirocco in a reserve auction, will we see it come close to the 15K mark set by the white car? If any one can do it, this might just be the one.
Hat tip to our reader Nik for sending this one to us – thanks Nik and great find!
-Carter