Way before the Golf K2 and Jetta Trek there was the…Vanagon Hobie Cat? That's right, in 1987 VW launched a special edition of the Vanagon that – just like the aforementioned ski and bike editions – came with a roof rack and a sail boat. Well, sorta – it was actually a Hobie Cat Alpha sailboard. In addition, you got multi-tone side graphics including the silhouette of an actual Hobie Cat catamaran, and…well, that's all. This particular example is also claimed to be a Wolfsburg Edition, which is interesting as that was only offered halfway through the model year. Let's take a look:
CLICK FOR DETAILS: on eBay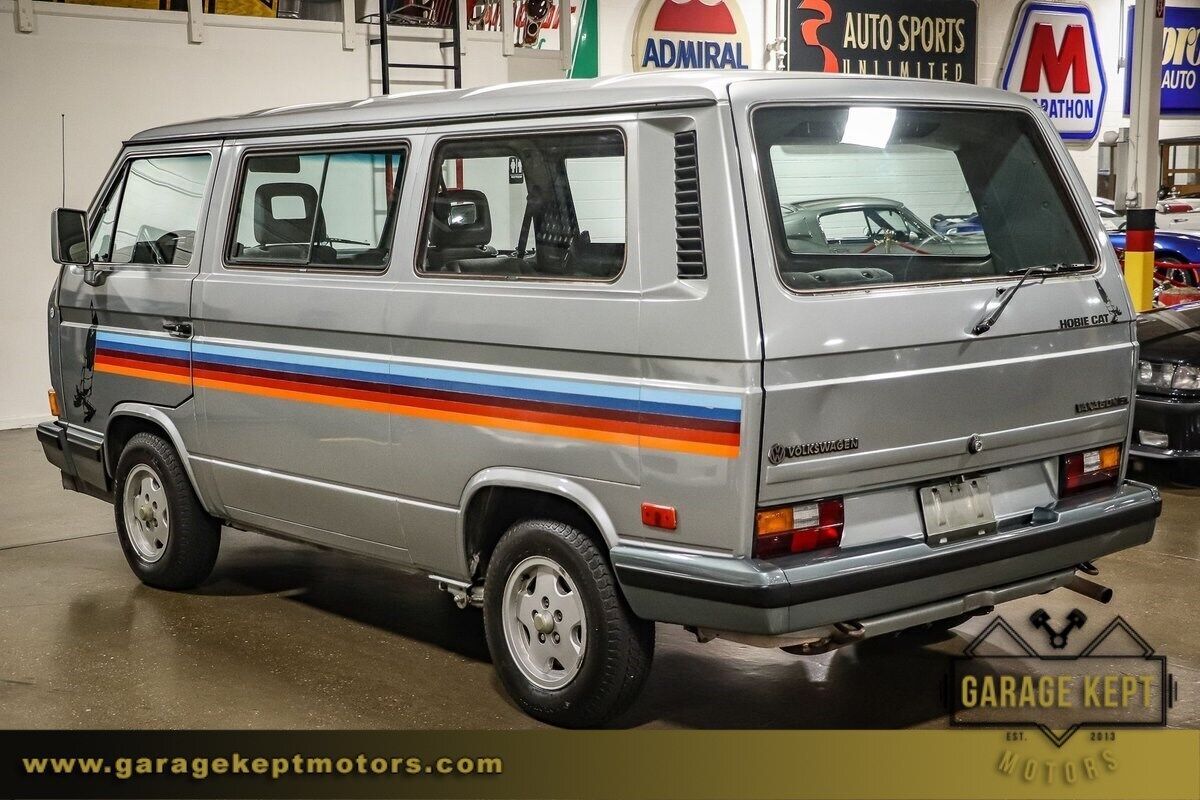 Year: 1987
Model: Vanagon GL Hobie Cat Edition
VIN: WV2YB0253HH041808
Engine: 2.1 liter flat-4
Transmission: 3-speed automatic
Mileage: 206,400 mi
Location: Grand Rapids, Michigan
Price: $36,900 Buy It Now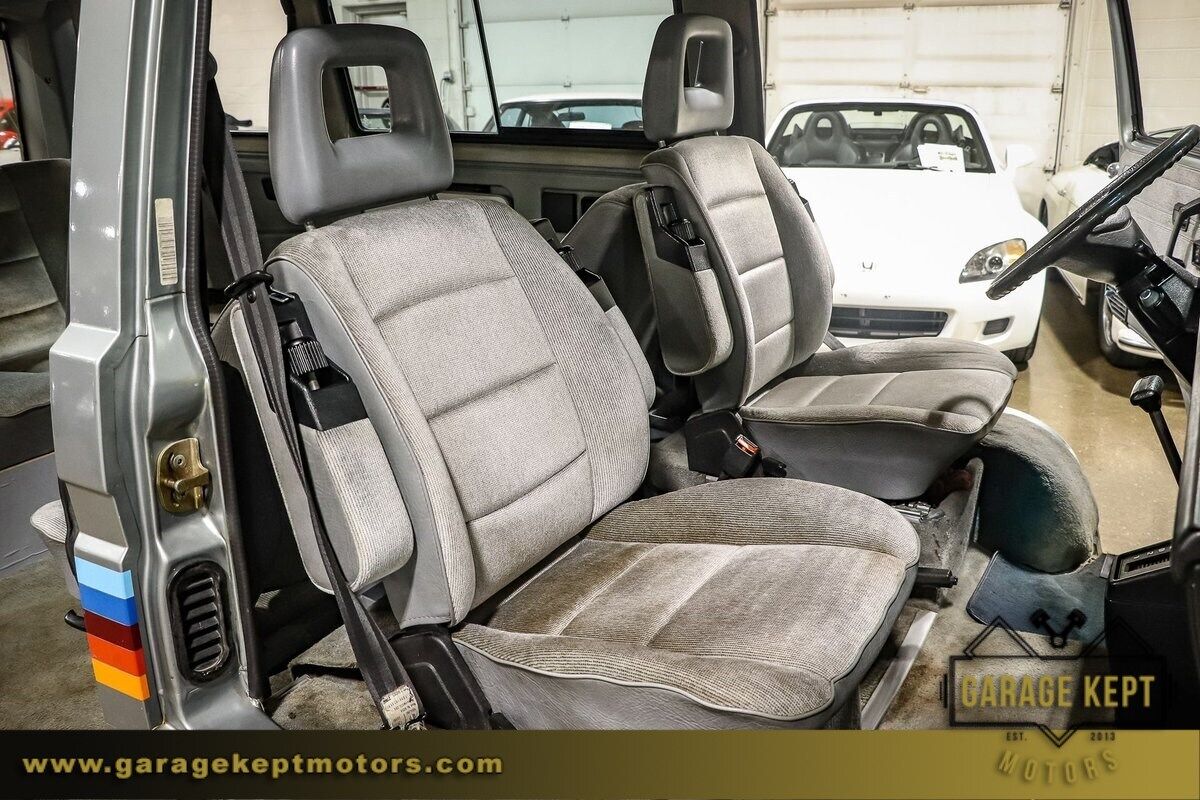 1987 Volkswagen Vanagon Hobie Cat Edition

– Sold New at Bertles Volkswagen of South Bend, Indiana
– Purchased from California by current owner in 2002
– Wolfsburg Edition Bus
– 2.1L I4 Rebuilt by George's Foreign Car Service
– 1987: Only Year Hobie Cat Edition Offered in Gray
– Original Paint with Original Hobie Cat Stripes and Decals
– Rear Facing 2nd Row Seats
– AC Blows Cold

(Please note: If you happen to be viewing this 1987 Volkswagen Vanagon Hobie Cat Editionon a website other than our Garage Kept Motors site, it's possible that you've only seen some of our many photographs of the van due to third-party website limitations. To be sure you access all the more than 190 photographs, as well as a short start-up and walk-around video, please go to our main website: Garage Kept Motors.)

A string of very clever VW Vanagon ads over the years were headlined "When it's time to leave it all behind, take more with you," "This peaceful coexistence (photo of a happy Vanagon family) made possible by Volkswagen," "Space Shuttle," "Volkswagen introduces luxury widebodies: All seats first-class," and "Vanagon. The best of a van. The best of a wagon. And better than both." All touted the Vanagon's surprising interior space. It's an understatement to say that VW Vanagons inspire customer loyalty. In the event you haven't viewed it, paste the link below to watch a short a segment from Hagerty Media's "Why I Drive" series:

watch?v=n9JpH1fVww0

Offered here is a rare Hobie Cat Edition 1987 VW Vanagon in well-maintained condition, still wearing its original silver paint and bespoke Hobie Cat Edition stripes and graphics, as well as its "Wolfsburg Edition" badging. The Vanagon was purchased out of California in 2002 by the current owner. Legendary for amassing very high mileage, this Vanagon's odometer shows a relatively conservative 206,386 total miles, fewer than 6,000 miles per-year on average since new. In addition to owner literature, the sale includes a copy of the original print ad announcing the Hobie Cat Edition (which could include a Hobie Alpha sailboat and roof rack that are not included here).

The exterior (one year only) silver-gray metallic original paint remains in very good condition across the entire body with minor imperfections from normal wear and tear. The original Hobie Cat rainbow striping and graphics on the sides and rear remain in excellent condition with virtually no fading or delamination. Body panels show no significant damage, with the exception of a minor dent on the lift-up rear door. All body trim (including the bumpers and the front grilles) is rendered in black, all of it free of noteworthy damage as well. Factory badging is limited to the front grille VW logo repeated on the rear with the "Volkswahen" and "Vanagon GL" model-identification. "Wolfsburg Edition" insignia appear on the front fenders. All the extensive cabin glass is clear and free of cracks; lighting lenses are likewise well-kept. The van body features power-outlets on the driver's side and a large sliding access door on the passenger side. The Volkswagen-embossed 5-spoke alloy wheels are in excellent condition free of road rash or surface deterioration; they are mounted with Yokohama® Super Van tires.

The Vanagon's interior features a gray color theme executed on door panels, carpeting, and upholstery. Seat upholstery and carpeting show soil staining. The second-row seats face the rear and the third-row seat with a fold-out table in between. The front bucket seats (both twin captain's-chair-style armrests) retain their original gray, fabric upholstery in well-maintained overall condition with only slight indications of wear and discoloration, especially on the passenger side. All seating positions feature nearby cupholders. The VW-logo steering wheel frames a simple but complete instrument cluster. Slide-lever controls for heat and ventilation, air conditioning (which blows cold including from overhead vents in the rear cabin) and upgraded JVC® audio head unit (in the factory-radio location), complete the black dash. The automatic transmission shift lever is floor-mounted.

Beneath the access panel under the floor in the rear of the cabin, the 21-liter horizontal 4-cylinder (rebuilt by George's Foreign Car Service) is housed in a tidy, engine bay. All components are properly mounted, with no performance modifications noted. Viewed from below, the Vanagon's chassis is straight, complete, and free of damage. The front spare-tire carrier shows no indication of too-aggressive or extensive off-road use. Lower engine surfaces are also clean, and only expected light surface rust is present on some untreated metal.

The Vanagon's factory-mounted data stickers and vehicle-identification tags remain in place.

While the more than 190 high-definition photographs and the short walk-around-and-startup video available on the GarageKeptMotors website showcase this VW Vanagon in detail from every angle, including from below, we expect and encourage in-person inspections at our Grand Rapids, Michigan showroom. Please call to arrange an appointment in advance as our showroom is not open to the public. And feel free to get in touch anytime by phone or email if you have questions.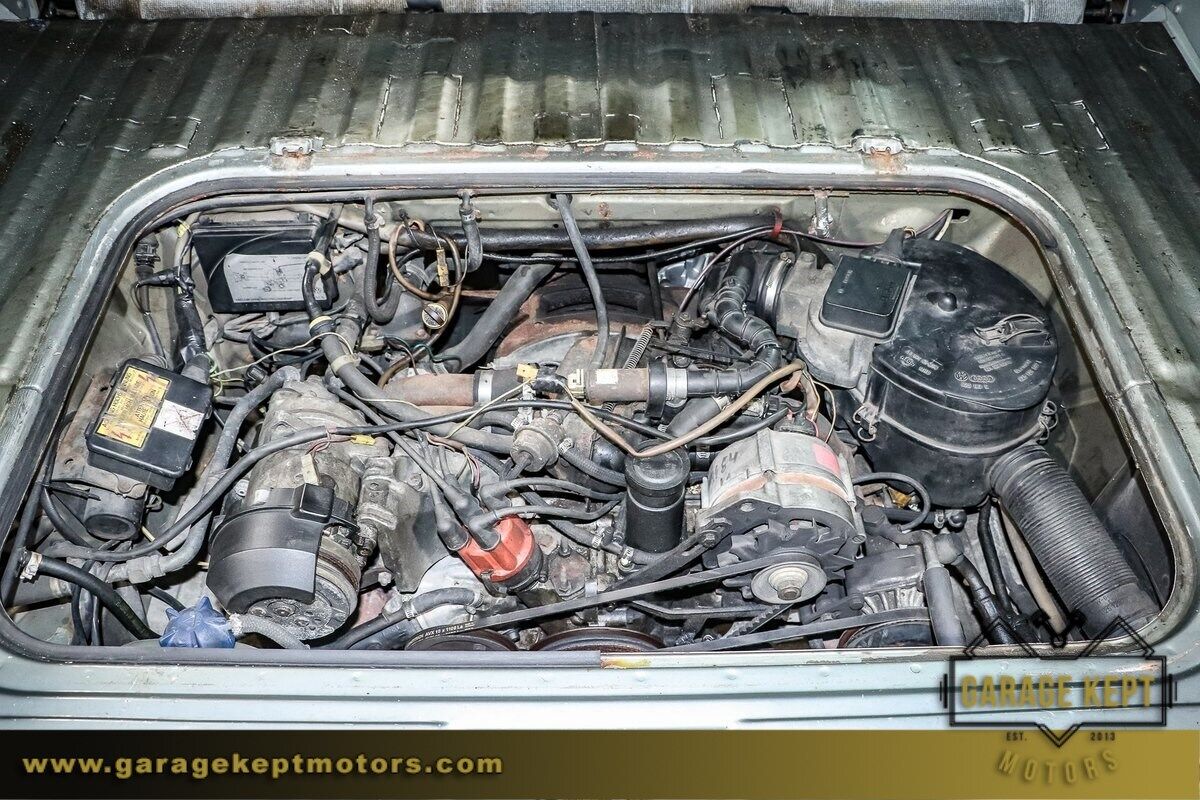 So is it a Wolfsburg? Well, it's got the right wheels, the right body cladding, and the right front spoiler to be a Wolfsburg. I wasn't able to find if the Hobie Cat Edition crossed over as was available with Wolfsburg trim, but the print for such a combination doesn't exist. The Hobie Cat graphics appear accurate to the ad – though the boat is actually placed higher on the door than is shown in the ad. Did someone go through the trouble of replicating the graphics of an obscure special? I suppose it's possible. I'm not sure why you would, though – it's seriously obscure and likely doesn't add any value. It might also be explained by the addition of the Wolfsburg cladding, which would necessitate the graphic be higher on the door – so it's possible this is original. Gone is the roof rack and Alpha, though you could likely find both with some looking. I guess the question becomes "How many people do you want to impress at Radwood?", because otherwise this is a rusty, 200k mile automatic Vanagon. It's really cool to see, but I'm not sure I'd call this one a collector.
-Carter